Meet Adam Nathaniel Furman, an Artist & Designer based in London
16 OCTOBER 2023
Meet the Locals
Artist Adam Nathaniel Furman's work celebrates contrast. Their latest project, a mosaic at London Bridge station, pits colour against steely grey and texture against the sleek lines of The Shard.
Like Adam's work, their appearance – a paisley shirt and statement eyewear – makes a big impact. Also, like their work, Adam is intellectual and thought-provoking. Specialist subjects, architecture and art. Life long passion, skyscrapers.
On summer's hottest day, Adam sits outside a bar, waiting for the sun to sneak around The Shard to unleash reflections from the mosaic's thousands of tiles or 'tesserae'.
"The Shard is an incredible icon, a souvenir for London. It excites me that you can see it from anywhere, but when commuters arrive, they'll experience art on a human scale.  Many artists want to undermine a context, but I want to complement it," Adam Says.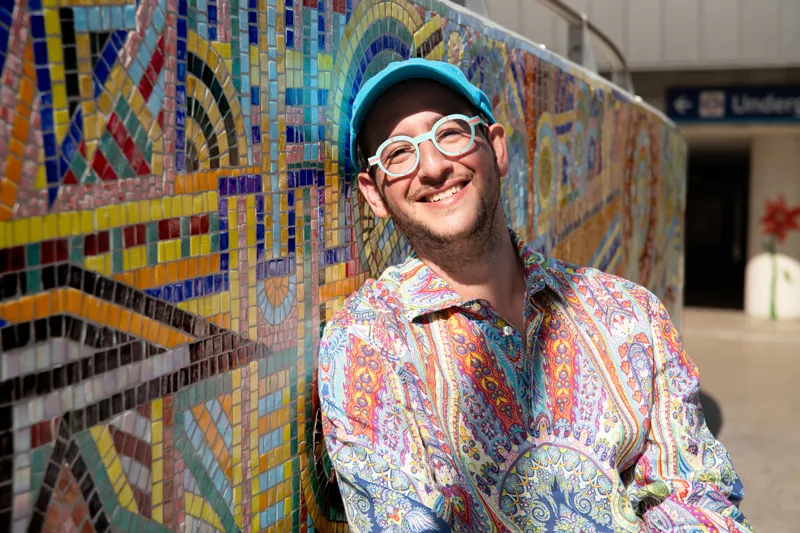 The piece, called In a River a Thousand Streams, commissioned by The London School of Mosaic (LSoM), reflects the kaleidoscope of life that spills from London Bridge station into the capital.
The work in progress will eventually swoop along the 57-metre length of a retaining wall, creating a beautiful contrast between the forces that divide and unite us. The design is a celebration of swirls and jags that Adam encourages people to interpret for themselves – though look closely for the motifs of London architecture.
The work both represents and embodies inclusion. It is being created by The London School of Mosaic and hundreds of volunteers – from school children to local charities and community groups.
---
"IMAGINE AN EIGHT-YEAR-OLD TAKING THEIR PARENTS TO A PIECE OF PUBLIC ART THAT THEY HELPED CREATE."
Adam Nathaniel Furman
Artist, London
---
The sunlight will also uncover textural nuances that tempts children and commuters alike to run their fingers over the uneven surface - something that Adam very much encourages. Is art really inclusive if you can't touch it?
"Historically, the London Bridge area was a refuge for those banished by the City of London. You had religious groups, immigrant groups, and all sorts. The mosaic is the idea of a city containing many diverse yet united flows." says Adam.
A Thousand Streams could also represent the many flows of personal identity. Adam's father came from Argentina, and mother from Japan. Adam recalls growing up in a joyful, multi-cultural North London full of different cuisines and languages.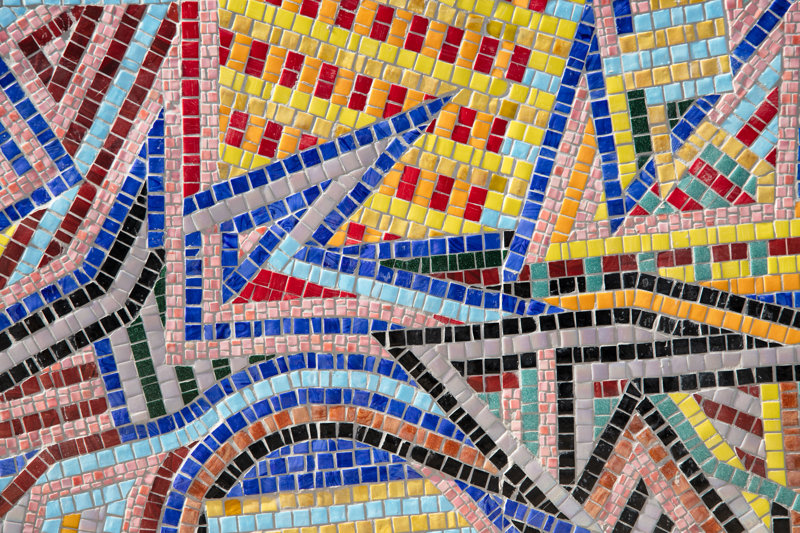 "I really love London. I come from a multi-religious, multi-ethnic background, and am queer on top of that – this is one of the only cities in the world where that is okay," Adam says.
A trained architect and published architectural historian, one of Adam's books, Revisiting Postmodernism, is on the reading list at Harvard and Yale. However, subject mastery does little to hide a child-like enthusiasm for really tall buildings.
Adam was introduced to architecture as a child by their best friend's parents, world-renowned architect Peter Ellis and design futurist Zara Ellis. It sparked a lifelong love affair with tall buildings. While teenage friends were exploring Camden, Adam headed to Croydon, one of the only places outside central London to have 'skyscrapers'.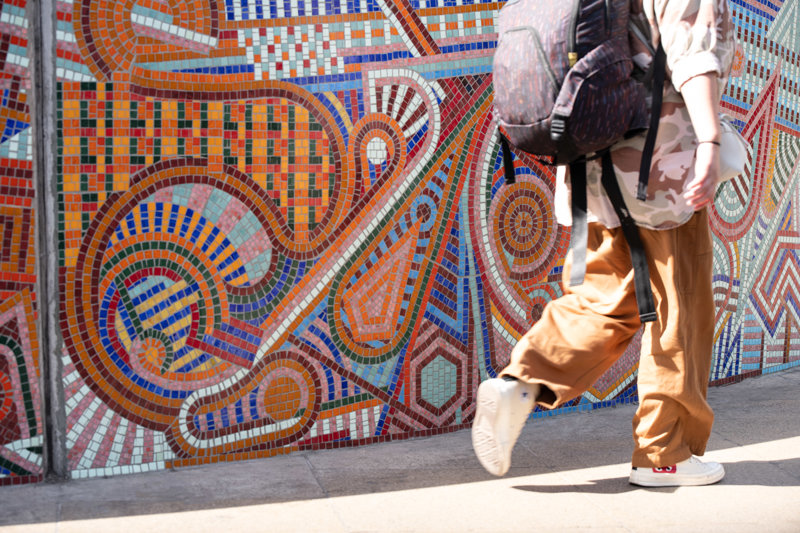 Self-proclaimed "really bad at school", Adam's happy place was creating and drawing. The pastime eventually won him a place at the Architectural Association - the last architecture school to accept applicants on the strength of a portfolio.
At present, Adam is ecstatic to have public work in spaces outside two of their favourite landmarks, The Shard and One Canada Square. The Canary Wharf Piece, Click Your Heels Together Three Times, is a celebratory rainbow riot.
"The Shard is an exceptionally high-quality building put together with sharp materials, a thrill of exactitude and precision engineering," Adam says.
As the afternoon light hits, A Thousand Streams begins to sparkle, and Adam gamely poses for photographs in the heat.
After the shoot, it is not back to the bar. Adam has planned a walk to take in their favourite buildings and check on the progress of the latest Thameside property developments. This architecture addict has buildings to see.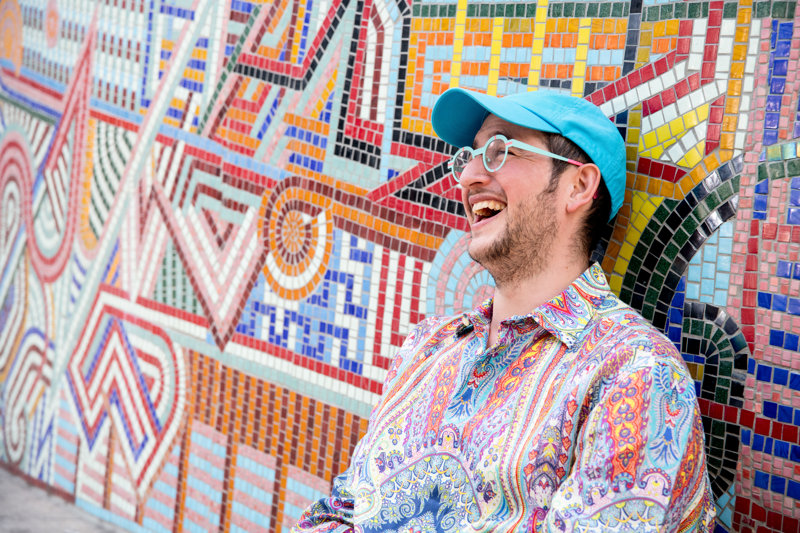 Explore the neighbourhood – Adam's guide
St Olaf House, 27 Tooley Street
St Olaf House is a Grade II listed building, built on the site of St Olaf's church and completed in the early 1930s. The design is weird as hell, but it's one of the greatest Art Deco buildings in the country.
Queens Walk Steps, London Bridge
Granite and built on a diagonal, they've been called 'London's worst steps', your brain just can't deal with the triangles.  I love them because they're so ridiculous.
Hutong, The Shard, 33 St Thomas St, London SE1 9RY
This is my happy place where I've celebrated my last four birthdays. For my 40th, my boyfriend booked us a room at the Shangri-La. Going to sleep with the city twinkling below was amazing.
---