Public Art
On 29th September 2021, The Shard unveiled 'WE', the first sculptural installation in London by world-renowned Spanish sculptor Jaume Plensa that is accessible to the public.
'WE' comprises two parts facing each other, as if in dialogue, with one installed in The Shard's piazza and the other suspended above the escalator outside the building by London Bridge station.
The installation is designed to give the public a chance to frame their individual perspectives, as they walk through Shard Quarter, taking in one figure, followed by the other. By establishing a link between the two, it aims to inspire the viewer to consider the notion of self, alongside the people around them.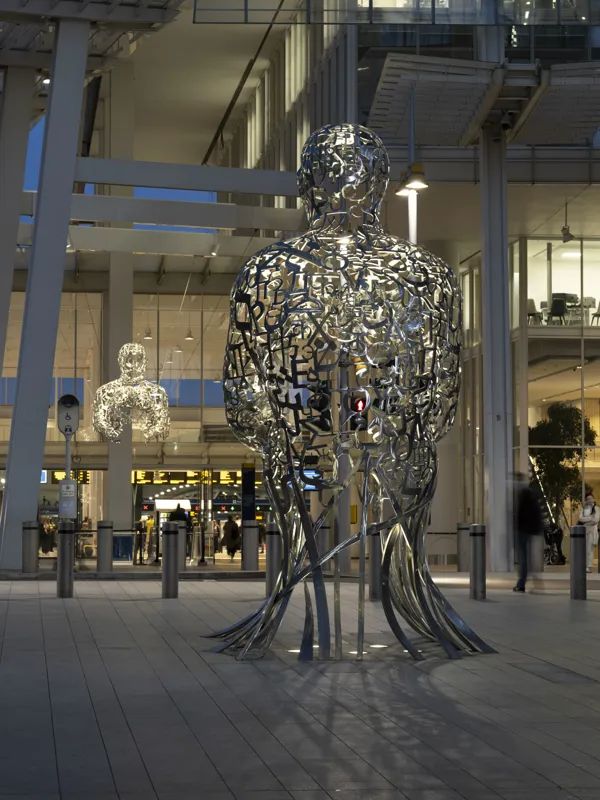 It references the idea of a mirror - a recurrent theme in Jaume Plensa's work. In a first for the artist, one figure has been anchored to the ground, reflecting its status as being rooted to the history and context of the London Bridge area, while the other is suspended in the air, in an evocation of spirituality and the notion of rising above daily challenges.
Alongside the mirroring theme, the piece also represents diversity - something for which London is famous - with sculpted letters and characters from seven different alphabets featured within the sculptures. These individual letters and characters are positioned in a random patterning, representing the universality of being human and cells of the body. The text and hollow structures invite the viewer to look inside, providing framed views of the surrounding environment and others within it.
The Shard's owners, the State of Qatar and Sellar, commissioned the piece with curatorial support from Futurecity and a specially formed public art advisory committee, for those visiting, living and working in the area to experience.