THE VIEW FROM THE SHARD OPENS LONDON'S HIGHEST GARDEN SPACE
The View From The Shard
The View from The Shard officially open London's highest summer garden space 800ft (244m) above the city. Fearne Cotton cut the ribbon in a grand opening ceremony that celebrated the Great British Summertime with a performance from London's own Blackheath Morris Men.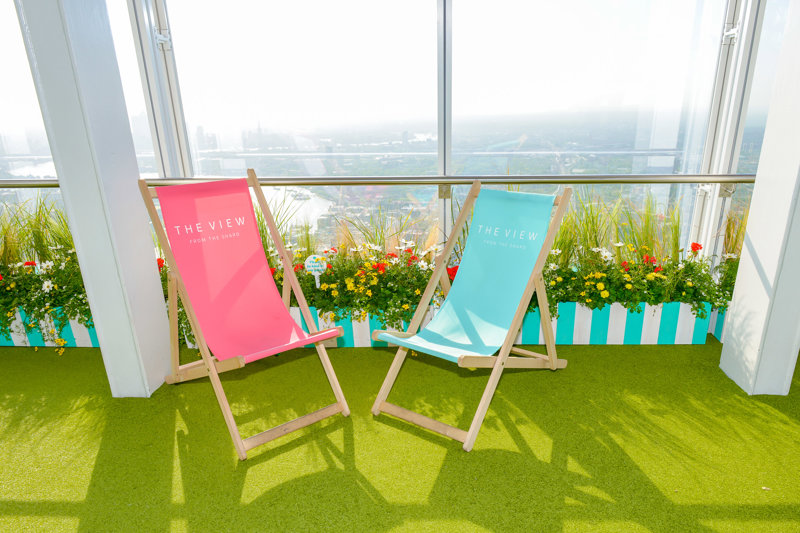 The sky deck at the top of Western Europe's tallest building has been transformed with over 2,000 plants and flowers to celebrate the Great British Summertime. Taking months to prepare and over 350 man-hours to fully install, national floral favourites including poppies, fox gloves, lavender, marigolds and birch trees have been planted in over 10,000 litres of soil, set amongst a further 750 metres of decorative foliage.
Even the unpredictable London weather couldn't dampen the summer spirit. The London sunshine made an appearance for invited guests to enjoy first-look at the garden with a traditional performance from Blackheath Morris Men – a local group who have previously performed with Monty Python's Eric Idle at the closing ceremony of the 2012 Olympic Games.
Continuing the quintessentially British experience on offer, guests to The View from The Shard can book a Sky-High Tea picnic from Fortnum & Mason with their visit from 23 June, or enjoy a gin-and-tonic flavoured ice-cream whilst taking in the panoramic views for up to 40 miles.
The summer garden installation at The View from The Shard will be on display until September; tickets are priced from £24.95 per adult, available online at www.theviewfromtheshard.com.