The Shard Celebrates
The Shard, Shard Lights, News
The Shard celebrates Her Majesty's Platinum Jubilee with a unique light display and special experiences.
Marking the switch on of The Shard Jubilee Beacon was the Merthyr Tydfil choir, singing a rendition of 'A Life Lived with Grace' - a unique song written for the Commonwealth. They performed on the piazza next to the building and were just one of the 700 choirs bursting into song at switch-on ceremonies across 54 Commonwealth countries.
The Jubilee beacon is just one of the activities that the building has organised to mark the occasion. Restaurants throughout the building have developed exclusive menu items, and many locations have been dressed with royal decorations to bring the celebration to life throughout the building.
Aqua Shard has devised a delicious three-course brunch menu, which can be enjoyed while listening to the string quartet Starlight Strings. Alongside the live music, diners can sample the delicious Royal Garden cocktail and The Shard Jubilee Beacon inspired 'Her Majesty's Shard' dessert.
The luxury Shangri-La The Shard hotel has unveiled its grandest décor transformation to date - a royal extravaganza in collaboration with McQueens Flowers. Guests at the hotel can experience an immersive four-metre-tall sculpture as well as a contemporary photographic exhibition of the Queen and Royal Household.
TĪNG Lounge has been transformed into an English Garden, offering an exclusive 'Skyline Jubilee Afternoon Tea' with a miniature chocolate and raspberry Shard building for two to share, while guests at GŎNG can enjoy exclusive Jubilee cocktails.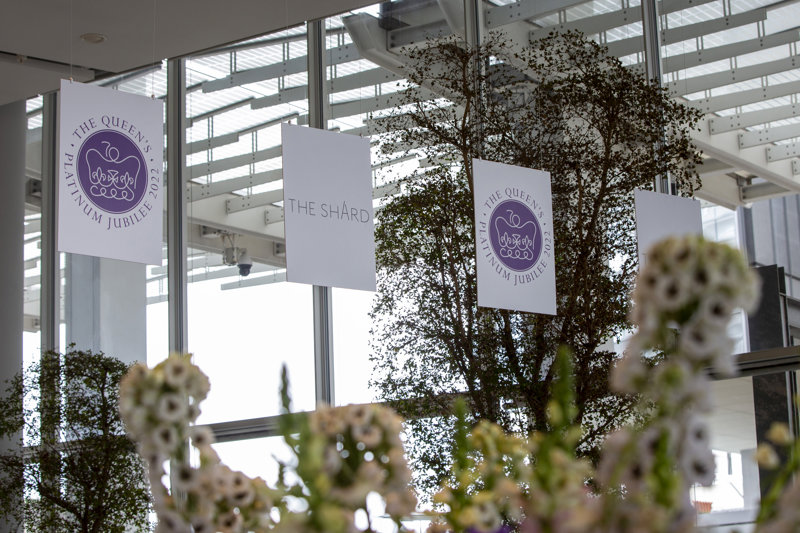 Alongside visitor offers, The Shard has run activities within the building for its businesses and employees to enjoy. A Jubilee fair gave occupiers of the building the chance to promote their services and products whilst celebrating with colleagues.
The Shard Beacon joined over 1,500 Jubilee beacons with a unique weekend long light display in recognition of The Queen's long and selfless service.
The Merthyr Tydfil choir performed 'A Life Lived with Grace', live from The Shard. Singing alongside 700 other beacon sites as a 'unique' musical tribute to Her Majesty The Queen.
The Shard hosted its own Jubilee fair, joining an estimated 16,000 parties and events to commemorate Elizabeth II's 70th anniversary as monarch.
As a beacon for modern London, The Shard embraces its role in reflecting the lives and sentiments of the community through celebration. The Jubilee is a perfect opportunity for Londoners to come together to reflect on the last 70 years of life in the Capital. We hope that people across London look up to the sky and enjoy The Shard Jubilee Beacon throughout the weekend, reflecting our thanks to Her Majesty The Queen and the last seven decades of this great city.