THE SHARD ACHIEVES PLATINUM WIREDSCORE CONNECTIVITY RATING
The Shard
The Shard has been certified as one of the best buildings in the UK for broadband and telecoms infrastructure after it was awarded a Platinum rating, the highest possible level achieveable by international connectivity accreditor WiredScore.
Connectivity is becoming a critical concern for businesses competing on the global market. It has a direct impact on business growth, effecting the productivity of employees and the overall efficiency of the business. The Shard's Platinum-level connectivity demonstrates the buildings dedication to offering exceptional technology infrastructure, which has been instrumental in attracting and supporting The Shard's 29 diverse office occupiers.  
WiredScore is an international platform both rating and providing transparency on the infrastructure, connectivity and technological capacity of office buildings. Wired Certification is a trusted mark for the buildings that are independently certified as providing leading-edge digital infrastructure.
---
"THE SHARD IS AN ICONIC BUILDING, SERVING A VAST COMMUNITY OF INTERNATIONAL BUSINESSES, AND DESERVES THE WORLD-CLASS CONNECTIVITY STANDARDS TO MATCH."
William Newton
UK Director at WiredScore
---
The Shard has signed a number of new occupiers so far this year including MATCHESFASHION.COM, Jellyfish and DOD's Group, each being significant contributors to the UK's growing digital economy whilst also depending on the building's superior technology infrastructure. Other existing occupiers such as investment technology business Leonteq Securities and global consulting firm Protiviti also rely heavily on the building's exceptional connectivity to support their high operating speed. 
Peter Richardson, Head of UK Operation at Protiviti, said "Connectivity is vital for all businesses at all stages of growth, in any geographical location and industry. We are a young fast-paced organisation and as we continue to grow and develop, an advanced yet resilient digital infrastructure will be an important pillar in our continued success.
---
"THE DIGITAL INFRASTRUCTURE OF A BUILDING IS EQUALLY IMPORTANT AS THE PHYSICAL LOCATION OF THE BUILDING."
Peter Richardson
Head of UK Operation at Protiviti
---
KEY FEATURES OF CONNECTIVITY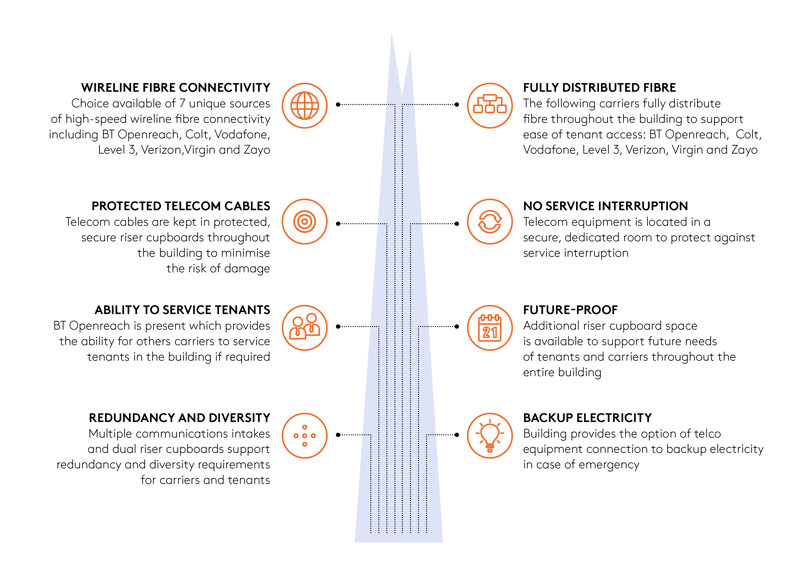 The Shard provides a wide variety of high speed internet services, best-in-class levels of resiliency and robust emergency back-up services to protect against service disruption. The building has seven unique sources of fibre, which gives occupiers a wide variety of high speed internet services. This includes dedicated business-grade fibre offerings that can be used for symmetrical speeds of up to 100 Gbps depending on the occupier's requirements. 
Michael Baker, CEO of REM which manages The Shard, said "Resilience and connectivity used to be solely the domain of a company's CTO or IT director, but in today's increasingly digital world it affects every employee from the sales team to the CEO. We understand the importance of good technology infrastructure for our occupiers and have worked hard to ensure we are providing numerous, diverse supplies.
---
"THE SHARD'S PLATINUM CERTIFICATION PROVIDES AN IMPORTANT SEAL OF APPROVAL FOR BUSINESSES LOOKING FOR RESILIENT AND CONNECTED OFFICE SPACE IN LONDON. ACHIEVING WIREDSCORE'S HIGHEST CERTIFICATION UNDERSCORES OUR COMMITMENT TO THE NEEDS OF OUR OCCUPIERS."
Michael Baker
CEO of REM which manages The Shard
---
The Shard's Platinum status recognises that the building provides the very latest technology and telecommunications infrastructure, enabling office occupiers to compete in the global, digital economy and drive growth.
For more information on The Shard's office space click here, or to download Wired certification fact sheet click here.