SHINING A LIGHT ON THE CANCER CENTRE AT GUY'S
The Shard
The Shard are supporting the new Cancer Centre at Guy's Hospital over the festive season to raise funds for its continued development and cancer care services.
The Cancer Centre at Guy's, which opened its doors to patients in September, aims to provide the highest level of clinical care using state-of-the-art technology; undertake ground-breaking research to drive forward new treatments; make the most advanced treatments in development available to patients through extensive clinical trials; and provide a welcoming environment for patients designed to improve patients' experience of cancer care and enhance healing.
More than 3,000 generous patients, families, supporters and staff have raised £1.1 million to help make the new Cancer Centre at Guy's a reality and philanthropists have already donated a further £6 million.
Completing the construction of the Cancer Centre at Guy's is only the start of the story. There is more to be done. The Shard is supporting fundraising efforts to:
• Provide better equipment and surroundings 
• Research projects that seek to bring direct benefit to cancer patients
• Fund staff training which directly relates to improving the quality of care of cancer patients.
Help The Shard countdown to Christmas from 1-24 December by entering the daily advent calendar competition, or text LIGHT to 70755 to donate £5.*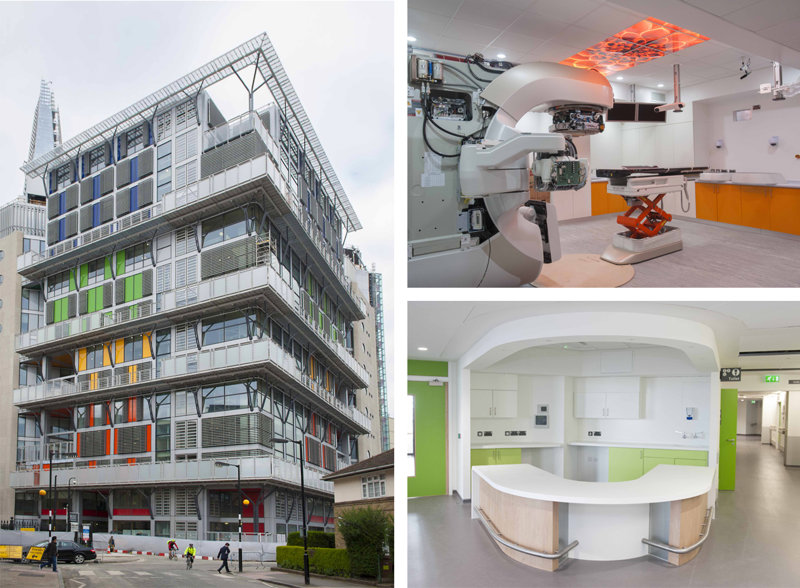 DESIGN
Located just a two-minute walk from The Shard and London Bridge Station, the Cancer Centre at Guy's brings together most treatment and research provided by Guy's and St Thomas' NHS Foundation Trust under one roof. Previously cancer care was provided in 13 different locations in eight different buildings on the St Thomas' and Guy's hospital sites.
Patients and cancer survivors were involved in helping to design the new Cancer Centre, working alongside the architects Rogers Stirk Harbour and Partners. The Centre is divided into four treatment 'villages' and is the first cancer centre in Europe to provide radiotherapy treatment above ground level after patients said this would make a huge difference to them.
MEETING LOCAL AND GLOBAL NEEDS
Cancer is one of the leading causes of death in the UK. By 2020, one in two of us living in the UK will be diagnosed with cancer during our lifetime.
The Cancer Centre at Guy's will meet the needs of over 2.5 million people in South East London and South East England; treating 6,500 people a year. South East London alone is predicted to have the largest growth in cancer patients in London, with an estimated increase of 16% – 1 in 6 people – diagnosed in the next ten years.
Offering most treatment and care (radiotherapy, chemotherapy, diagnostics, imaging and supportive care) in one location will in itself dramatically improve the experiences and outcomes of cancer patients, which will be shared across medical and NHS networks. This learning will have a lasting impact across the UK and the world.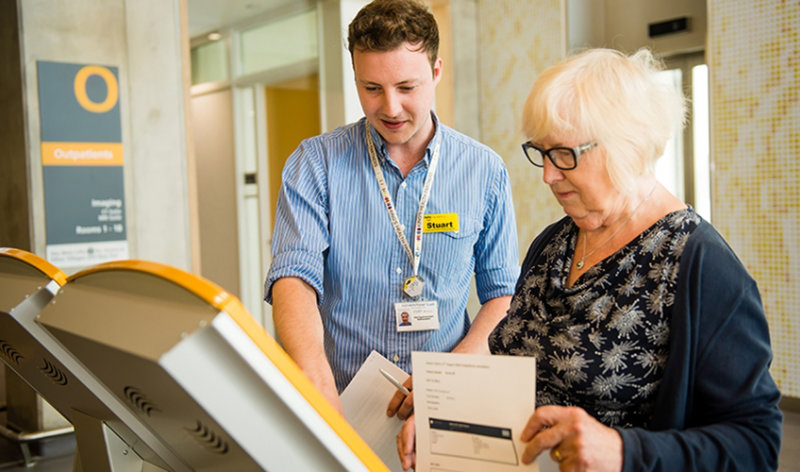 RESEARCH AND INNOVATION
The Cancer Centre will be the main cancer treatment centre for south-east London; one of the largest in Europe; and a vital platform for the development of new cancer therapies in the world. The current model for progressing or developing cancer therapies tends to be either through clinical trials or translational laboratories.
Through pioneering innovation, the team will carry out research on site, offering cancer patients personalised medicine and therapies which will help to half the 15 years it currently takes new treatments to move from lab to bedside.
The diverse patient population will provide the team with unparalleled access to comprehensive genetic material, enabling them to advance the understanding and treatment of cancers in multiple population groups. Researchers may be able to solve puzzles such as why men from African and Afro-Caribbean backgrounds are three times more likely to suffer from prostate cancer or why subtypes of breast cancer (such as triple negative or lobular cancer) behave very differently from other more common types of this disease.
FUNDRAISING
If you choose to support cancer services across Guy's and St Thomas'  your donations make a big difference. Here is how previous donations have been spent:
A project investigating cancer cell growth in triple negative breast cancer, a rare and aggressive form of the disease.
A new imaging technique for earlier and faster diagnosis of skin cancer, and to pilot the use of imaging at a molecular level to improve the chances of complete extraction of tumors during cancer surgery.
Development of a mobile app that provides clinicians with a one-stop resource to help them assess patients with a rare type of lymphoma. The app is now widely used to look up guidelines and staging, and to calculate the response in the skin to radiotherapy.
Development of an app to help spot people at risk of developing inherited types of cancer, helping them to plan and make the best decisions for them.
Investment in 3D printing facilities at St Thomas' Hospital to make radiotherapy treatment quicker and more effective.
Funding support groups such as a seminar tailored for men receiving long-term hormone therapy as part of their treatment for prostate cancer.
MORE INFORMATION
Visit: www.supportgstt.org.uk/cancer
Call: 020 7848 4701
Email: [email protected]
*Text LIGHT to 70755 to donate £5. Guy's and St Thomas' Charity may contact you in the future to keep you up to date on our fundraising and what's happening at the hospitals. If you would prefer that they didn't, please end your text message with "nocontact". You can unsubscribe from contact at any time be calling 020 7848 4701 or by emailing [email protected] . For more information visit: www.supportgstt.org.uk/text