SHARDTALKS: TECH
ShardTalks
ShardTalks Tech experts highlight digital innovations, tech-driven workspaces and new ways of information sharing as drivers of the office revolution.
New technologies are having the single biggest impact on global business regardless of industry sector and this is visible in the evolution of the modern workplace, around 250 guests from the technology, real estate and media sectors heard from a panel of experts at the latest in the ShardTalks series on 'Talent and Technology: Revolutionising the Way We Work'.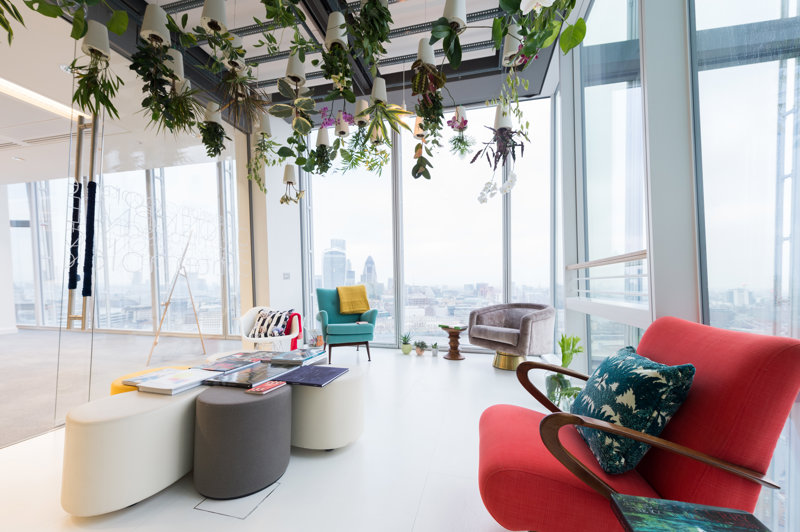 The editor of real estate industry bible Estates Gazette, Damian Wild, chaired the lively debate between Google's Nina Bjornstad; Charlie Green from flexible workspace provider The Office Group; News UK's Chris Taylor and Trevor Hardy of trend forecasting consultancy The Future Laboratory. The discussion touched on the latest digital innovations affecting the way we work, tech-driven workspaces of the future and the impact of new ways of sharing information.
Damian Wild, Editor, Estates Gazette, said: "Maybe we are underestimating how powerful the effect of a change workplace can be on the people and the culture and the delivery.
"Get it wrong and it drives talent away. Get it right and it retains talent and helps you acquire."
---
"TECHNOLOGY AND INNOVATION AND NEW THINKING ABOUT WHAT WORKPLACES ARE FOR IS MAKING THE WORKPLACE A FORCE FOR GOOD. PEOPLE WILL BECOME BETTER PEOPLE, BETTER WORKERS AND BETTER CONTRIBUTORS."
Trevor Hardy
CEO, The Future Laboratory
---
Technology has already facilitated more agile ways of working and driven business efficiencies by enabling faster connections, round-the-clock information sharing and new revenue streams, but new advancements such as wearable tech or 3D printers could continue to drive this revolution.
In today's increasingly competitive global business environment, talent attraction and retention has become a strategic imperative for the world's most successful companies. Businesses are seeking a better understanding of the technologically savvy millennial employee and tailoring their workplace to create an attractive and productive environment.
---
"TECHNOLOGY MEANS THAT WE ARE ABLE TO BE WHATEVER WE WANT TO BE. IF WE WANT TO BE OUR MOST CREATIVE, WE DON'T DO IT IN FRONT OF A SCREEN. "
Nina Bjornstad
Country Manager for UK & Ireland, Google for Work
---
The media and technology sector has been integral in driving forward the workplace revolution both in terms of vision and its ability to attract the very best talent. Whilst trendy tech and media companies have historically been associated with warehouse conversions in fringe locations, these companies are increasingly occupying modern offices, fitted out in inspiring ways and equipped with high-tech infrastructure and, importantly, an abundance of social infrastructure which can only be provided by the best modern office developments.
---
"PEOPLE ARE MORE COMFORTABLE WITH SHARING AS A CONCEPT. TECHNOLOGY IS ENABLING BUSINESSES TO SHARE OFFICE SPACE. THE BENEFIT FOR SMALLER BUSINESSES IS THAT IT CREATES AN OPPORTUNITY FOR COLLABORATION AND TO WORK WITH OTHER PEOPLE."
Charlie Green
Co-CEO, The Office Group
---
The event was held on the 22nd floor of The Shard, bringing together a diverse group of high profile office occupiers from sectors including media, education, finance, corporate and legal to create a mixed cluster of like-minded businesses connected by their desire for a creative workspace that is resilient to the shifting demands of the highly competitive digitalised economy.
---
"WE HAVE CREATED OFFICE SPACE WHERE PEOPLE ARE KEEN TO GO AND SO BY DEFAULT HAVE CREATED COLLABORATION. IT HAS BEEN A VERY ENRICHING EXPERIENCE."
Chris Taylor
COO, News UK
---
James Goldsmith, Leasing Director, REM, said: "Our vision for The Shard was to create a truly vertical city that unites an array of companies from different sectors, which are leaders in their respective fields, within a building that inspires employees. The Shard's workspaces and breath-taking views provide very powerful and inspiring work environments.
"Our tenants tell us that their staff love their workspaces and enjoy the rich cultural and social amenities such as Bermondsey and Borough Market, in this vibrant neighbourhood. London Bridge Quarter also offers tenants access to an abundance of social amenities and is close the world famous Borough Market providing an appealing destination for employees."