SHARDTALKS: DESIGN
ShardTalks
ShardTalks Design experts tell how workspace design is increasingly crucial in the battle to attract and retain top talent.
Office design has become the latest battleground in the war to attract the top talent to successful businesses.
Experts in design, behavioural economics and recruitment discussed workplace design at the latest in the series of ShardTalks held at the London icon last night.
The most creative and innovative business leaders now recognise the importance of workplace design. First to attract the top talent into the building and second to create an environment in which employees can best reach their potential.
James Goldsmith, Leasing Director at Real Estate Management (REM), which operates The Shard, said: "It's simple really – if you're asking someone to spend a lot of time in an office, as successful businesses do, then make it somewhere that works for them. That means somewhere that is attractive, that enables them to work to their best and increasingly helps them to manage their other commitments outside of work.
---
"WHILST THE REVOLUTION OF WORKPLACE DESIGN HAS BEEN PIONEERED BY THE TECHNOLOGY AND CREATIVE SECTOR, WE'RE NOW SEEING BUSINESSES ACROSS THE BOARD, AND CERTAINLY MANY OF THE 20 COMPANIES NOW BASED HERE AT THE SHARD, RECOGNISING THE VALUE OF CREATING AN INTERIOR THAT WORKS FOR THEIR BUSINESS, ENHANCES THEIR BRAND AND INSPIRES THEIR EMPLOYEES."
James Goldsmith
Leasing Director, REM
---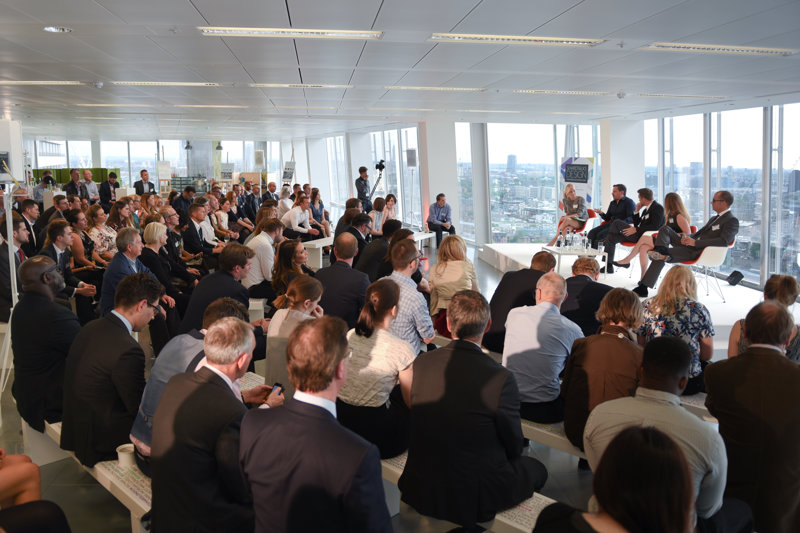 Dr Dawn Eubanks, Associate Professor of Behavioural Science & Strategy at Warwick Business School, said: "The workplace is being used much more now as a recruitment tool than ever before. The environment in which people are working is being used to attract the top talent."
Ryan Mullenix, Partner at NBBJ, an architecture firm that was worked with clients including Samsung, Amazon and Microsoft, said: "The workplace really exudes the ethos of an organisation. You feel it when you walk in the door.

"But it also has to give people a glimpse of the future. It has to be agile. Businesses change and develop so quickly and the workplace needs to be able to adapt to match it."
---
"IT IS VITAL THAT DESIGN SUPPORTS WHAT THE WORKPLACE IS TRYING TO DO. SLOWLY BUT SURELY PEOPLE UNDERSTAND THAT THEY NEED TO BUILD FROM THE GROUND UP AND LINK THEIR DESIGN TO WHAT THE COMPANY IS TRYING TO ACHIEVE."
Neil Usher
Workplace Director at Sky
---

Raphael Gielgen, Head of Research and Solution for the Office at Vitra, said: "It is about improving creativity, agility, cognitive function. It is not just about efficiency. Design can have a real effect on the workforce."
Smart business leaders were able to understand the difference between what was fashionable in office design and what was effective for their business.
Many offices have four different generations of employee working under them. What works for a Millennial may not inspire Generation X, and vice versa. The important thing is for a business leader to understand what type of office will break down generational silos and inspire teams to collaborate.
Dr Eubanks said: "Older people can contribute a lot to creativity and innovation and you don't want to lose those people. It's something that talent managers need to be aware of."