SHANGRI-LA LAUNCHES PINK AFTERNOON TEA IN SUPPORT OF BREAST CANCER AWARENESS
Shangri-La Hotel, News
This October, Shangri-La Hotel, At The Shard, London is launching a Pink Afternoon Tea in support of Breast Cancer Awareness Month. Available from the 1st - 31st October, a percentage of proceeds from each afternoon tea sold will go towards supporting breast cancer patients treated at Guy's Cancer, the hotel's charity partner.
In honour of the inspiring work that Guy's Cancer does and the inspirational people they treat, Shangri-La, At The Shard, London will be serving the Pink Afternoon Tea daily in TĪNG Restaurant & Lounge and GŎNG Bar, each with stunning views of London's most iconic landmarks. The tea is priced at £70 and includes a glass of pink Duval Leroy Rosé, Prestige Champagne or a Pink Champion cocktail made with gin, salted Peychaud, Champagne and strawberry wine. Guests can also opt for the Pink October mocktail featuring pear puree, cranberry juice, lemon juice and grenadine served over crushed ice.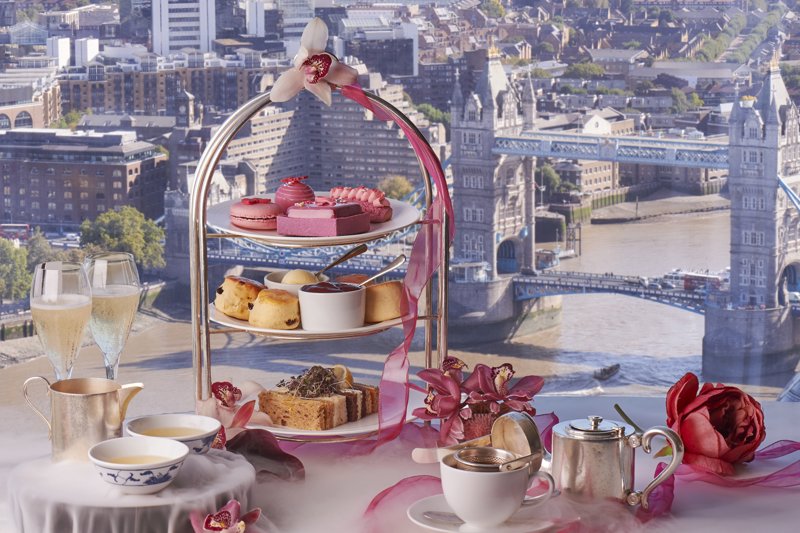 To create this special tea, the hotel's pastry team invited three brave women from Guy's Cancer to help inspire them to fashion the new creations. Donning aprons and chef hats, Rosemary, Lesley and Sasha joined forces with the hotel's Demi Pastry Chef, Lucy Wall, to help decorate the pink pastries.
The blackberry tart was a clear favourite for Sasha. Coining it 'Miss Bizz's Blackberry Blast' the tart filled with blackberry mousse is decorated with striking pink geometric shapes, a breast cancer pink ribbon and silver leaf. Rosemary named the raspberry Chantilly éclair after her sister who passed away aged 50 due to breast cancer.
---
"ANNI'S ÉCLAIR IS DECORATED WITH PRETTY LITTLE FLOWERS AND THE ICING HAS A CERTAIN SWIRL ABOUT IT WHICH REMINDED ME OF HER AS SHE WAS A DANCER AND A FLORIST."
Rosemary
Guy's Cancer Patient
---
Whereas, Lesley named her favourite – the cherry mousse pastry – 'Su's Circle of Life', after her sister who also lost her life to breast cancer. The ball shaped pastry is dusty pink in colour and finished with a pink edible butterfly as a symbol of loved ones flying on from one life to another.
Alongside the pink pastries these lovely ladies have helped to create, guests will enjoy elements of a traditional British afternoon tea, including a selection of handmade finger sandwiches with fillings such as Wiltshire Ham and Piccalilli, as well as freshly baked scones. The Pink Afternoon Tea is complemented by a variety of signature Shangri-La loose leaf teas including the Beautiful Skin Tea with elderflower and hints of rose and China White Monkey, a light infusion with honey nuances.
The three ladies were also kind enough to share their stories with the team, having all received care for the treatment of breast cancer at Guy's Cancer. Sasha found a lump on her left breast in February 2018 and has since undergone eight cycles of chemotherapy and two operations, the second being a complete lymph node clearance.
---
"IF IT WASN'T FOR MY DOCTOR CONSTANTLY REMINDING ME TO DO BREAST CHECKS, I WOULDN'T BE HERE. I AM SO THANKFUL TO HIM AND TO THE TEAM AT GUY'S AND ST THOMAS' FOR LOOKING AFTER ME SO WELL. WHEN YOU GO THROUGH SOMETHING LIKE BREAST CANCER AND MAKE A FULL RECOVERY, IT GIVES YOU A NEW LEASE ON LIFE."
Sasha
Guy's Cancer Patient
---
Rosemary found a lump around the size of an olive in her right breast in 2011. As a former employee of Guy's and St Thomas', Rosemary requested to be transferred to the hospital's cancer ward for her treatment. She was diagnosed with both ductal and lobular type breast cancer and, as a BRCA2 gene mutation carrier, underwent a double mastectomy. This September, Rosemary received the news she is now cancer free. Rosemary commented, "The risk of breast cancer increases as you get older so my advice to other women is to always check, check and re-check."
Initially treated for a lung infection, Lesley was diagnosed with secondary breast cancer in the lungs, which can be treated, however is currently incurable. "I've been really lucky to live the life I've lived and I'm looking forward to spending many more years to come with my grandchildren," said Lesley.
Around one in seven women will develop breast cancer during their lifetime. Studies show that 78% of these women will survive 10 years or more, and thanks to care and treatment provided by organisations such as Guy's Cancer, breast cancer survival rates in the UK have doubled in the last 40 years and that is something to celebrate this month of October and all the others to come.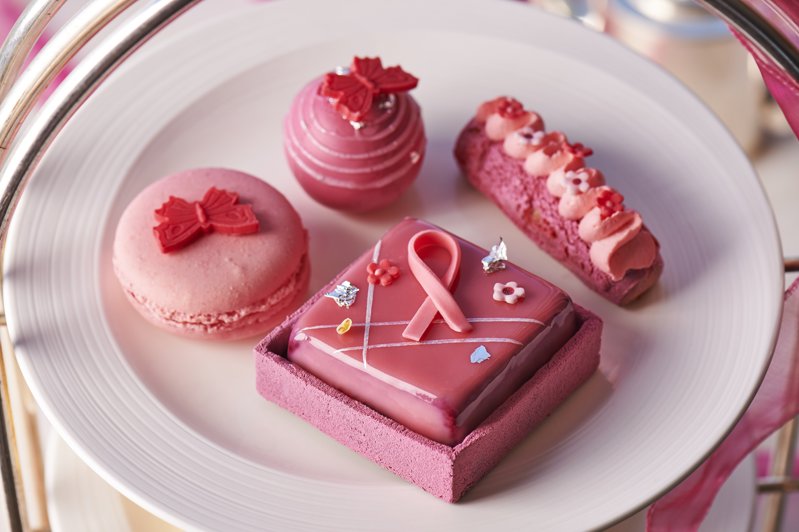 The Pink Afternoon Tea will be served in TĪNG Restaurant & Lounge located on level 35 of the hotel and GŎNG Bar located on level 52 of the hotel.

Reservations
To reserve a table, please visit: TĪNG Restaurant & Lounge or GŎNG Bar or call the hotel directly: +44 (0) 207 234 8000.
Address
Shangri-La Hotel, At The Shard, London
31 St Thomas Street, London, SE1 9QU, United Kingdom
Guy's Cancer
For more information or to donate, please visit their website.