PREMIUM MENSWEAR BRAND 'WIN OR LOSE' OPENS POP-UP AT THE RETAIL ARCADE
Shard Quarter
Accompanying financial, beauty and convenience in the Retail Arcade are premium menswear lifestyle brand Win or Lose.
Launching their first pop-up shop this June, the menswear collection will include high quality socks, polo shirts, t-shirts, knitwear, and accessories, as well as some great gift ideas for Fathers' Day (19th June). The Win or Lose range is a favourite of several sporting legends, including Austin Healey, Alistair Cook, Stuart Broad, the Saracens rugby team, and the one and only Vassos Alexander from BBC Radio 2.
---
Why did you choose the London Bridge neighbourhood for your business?
"We chose the London Bridge neighbourhood for Win or Lose as there is a thriving business community, which is great for our menswear range. Plus, our gifts are perfect for those looking for something fresh and original with a personal twist."
Why did you decide to open in the Retail Arcade?
"We decided to open in the Retail Arcade at The Shard as there is strong customer footfall, it is the perfect position for us to raise the awareness of Win or Lose as a new menswear brand and it is great to be part of such a high profile retail development!"
Jonny Mitchell
Managing Director and Founder, Win or Lose
---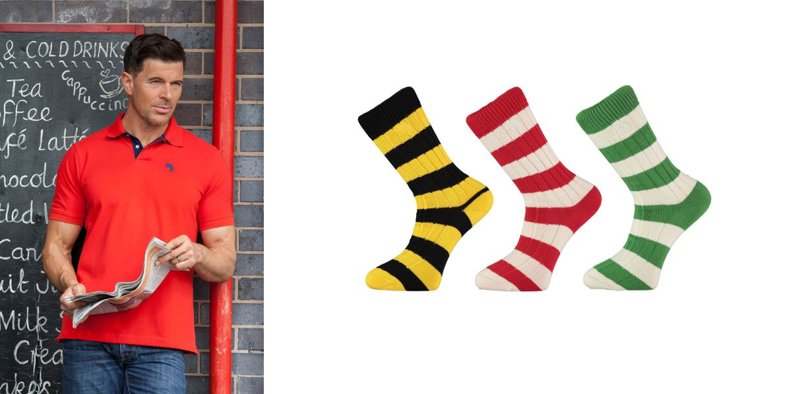 If you're looking for a bespoke gift Win or Lose can also personalise items including polo shirts, knitwear and accessories by selecting one of 21 different colour choices for the chameleon to be embroidered in. An ideal choice if you have a close affinity to the colours of the team you support or play for, or to your old college or society.  
Win or Lose's ethos is about quality, wearable menswear that lets you shows your true colours. The socks come in a wide range of coloured stripes with a finer gauge for weekday socks and a chunky knitted sock in wide stripes for weekend wear.
#showyourtruecolours 
Address; 7, The Shard Arcade, 32 London Bridge Street, SE1 9SG