PINK OCTOBER, IN SUPPORT OF BREAST CANCER AWARENESS MONTH
Shangri-La Hotel
Shangri-La The Shard turns pink for the month of October, launching a special Pink Afternoon Tea and cocktail in support of breast cancer patients at Guy's Cancer.
This October, Shangri-La The Shard, London will turn pink in support of Breast Cancer Awareness month, with vibrant pink décor and pink-inspired artworks, and a special Pink Afternoon Tea featuring pastries designed by breast cancer patients from Guy's Cancer. Available from 29th September – 7th November, a percentage of proceeds from each afternoon tea sold will go towards supporting the inspiring work of Guy's Cancer through Guy's and St Thomas' Charity, the hotel's charity partner.
The Pink Afternoon Tea will be available daily between 12pm-4pm at TĪNG Restaurant & Lounge on level 35 of the hotel, featuring a fine selection of delicious finger sandwiches and Shangri-La signature loose-leaf teas, including a pink welcome tea, followed by freshly baked pink scones with clotted cream, strawberry jam and pink grapefruit curd. The tea will be topped off with pink handcrafted pastries, which include a lychee and rose sandwich and a sumptuous fig and hazelnut tart with gold leaf.
For an extra special touch, guests can indulge with a glass of Laurent Perrier Cuvée Rosé Champagne, a pink take on a gin cocktail including Hayman's Sloe Gin, Fresh Pineapple Juice, Orgeat, Hong Kong Baijiu and Aspall Cider Premier cru or a refreshing Pink Passion mocktail including cranberry, grenadine, coconut cream and ginger ale, served over crushed ice.
To design the pastries featuring in this year's Pink Afternoon Tea, the hotel's pastry team invited four brave women from Guy's Cancer to join forces with Head Pastry Chef, Emma Watts to inspire the new creations. One of them was Claire, who has been receiving treatment from Guy's Cancer for the past five years. Claire chose a pink breast cancer ribbon to decorate 'Claire's Courageous Cherry Macaron', which honours the strength and courage of anyone who embarks on a cancer diagnosis and treatment, as she knows only too well through the course of her own journey.
After a course of treatment for breast cancer in 2016, Claire was informed that the cancer had spread, and while incurable, it was possibly treatable. After being enrolled onto a clinical trial at Guy's, Claire continued treatment and scans have shown a complete response to the trial drug, which has allowed her more precious time to spend with her family. While in the future things could change, thanks to ongoing research into breast cancer, Guy's might have more options available for her to try when the time comes. Claire says, "I am forever indebted to all the staff who have been on this journey with me and can't thank them enough for all they've done."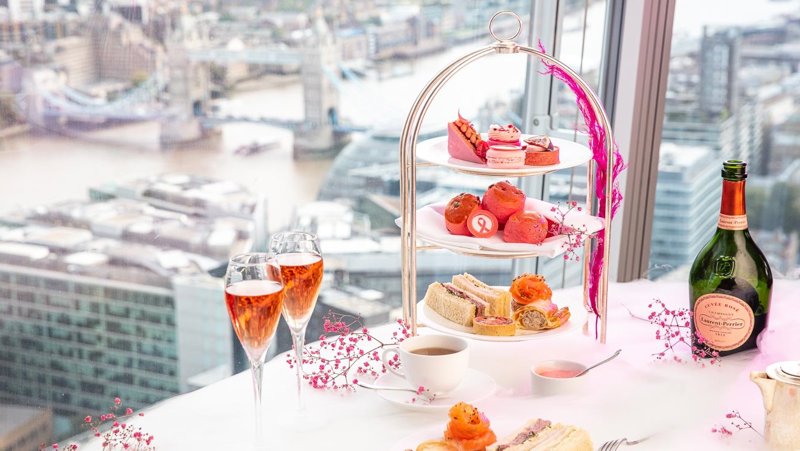 Shangri-La The Shard, London will also honour Pink October with an array of pink decorations and artworks throughout the property. At the
hotel's level 35 reception, against the backdrop of London's skyline, guests will discover a floral window artwork; 'The Wings of Hope', illustrated by artist Niki Pilkington, where those looking for a photo opportunity can 'spread their wings' over the city backdrop. At the ground floor lobby, guests will be greeted with two innovative digital artworks, in a partnership with London Asian Contemporary Art (LACA).
Around one in seven women will develop breast cancer during their lifetime. Studies show that 78% of these women will survive 10 years or more, and thanks to care and treatment provided by organisations such as Guy's Cancer, breast cancer survival rates in the UK have doubled in the last 40 years. That is something to be celebrated, this month of October and all the others to come.
The Pink Afternoon Tea at Shangri-La The Shard, London will be priced from £62, and from £75 with a glass of Laurent Perrier Cuvée Rosé Champagne. Served in TĪNG Restaurant & Lounge located on level 35 of the hotel. A dedicated pink cocktail is also available from £18 across all three food and beverage outlets: TĪNG, GŎNG and BAR 31. For reservations, please visit:
TĪNG Restaurant & Lounge: www.ting-shangri-la.com
Shangri-La The Shard, London address: 31 St Thomas Street, London SE1 9QU, UK
In addition to this, The Shard's spire lights will be lit pink on the evening of Friday 1st October, to mark the start of Breast Cancer Awareness month.