MEET TOM PHILLIPS, HEAD CHEF OF RESTAURANT STORY
Meet the Locals, News
Tom Phillips, the head chef at Michelin starred Restaurant Story, was unfazed when owner Tom Sellers announced last year that it was doing away with menus. He was prepared for anything his boss had to throw at him thanks to a gruelling training regime for the international culinary contest, the Bocuse d'Or.
Little known outside of hospitality circles, the Bocuse d'Or is the chefs' World Cup. The description is more than just epithet: the final is played out in front of a cheering crowd of more than 6,000 spectators, involves several selection rounds and months of arduous preparation.
Phillips' own campaign was two-and-a-half years in the planning and included five months of intensive (15 hours a day, 7 days a week) training in a kitchen built to replicate competition conditions. His 'match day' entourage included the brass band more commonly heard leading the chants at England international fixtures. In January of this year, Phillips, the UK's youngest ever entrant, placed 10th out of 24 countries (and like any good footballer he cheerfully claims he was robbed).
Two months after the event, the 27-year-old Welshman has had time to reflect.
---
"I'M A COMPETITIVE PERSON, NOT WITH CARDS OR BOARD GAMES, JUST TRYING TO BETTER MYSELF. I LEARNT SO MUCH."
Tom Phillips
Head Chef, Restaurant Story
---
He is now focusing his skills on his new role as head chef at Restaurant Story on Tooley Street, where he has worked (in between training) since September 2017. Story is the first venture of Tom Sellers, the wunderkind of the UK dining scene who won the restaurant's Michelin Star at just 26 years old. Well placed to spot precocious talent, he has supported Phillips' Bocuse campaign all the way.
The decision to get rid of menus came as part of a 2018 refurbishment that ousted Scandinavian minimalism in favour of a feature ceiling, curved seating and white table cloths. Rather than choosing from a set menu, diners are asked about their likes and dislikes at the beginning of a meal. Phillips and his team then create a bespoke eight to ten course tasting menu for each table – with as much of the food and beverage service as possible performed in the dining room.
The team works from a set list of seasonal ingredients, usually including three types of caviar. A typical dish, and Phillips' current favourite, is langoustine that - perhaps inured to the term by his training - he describes as 'simple'. It is prepared on a Japanese street food barbeque called a Konro grill using a special smokeless charcoal. It is served with burnt apple puree and a sauce made from brandy, ginger and lemongrass that is poured at the table.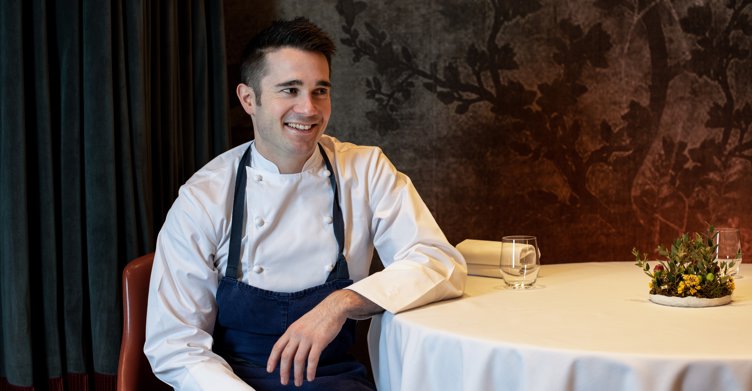 Phillips is passionate about giving guests a fine dining experience that is not stuffy. The restaurant does not turn tables (the table is yours all evening) and the playlist, compiled by drum and bass band Rudimental, contains more Stones than Stravinsky - Phillips' contribution to the list is the song 1000 Trees by the Stereophonics.
"I recently went with a friend to a three-star restaurant in Mayfair and we both felt uncomfortable. I don't want to sit and feel my back has to be straight. Whatever you're spending you want to feel good," he says.
Phillips grew up in the decidedly unstuffy Newport, South Wales. He fell into the restaurant business by accident when a work placement at an architecture firm fell through. He ended up doing extra hours at a local restaurant, eventually moving to Bath's Lucknam Park where chef Hywel Jones encouraged him to apply for a prestigious three-year chef's scholarship at Bournemouth and Poole College. This led to a career that saw him work under some of the most revered chefs in the world, including John Williams at London's Ritz and Thomas Keller in New York's Per Se (three Michelin stars).
The grand environs of Mayfair's Piccadilly or Manhattan's Columbus Circle are a stark contrast to Restaurant Story's traffic bound location on the former site of some public toilets in London's East End. This presents an opportunity rather than a burden, according to Phillips.
---
"YOU'RE EITHER A LOCATION OR A NAME. IF YOU OPEN IN MAYFAIR, YOU KNOW YOU'VE GOT FOOTFALL. HERE YOU DON'T HAVE THAT FOOTFALL, SO YOU HAVE TO CREATE AN ENVIRONMENT THAT KEEPS PEOPLE COMING BACK. YOU HAVE TO BE PROGRESSIVE AND CANNOT STAGNATE."
Tom Phillips
Head Chef, Restaurant Story
---
It is a philosophy that works, making Story one of the most sought after tables in London and helping cement Bermondsey's growing reputation as a culinary destination.
Phillips is happy to channel his competitive spirit into helping Story achieve its next Michelin star, with no immediate plans for a second stab at the Bocuse d'Or.
"I'll have a bit of a break," he says, as he heads off to a shift that will see him design and prepare more than 150 bespoke dishes in the heat of the kitchen.
EXPLORE THE NEIGHBOURHOOD, PHILLIPS' GUIDE
Padella, 6 Southwark Street, London, SE1 1TQ
A modern bistro, on the edge of Borough Market serving a small selection of freshly made pasta dishes. It's a brilliant concept, It's cheap and its good. My favourite is beef shin ragu. They get a lot of people in, feed them and make them happy. It's open late as well which is handy after a shift.

Neil's Yard Dairy, 6 Park Street, London, SE1 9AB
Specialists in farmhouse cheese from the UK and Ireland. You still see butchers and fishmongers, but cheese shops are few and far between. We use its cheese in the restaurant. My favourites are Tunworth and Old Winchester. 

Woolpack, 98 Bermondsey St, London, SE1 3UB
It's a quirky bar off Bermondsey Street, with old fashioned decor. It's where we all go for a pint. It's very chilled.
 
Visit Restaurant Story at 199 Tooley Street, London, SE1 2JX
Website: restaurantstory.co.uk
Twitter: @rest_story
Instagram: @rest_story