Meet Sarah Corn, Director, The Old Operating Theatre Museum and Herb Garret
8 November 2022
Meet the Locals, News
Less than 150 metres from The Shard's modern facades, a 320-year-old church houses one of London's most fascinating and gory museums. And there's a high chance you've never heard of it.
On St Thomas' Street, City workers stride past a queue of 'those in the know'. They are waiting to climb the 52 wooden spiral steps to The Old Operating Theatre and Herb Garret.
"When they arrive, we want to hear an audible wow," says museum director Sarah Corn, as her team prepares for opening. She has headed the museum for over five years, bringing a modern experience to one of the oldest operating theatres in Europe.
Her realm is the Herb Garret, a dark wooden attic room where, from 1703, the apothecaries of St Thomas' Hospital would dry and cure medicines, and an operating theatre (introduced in 1822) where female patients would endure amputations with nothing more than a stick to bite down on.
'Wow' is an understandable reaction, the smell of dried herbs hits visitors as their eyes take in a gothic trove of colourful bottles, pickled body parts and medical artefacts.
Corn has deliberately made the museum a hands-on experience, encouraging visitors to lay on the operating table or feel the weight of a pestle and mortar. 
"You hold an object and it's a talisman to another time – Who's held it? Who's used it?" she says.
Her favourite artefact is the original operating table, where the saw marks are visible (apparently the faster the surgeon sawed, the less likely the patient was to die of blood loss or shock). Another gory fact she shares is that blood stains on a surgeon's apron were a mark of experience so rarely cleaned.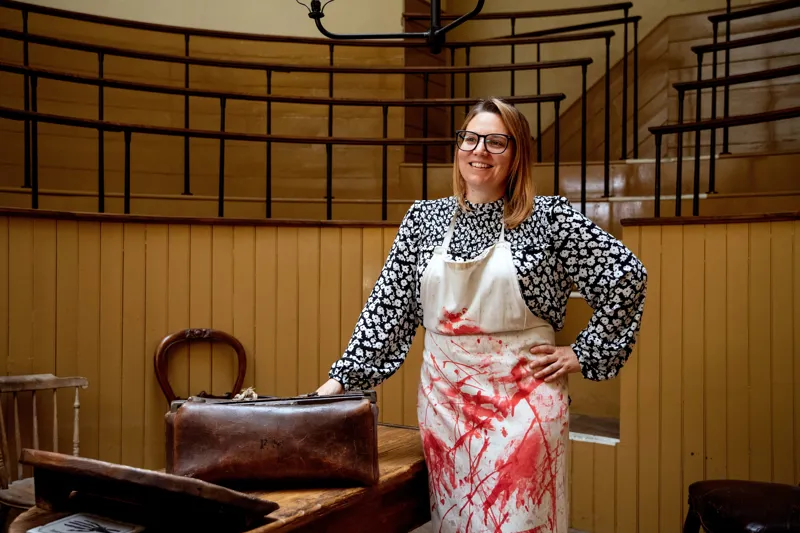 From talismans to technology, Corn has ensured the museum stays relevant to younger visitors. Those with a smartphone can use augmented reality to conjure up a Victorian surgeon to join them in the operating theatre. On the website, there is an interactive game that puts you in his shoes and challenges you to make difficult decisions in a time before anaesthetic and antiseptic (tip: opium and hoping for the best is not a winning strategy).
---
"YOU HOLD AN OBJECT AND IT'S A TALISMAN TO ANOTHER TIME – WHO'S HELD IT? WHO'S USED IT?."
Sarah Corn
Director, The Old Operating Theatre & Herb Garret
---
It's not all gore. Corn fell in love with museums when researching a dissertation on decorative art, in Brighton. She toured local museums, learning that they were not just about collections but experience and education.
The Old Operating Theatre Museum and Herb Garret tells a powerful story about the history of women's health and the role of women in medicine. Typically, the only female in the operating theatre was on the table. On a teaching day, she was offered a mask to protect her modesty from the 150 or so medical students that might be present.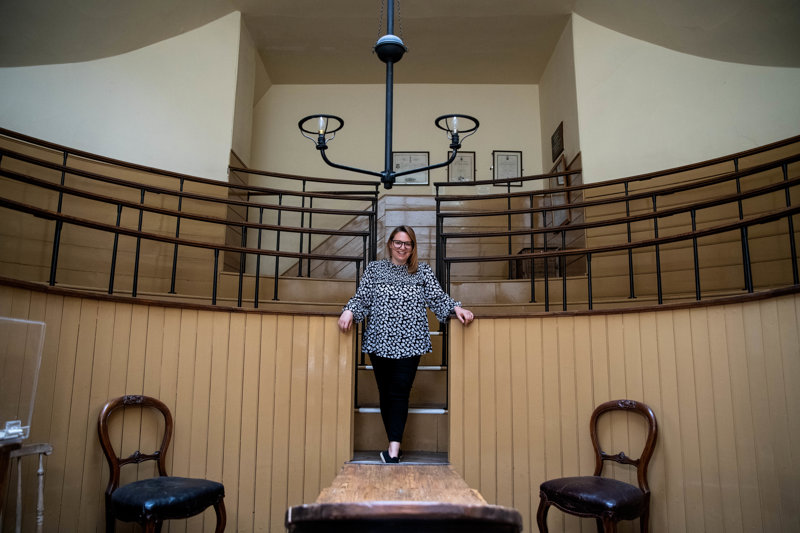 Today, the museum hosts events focused on contemporary women's health issues. Topics include: Defective and Delirious: A History of Unwell Women and Rethinking Representations of Endometriosis.
"It's important we are a platform to raise awareness of health issues. We want people to experience the museum through their personal stories," she says.
---
"IT'S IMPORTANT WE ARE A PLATFORM TO RAISE AWARENESS OF HEALTH ISSUES. WE WANT PEOPLE TO EXPERIENCE THE MUSEUM THROUGH THEIR PERSONAL STORIES."
Sarah Corn
Director, The Old Operating Theatre & Herb Garret
---
The wider events programme includes a 'live' surgery event, mummy unravelling and stand-up comedy. The venue would certainly be a good conversation starter for a date night.
Some say the museum caters to the sixth sense, with talk of a resident ghost that mischievously opens the apothecary drawers overnight. Is it a daunting place to be alone?
"I thought it might be spooky but it actually feels calm and welcoming. Patients would come here as a place of last resort: it's a place of hope and wanting to survive."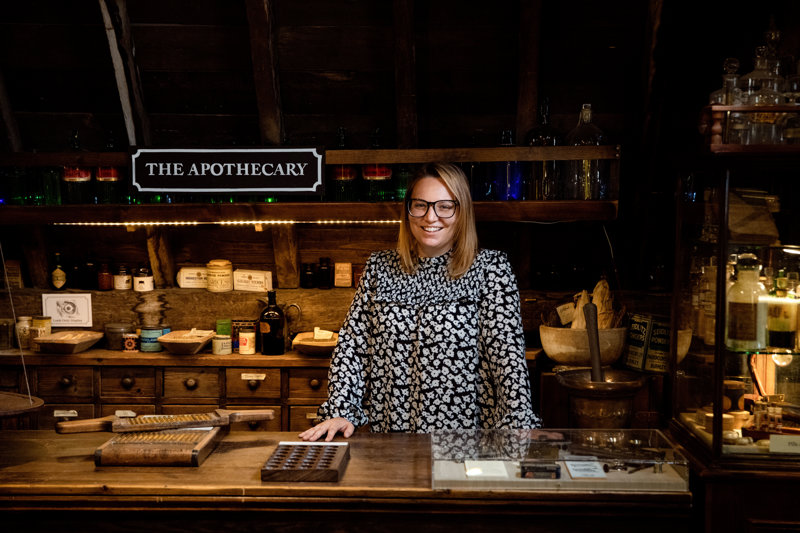 Explore the neighbourhood – Corn's guide
The George Inn, 75 Borough High St, SE1 1NH
A seventeenth-century coaching inn owned by the National Trust but still operating as a pub. The exterior has the original galleries and it's a unique place to have a drink.
Pique-nique, Tanner Street Park, SE1 3LD
It's a small French bistro right in the middle of Southwark, which is great for a lunchtime walk. It has a small menu of perfect French dishes.
Neighbourhood walk SE1
I like to walk through Borough Market, head through Southwark Cathedral, then all the way to Shad Thames along the river and backstreets. There's just so much history.
The Old Operating Theatre Museum and Herb Garret is located at 9a St Thomas Street, London SE1 9RY.