MEET ROB PIERRE, CEO, JELLYFISH
Meet the Occupiers, News
"To have an address in London that's two words is so impactful. You just have to say 'The Shard' and everybody knows where you are. Your brand suddenly gets associated with the iconic nature of the building with all the emotion, brand equity and prestige," says Rob Pierre, CEO and Co-Founder, Jellyfish
Mid-morning light bounces off St Paul's, displaying the famous Cathedral at its #nofilter best. Rob Pierre, CEO and co-founder of digital marketing agency Jellyfish, has a front row view from the company's headquarters on the 22nd floor of The Shard.
Sprawled below, the city is clicking, swiping, liking, and sharing. It is a world that Pierre and his co-founder backed when they started a small digital marketing business in Reigate, Surrey, 15 years ago.
It has been an impressive, not to mention speedy journey from commuter town to one of the most premier addresses in London. First mover expertise in search engine marketing and a series of clever acquisitions allowed Jellyfish to rapidly grow to 30 global offices and a staff of 1,200.
The bold choice of The Shard as Jellyfish's first London office was firmly strategic. If the digital challenger was going to take on the capital's legacy advertising giants, it needed to raise its profile.
Jellyfish HQ has all the trappings of a digital age office. Open plan seating is studded with jewel-coloured sofas and artful bookcases. Copper lamps hang low over an in-house bar where the fridge is stocked with bubbles. A bright young team member wanders past with a bowl of cereal from one of the many free snack stations. It's all very Google – which happens to have endorsed Jellyfish as an industry partner.
The staff may be young but are extremely focused, barely acknowledging the camera flashes as their boss sits for the photographer and explains how his industry has changed since the golden age depicted in the television series Mad Men. Pierre may be dressed in top to toe Silicon Valley black, but his look lends more to Don Draper's sharp tailoring than Mark Zuckerberg's hoodies.
---
"IN THE DAYS OF MAD MEN, A BRAND WOULD HAVE ONE MESSAGE THAT THEY WOULD PUMP OUT TO CONSUMERS EN MASSE. YOU HAD A CHOICE OF PRINT, TELEVISION, BILLBOARDS OR RADIO. DIGITAL HAS ALLOWED US TO HAVE MORE OF A ONE-TO-ONE CONVERSATION WITH CONSUMERS. THE CHOICES ARE LIMITLESS: YOUTUBE PRE-ROLLS, EMAIL CAMPAIGNS, FACEBOOK ADVERTISING, INTERACTIVE BANNERS, SOCIAL MEDIA CONTENT, BLOGS…"
Rob Pierre
CEO and Co-Founder, Jellyfish
---
Jellyfish is there to help brands navigate this ever expanding list, assisting with technology, strategy and training (which it also offers to individuals). Its clients include challenger companies vying to disrupt traditional industries, as well as the established brands hoping to fend them off. 
Jellyfish must also guide its clients through one of the biggest challenges facing companies that want to reach an online audience – data privacy laws. As the photoshoot moves to the Jellyfish bar area, Pierre aptly uses the analogy of a local pub to give his take.
"You've moved into a village where nobody knows you. You visit your new local pub and ask for a gin and Slimline tonic, the next day you ask for the same. On the third visit, you walk in and the barman offers you a gin and slim. Your experience has become more personal in a completely anonymous way. Is there any reason to be scared of that?" he says.
French investment group Fimalac certainly isn't. In November 2019, it bought a majority stake in Jellyfish, valuing the business at £500 million. It is an impressive war chest that will allow it to take on traditional advertising agencies such as WPP, Publicis and Omnicom. It also prompted Jellyfish to expand its footprint in The Shard, leasing an additional half floor on level 22. Pierre now has a 360 view of the world he hopes to conquer.

"Now we have turned the burners on, we're aiming to be a top-three player," he says.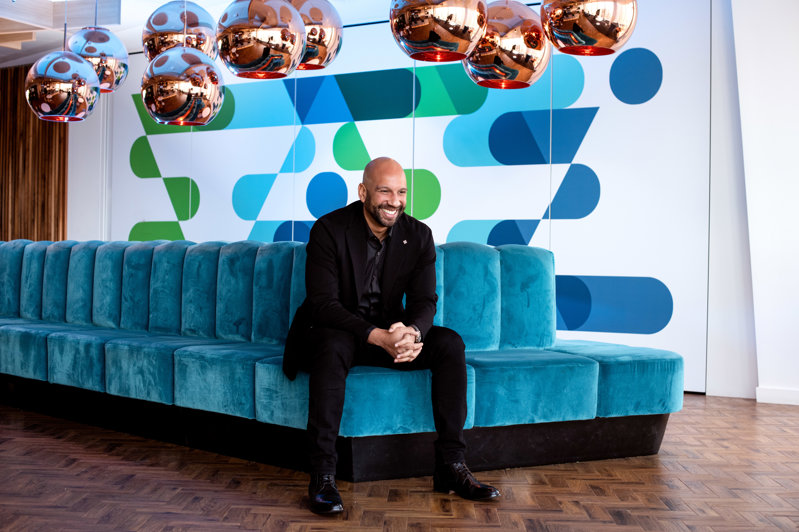 EXPLORE THE NEIGHBOURHOOD, PIERRE'S GUIDE
MBER, 1a Pudding Lane, EC3R 8AB
I co-own a pan-Asian tapas restaurant and bar on Pudding Lane, the site of the Fire of London.  My friend was buying it and said it would be so much more fun to do it with somebody else! It's a passion project and we've made it look beautiful. My favourite dish is the Wagyu beef and foie gras burger in an avocado bun.
 
White Cube Gallery, 144-152 Bermondsey Street, SE1 3TQ
Our Vice President of Creative takes me just to walk around and get inspiration. One installation that really stuck with me was Palimpsest by Doris Salcedo. It featured water seeping through the floor spelling out the names of refugees who had drowned. It was overwhelming, inspiring and emotional.

Borough Market, 8 Southwark Street, SE1 1TL
It's difficult to name one stall, as I go there for the variety. I can never walk out without getting olives though and I'm a sucker for oysters. I often go and get hot sauces from Pimento Hill.