MEET REMI EROBOGBO, PERSONAL STYLIST AND BEAUTICIAN
Meet the Locals
There is a type of woman who is always perfectly put together: a flattering pop of colour here, a quirky accessory placed just so. It might be that these 'others' are naturally stylish, or it could be that they are clients of SE1's most cerebral personal stylist, Remi Erobogbo.
Erobogbo is a science graduate, former marketing executive and recovering shopaholic. She has just moved into to new premises on Southwark Bridge Road, where she helps the area's high hitters feel good about themselves. Women come to her, not only for her eye for style and beauty, but because she understands the challenges of modern working life.
"My service doesn't start with how my clients want to look, but how they want to feel," she says.
Often, women seek help when they have reached a point of change, she explains. It could be that they have moved industries, become a parent, or simply realized their wardrobe is entirely black and grey.
"A recent client moved from a job in the financial sector to fashion retail. She used to feel amazing in her smart body con dresses, but suddenly felt suited and booted. She was stressed, but wanted to feel happy. Together we created a really fun and easy wardrobe that helped her relate to her new team," she says.
Relatable, happy, confident, polished… adjectives are always Erobogbo's starting point. The next step is a wardrobe and body shape analysis, followed by a shopping trip (or rather shopping lessons). Her services also include colour analysis that Erobogbo describes as a 'non-surgical facelift.'
---
"I GET TO TRANSFORM PEOPLE'S LIVES THAT BY HELPING THEM WEAR COLOUR AND BUILD WARDROBES THEY LOVE BY SHOWING THEM HOW TO CREATE OUTFITS WORTHY OF A 'WOW'."
---
Today Erobogbo has her own adjectives nailed (edgy and sassy) with a knack of making the most basic high street shirt look like it came from a high end designer.
However, she knows all too well the impact of feeling you're in the 'wrong clothes'.
"I was picked on at school because I was tall and never had quite the right clothes. My mum would buy stuff for me that just wasn't trendy.  At weekends my friend Chioma Nnadi and I would hit Covent Garden and Camden markets. Vintage wasn't a thing then, but we were just fashion forward. She's now fashion news director of Vogue.com!"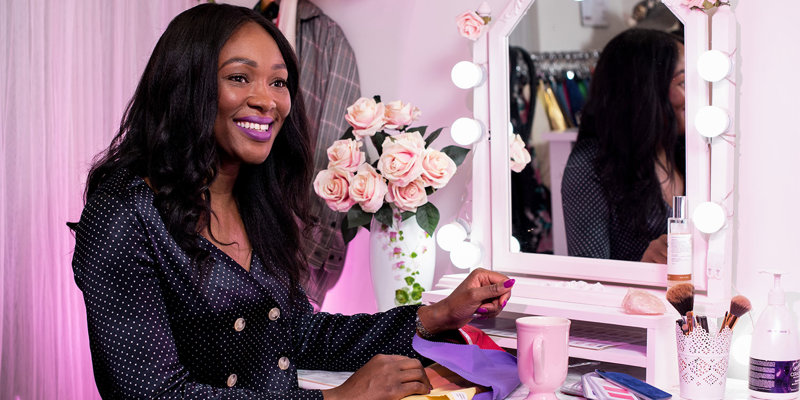 Upon graduating, Erobogbo spent ten years on a parent pleasing corporate career path rising through the ranks in the marketing industry. Until, that is, a bet that made her realise that her love of clothes could become a profession.
"I was young, earning decent money, so I spent all my time shopping or talking about it," she says. Luckily her friends stepped in and dared her to go a year without buying a single item of clothing.
"I managed nine months. During that time I learned to coordinate every single one of my outfits. People used to accuse me of never wearing the same thing twice, but I did, I just styled things differently."
Her sartorial efforts had not gone unnoticed by her colleagues: she became the go-to person in the office if someone had a dinner date or a wedding. She began taking on the odd client, then a year long career break gave her the space to formally train as a stylist and beautician. The beauty side of the business became so successful she has recently opened a new studio on Southwark Bridge Road offering bespoke treatments for working women.
It may come as a surprise, given her love affair with the high street, that Erobogbo prefers not to take her clients shopping. Instead she designed her own programme, Wow Factor Wardrobe, to empower women to make their own choices. The consultation involves a questionnaire and the creation of Pinterest boards with pictures and visuals to spark inspiration.
"Women tend to get overwhelmed by a whole shop rather than narrowing down the items they're going to love. Wow Factor Wardrobe helps them spot their own gems, build a wardrobe and create a signature style."
So what would be Erobogbos' top tip for those with ambitions of joining the ranks of the impossibly put-together?
"Give yourself permission to wear fancy things on non-fancy days. If you always feel like you have to tone yourself down, you're always going to get the same results."
EXPLORE THE NEIGHBOURHOOD - EROBOGBO'S GUIDE
Flower and Grape, 214 Bermondsey St, SE1 3TQ
I used to go out in central London in my twenties, now I'm older I love Bermondsey Street for its restaurants. The Flower and Grape serves fresh pasta and great wines. 
Mary's Living & Giving Shop 90 Bermondsey St, London, SE1 3UB
This charity shop set up by Mary Portas is a stylists' treasure trove. I drop in all the time to look for stuff for my clients (and me!). It's all in the good cause of Save the Children.
Studio: 82 Southwark Bridge Road, SE1 0AS
www.stylewithremi.com
www.remieros.com