MEET PROFESSOR JAMES HAYTON, PRO DEAN, WARWICK BUSINESS SCHOOL
Meet the Occupiers
In 2015 Professor James Hayton and his colleagues at Warwick Business School faced a tough starter-for-ten when choosing a location for their MBA outpost.
How does a 56-year-old university compete with centuries-old institutions such as Cambridge, Oxford, and Imperial College?
The answer: forget dreaming spires, get yourself one that motivates.
"The Shard is so obviously iconic. It made a huge statement about our intent when we moved to London. We wanted a space that would attract the type of person who's going to have an impact on the world," says Hayton.
He is sitting in one of the business school's breakout rooms on Level 17, where students gather to hash out the tough practical assignments set by their lecturers. Behind him, the Square Mile sits proudly on the Thames, while off to the east, the towers of Canary Wharf stake London's position as a leading financial capital. It's the stuff of corporate motivational posters.
Despite the power-views, Hayton's favourite vista from The Shard is London Bridge Station.
"It makes me think of a model train track, and changes at night with the lights of the trains going in and out. My birthplace is over the hill there," he says, pointing towards Sevenoaks.  
In true academic form, he draws parallels between the view and the inkblots in the famous Rorschach psychology experiment. What does our interpretation of each reveal about our personality?
It is his first time in the building following the on/off series of UK lockdowns. He is delighted to be back, though has found distance teaching a positive experience.
"I'm a naturally introverted person – given the choice I'd rather be reading a book. Trying to engage people online for four days straight is like trying to put on a production, and that's been really fun," he says.
He's hoping some of this newfound showmanship will rub off in the lecture theatre. The setting will be on his side. WBS's interiors are the antithesis of the typical UK university experience: blonde wood and high design replace dusty oak and fading notice boards. A huge video wall enables distance-learning students to beam in and participate.
---
"THE SHARD IS SO OBVIOUSLY ICONIC. IT MADE A HUGE STATEMENT ABOUT OUR INTENT WHEN WE MOVED TO LONDON. WE WANTED A SPACE THAT WOULD ATTRACT THE TYPE OF PERSON WHO'S GOING TO HAVE AN IMPACT ON THE WORLD."
James Hayton
Warwick Business School
---
Warwick Business School was founded in 1967 and is now the largest department in the Coventry-based university. Students are attracted to its league table rankings, world-class faculty, active alumni networking and enviable links to the business community. Its ethos is that true learning comes from applying classroom theory to real-world practice.
The Shard outpost houses the MBA (Master of Business Administration) and DBA (Doctor of Business Administration courses) as well as a suite of Executive Education Diploma and short courses. The MBA is for people, typically in their 30s and upwards, seeking to take their career to the next stage. This could mean preparing for the next level of seniority, a new business area, an international move, or sometimes all three. The DBA course gives business leaders the critical skills to make a change in their organisation. Courses often have a very high percentage of international students, which was another motivation for choosing The Shard.
"In the DBA, we've got people coming from all corners of the world, five times a year for two years. The Shard has got a choice of London airports, a brilliant hotel supply, and it is a very easy location to get to. I don't think we could be more connected."
As Pro Dean for external affairs, part of Hayton's job includes cultivating commercial relationships with businesses. As part of this, he has formed relationships with many of the business which occupy The Shard. Accountancy software giant, Sage, has sent employees through its MBA programme and provided speakers for events. Executives from Kraft Heinz and Gallup have also shared their expertise with the students.
Hayton specialises in corporate entrepreneurship – the factors that make an organisation innovate (or not). He describes this as the difference between IBM successfully switching from computing to consultancy, and Kodak failing to embrace digital photography.
WBS falls into the 'innovator' category thanks to its core values of Curiosity, Openness, Restlessness and Excellence.
"Warwick has always been viewed as entrepreneurial – being restless is a characteristic of that. You're never happy with where you are and always want to improve things."
As his students take their seats for his next class, they can be sure they are in for a good show.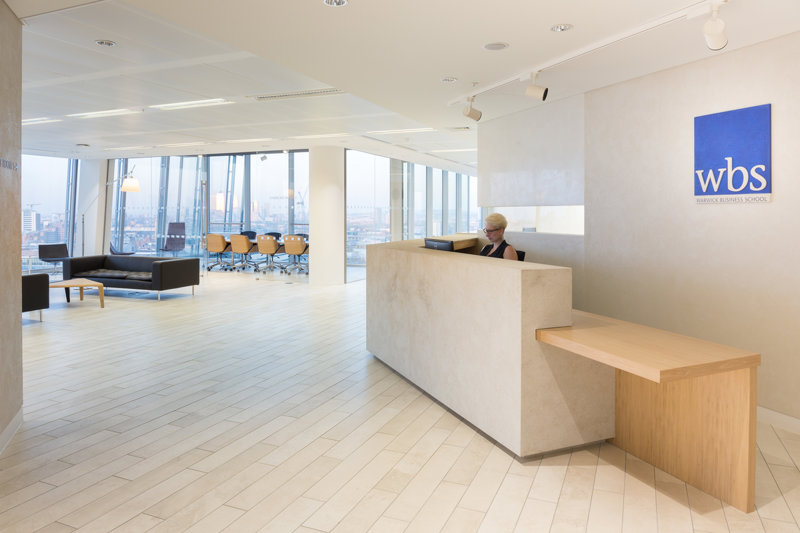 EXPLORE THE NEIGHBOURHOOD, HAYTON'S GUIDE
The Swan, 21 New Globe Walk, SE1 9DT
We routinely take people to The Swan at The Globe theatre. It has good service and good quality at a good price. There's a wonderful view over the river.
Roast, The Floral Hall, Borough Market SE1 1TL
We had an all-cohorts dinner for the DBA at Roast. It's a very striking place because it's inside the market but you've got these great big windows where you can see St Paul's through a gap in the buildings, and the view into Borough Market.
Padella, 6 Southwark Street, SE1 1TQ
…If you can get in. The price vs quality seems unfair! I'm an Italophile because I lived there for five years and think Italian food is the best in the world. Theirs is very good.