MEET MATT PEATY, HEAD OF HEALTH AND SAFETY, REM
Meet the Occupiers, News
Matt Peaty is the safe pair of hands that helps The Shard remain accident free. He has a thing or two to say about 'Health and Safety gone mad.'
What keeps the man in charge of Health and Safety at Western Europe's tallest building awake at night? Is it the window cleaners who work at heights up to 310m (1,016ft), or perhaps the prospect of evacuating thousands of people in an emergency? Not quite. 
"The Shard's design makes it an intrinsically safe building. As boring as it is, a trip or a slip is the most likely thing to happen, as the Shard Quarter estate accommodates thousands of office workers, visitors, restaurant and hotel guests, and passing members of the public every day," he says.
Peaty is reassuringly level-headed for someone tasked with ensuring the thirteen thousand people who work in, or pass through Shard Quarter every day do so without incident. This includes working with the management team, maintenance staff, cleaners, security and the many businesses and restaurants that call the building home. He also looks after the health and safety of other London buildings for The Shard's management company, Real Estate Management (UK) Limited ("REM").
Though electrical outages do not faze him, one topic sure to get him animated is the bad rap his profession gets from the media; 'health and safety gone mad' has been blamed for all manner of crimes including banning playground conker battles, school sports days, tree climbing and even the throwing of mortarboards at a graduation ceremony.
---
"OUR PROFESSION IS TRYING TO SHIFT AWAY FROM THE IMAGE OF PEOPLE WITH HARD HATS AND CLIPBOARDS STOPPING ALL THE FUN. HEALTH AND SAFETY IS THERE TO FACILITATE AND TO COACH – NOT TO BLOCK."
Matt Peaty
Head of Health and Safety, REM
---
He once worked for a management team that looked after a shopping centre, where senior management baulked at using live acrobats without a safety net in an opening ceremony. Peaty stepped in to ensure the correct measures were clearly stated and assessed, so the event could proceed safely. The result was the unforgettable spectacle of performers swinging from a glass-domed roof – acrobats and general public intact!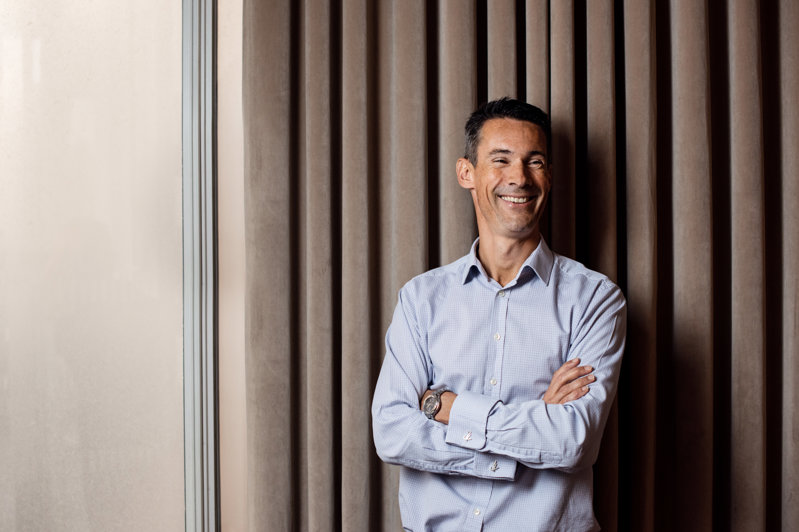 Another aspect of Peaty's role that may surprise the Elf 'n' Safety naysayers is a focus on wellbeing and mental health.
"The UK has come a long way in terms of safety since the Eighties," he says, "procedures, standards and (more importantly) behaviours and attitudes have dramatically reduced the number of accidents."
This allows teams such as his to focus on the non-tangible aspects of health, such as wellbeing. A keen hockey player and fitness enthusiast, Peaty understands that a strong body equals a strong mind. Since joining REM, he has enlisted the help of SuperWellness; a company that helps corporate employees better understand nutrition. Benefits include improvements in physical and mental health, energy and sleep.

It is apt then, that his day starts with the gym, a healthy(ish) breakfast at fast food chain Leon or Costa, and then an 8:30am desk-start when he catches up with his team. The Shard is a 24-hour multi occupancy building, which requires both a proactive and reactive approach to health and safety. 

The proactive side of things might include initiatives such as assessing the risk of incidents involving the substantial public footfall on The Shard's external areas, helping The Shard's restaurants with fire safety compliance, and collaborative auditing with the various service teams housed within the REM portfolio. The reactive things, of course, are more difficult to plan for. Last summer, for example, the building's systems had to be re-started following a local area power issue. 

Another huge challenge is ensuring that anyone working at height cannot endanger themselves, the workers, or the visitors or public below. There is an extremely detailed multi-step process to manage any work at height, using the 14 exterior building maintenance cradles that span the building's façade from levels 4 - 94. Legally, each worker must be fully trained and be familiar with the cradles. 'Pre-flight' checks include weather analysis, communication checks, specific rescue plans and a thorough inspection of the certified equipment.
 
One detail Peaty is reluctant to share is that he is actually not that good with heights. He attributes this to a stepladder breaking when he was cleaning a first floor window as a teenager (luckily, the only thing broken was his Walkman). On the upside, perhaps the incident seeded the idea of a profession ensuring that the highest workplace in the UK is as safe as possible.
EXPLORE THE NEIGHBOURHOOD, PEATY'S GUIDE
Nero Express, 1 Joiner Street, London Bridge Station, SE1 9SP
It is quite hidden in the base of The Shard, on Joiner Street. It has a large, casual upstairs lounge that nobody knows about, so it is great for a quiet meeting.
 
Science Gallery, Great Maze Pond, SE1 9GU
A gallery that explores the relationship between art and science. It is such an innovative idea. It has temporary exhibitions, and great coffee, so my team drop-in throughout the year. 

Hays Galleria, 1 Battle Bridge Lane, SE1 2HD
When I'm not occasionally dining at one of The Shard's fantastic restaurants, I like to eat and drink here. I love being just a few feet away from The Thames and the City views.