Meet Kurt Macher, General Manager, Shangri-La Hotel
Shangri-La Hotel, Meet the Occupiers, News
"Modern guests are after experiences, so our job is to put soul into a hotel visit," says Kurt Macher, General Manager, Shangri-La Hotel.
Stunning views are just the beginning for the General Manager of London's highest hotel.
He is sipping an Americano in the hotel's TĪNG Restaurant on Level 35 of The Shard, a rare moment of downtime in the year he has steered the hotel through a global pandemic. Soul is exactly what his lockdown-fatigued guests are seeking, and in a tailored suit, mustard pocket-handkerchief and coordinating socks, Macher is dressed to deliver it.
Outside, a storm whips around the building. In many ways, it is just as dramatic as the views on a clear day. The spectacular vistas are what attract guests to the five-star hotel; floor to ceiling windows mean they wake up with the entire city at their feet. Yet, while some might class watching the sun set over Westminster from the tub in a marble-clad bathroom as a pretty good experience, Macher is keen to deliver more.
His joie de vivre has driven some extraordinary initiatives since he joined the 202-room hotel in 2019. These include spectacular showpieces, like transforming TĪNG into a 1950's airline for New Year's Eve, and dressing the lobby as an Austrian mountain resort complete with a ski gondola. This summer, visitors will enjoy an Italian-inspired 'Aperol Terrazza', with the atmosphere of an authentic, al-fresco aperitivo experience.
Perhaps the biggest makeover he's pulled off is replacing the prim seen-and-not-heard approach of many luxury hotels, with warmth and personality.
This might materialise as a handwritten welcome note or a personalised welcome message written on a hotel room's window. A new initiative offers guests personalised treats, from in-room yoga mats and a personal bath butler to private shopping experiences, fresh seasonal flowers, in-room mixology, monogrammed pillows and more.
Macher has hospitality in his blood, following in the footsteps of his Austrian family. Chef, bar manager, receptionist, conference manager, guest relations rep, assistant manager, director of rooms, hotel manager…he has run the gamut of jobs in the world's most prestigious hotels.
---
"LONDON BRIDGE HAS REALLY GREAT MOMENTUM. THE LOCATION HAS SO MUCH PERSONALITY AND IT'S SO CENTRAL - 30 MINUTES FROM GATWICK AND JUST TWO OVERGROUND STOPS TO SOHO AND THE WEST END"
Kurt Macher
General Manager, Shangri-La Hotel
---
With a career in luxury hospitality that has taken him around the world, he explains how a hotel in a global landmark can still deliver a local experience.
A Bermondsey local, he is keen to introduce guests to the businesses, food producers and cultural spots that make it one of London's most vibrant neighbourhoods. In this, he has (literally) made great strides, and has been known to take guests on a 5km jogging tour along the river Thames.
The Shard is the Shangri-La group's first opening in the UK.  It starts 125m up and occupies 18 floors. There are four dining venues: TĪNG Restaurant, GŎNG, Sky Lounge and Bar 31. Its claims to 'highest in Western Europe' include an infinity pool and bar.
Then there's the alacrity with which Macher and his team respond to the (sometimes) particular needs of their guests: from arranging the global shipment of a luxury shopping spree to decorating a suite with hundreds of roses and balloons.
---
"WE TRAIN OUR STAFF TO SHOW PERSONALITY AND CONNECT WITH GUESTS, IT'S ABOUT SERVICE FROM THE HEART"
Kurt Macher
General Manager, Shangri-La Hotel
---
With that, he's off to check that all is shipshape. Pent up demand meant that in the first two weeks of the hotel reopening, there was a wedding or a proposal booked every day. Macher is just as thrilled to return to the buzz of real life.
"We hoteliers chose to work in this industry because of our passion for hospitality and taking care of others – it's in our DNA so it's fantastic to return to doing what I love," he says.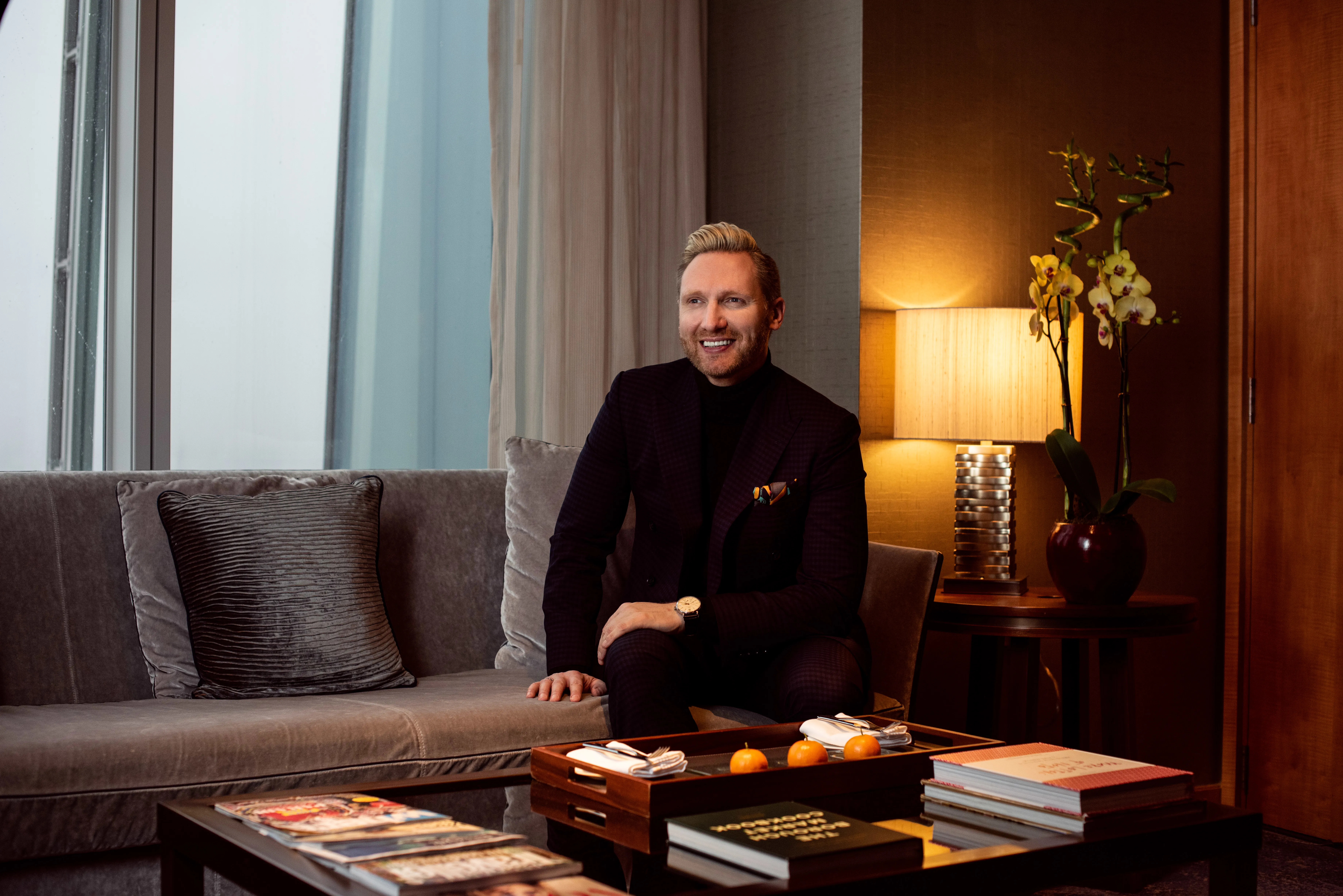 EXPLORE THE NEIGHBOURHOOD, MACHER'S GUIDE
Jensen's Gin, Bermondsey Distillery, 55 Stanworth Street, SE1 3NY
Jensen's makes traditional small batch gin inspired by London's old distilleries. I love the story behind it. You can taste the gin and unique tonics at Maltby Street Market or book a distillery tour. 

Maltby Street Market, Ropewalk, Bermondsey, SE1 3PA
A weekend food market set in historic railway arches. It feels more local than Borough Market and a bit cooler. I go there for Venezuelan arepas from a street food stand called La Pepia.

The White Cube, 144 - 152 Bermondsey Street, SE1 3TQ
The Bermondsey outpost of the gallery that launched young British artists such as Tracey Emin and Damien Hirst. I live nearby and visit here at weekends.