MEET HELEN ATWOOD, HEAD OF SOUTHWARK GIVING
Meet the Locals
"Anyone who gives anything has done a generous act and the only response should be one of genuine gratitude. It has come from someone's heart," says Helen Atwood, head of Southwark Giving.
Heart is something Atwood knows a lot about, having chosen to work in the charity sector upon graduating, while most of her peers headed off to lucrative corporate roles. Over a decade later, she hopes she has contributed to the fight against poverty. Most recently, through her current leadership at Southwark Giving, an emerging charity that enables anyone to give time, money and skills to help causes within the borough.
The initiative is an example of a relatively new charity movement called 'place based giving'. This is the idea that those who live and work in a specific location are best placed to help, take ownership of and develop their community through donations, skills and time. It is a pertinent concept at a time when some larger UK national charities are undergoing PR crises. A simple way to view Southwark Giving is as a philanthropic matchmaker connecting people and money with hidden, unmet and emerging local community needs.
Usually, Atwood, a keen photographer, is behind the camera, but today she is framed against some street art near London Bridge, a pocket of Southwark that undoubtedly sits on the wealthier side of the borough. Indeed, it is Southwark Giving's independent report called 'A Tale of Two Southwarks' published in 2016 that drives the initiative's work.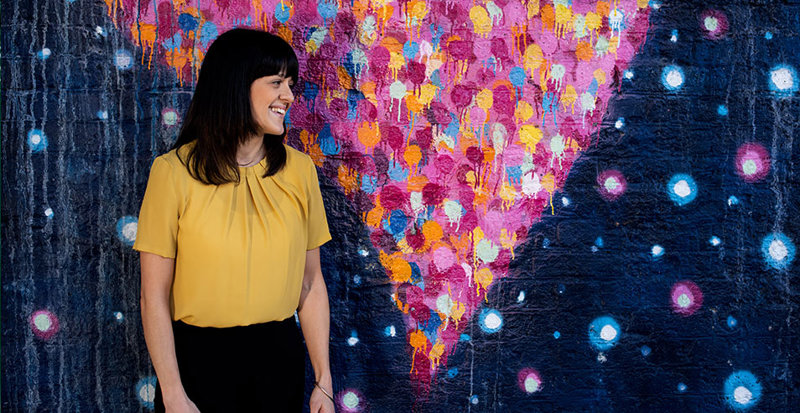 It is an uncomfortable read, detailing how some of the worst areas of poverty and deprivation in Southwark are sandwiched between some of the most affluent. This has very real and hard hitting consequences: Southwark, for example, has one of the highest inequalities in London for life expectancy between the best and worst areas, with ten years separating males and nine years separating women. Redressing this balance is not just a case of blaming the more well off areas or gentrification, but seeing how the two halves can unite to help each other.
Southwark Giving's community theme is 'Life Transitions'. In particular, it targets resources at three particular groups. The first is at risk primary school children making the transition to secondary school. The second is people aged 16-plus making key life choices, particularly those who have been or are part of the social care system. The last is unemployed adults aged 50-plus, who are seeking employment.
Atwood has been with Southwark Giving since its inception just over two years ago. Its patron is multi award winning British businessman Iqbal Wahhab OBE, FRSA and its incoming chair is Honor Rhodes OBE, a leading figure in social policy and relationships.
Atwood's experience in the charity sector means not only is she an expert on good practice, but she has also witnessed less effective practice. She is keen to point out that Southwark Giving is there to support, rather than usurp, existing effective charities. As an example, it might give funds to an organisation that helps disadvantaged families provide their children with secondary school uniform, an expense that can be crippling for some.
---
"THE LIFE-GIVING JOY AND UNITY CREATED WHEN BUSINESSES AND INDIVIDUALS GIVE MONEY, TIME AND SKILLS TO HELP IMPROVE THE LIVES OF OTHERS SIMPLY CANNOT BE OVERESTIMATED. BE PART OF IT!"
---

Southwark Giving is developing what is called a '100 per cent' Fund to achieve this, meaning that every pound of a donation goes directly to the cause (running costs are covered by grants and private investment). The Fund is supported by a growing Givers Network. This aims to elevate donations beyond financial transactions, by offering donors and fundraisers a way to see their donations in action. 
Southwark Giving is not just about money, equally welcome are time and skills. This can even be as simple as taking part in a dialogue. One thing Southwark Giving hopes to do, for example, is to start a conversation between the unemployed 50-plus and local businesses to see how they can be of mutual benefit.
It is also keen to work with local companies to broker employee volunteering. Atwood points out that, as well as having a positive impact on a company's brand, this can also help build trust among colleagues and improve mental health.
There are many ways to get involved in Southwark Giving, ranging from financial investment, donations and fundraising to offering in kind and pro bono support. Laytons LLP, Grainger plc, Mindbench and Real Estate Management (UK) Limited are just some businesses already involved.
"The life-giving joy and unity created when businesses and individuals give money, time and skills to help improve the lives of others simply cannot be overestimated. Be part of it!" Atwood says.
EXPLORE THE NEIGHBOURHOOD - ATWOOD'S GUIDE
The Jubilee Greenway
The section of the Jubilee Greenway walking route between London Bridge and Tower Bridge is a creative use of a clean pedestrianised space that fuses a thriving business district and global tourist attractions.

Borough Market, 8 Southwark St, London, SE1 1TL
Borough Market provides a unique, welcoming place for anyone from any community anywhere to unite, meet, eat and explore the area. Each person adds to its diversity and vibrancy.

Southwark Cathedral, London Bridge, London, SE1 9DA
This stunning Bankside building adds a cultural richness to the area, not least because it is a historic heritage site, but also because of the community unity and inclusivity it encourages. It has an open door to its peaceful gardens, vibrant café and regular recitals and concerts.
If you would like to get involved or find out more about Southwark Giving, please visit southwarkgiving.org or email [email protected]