MEET HARNEET BAWEJA, CO-FOUNDER OF GUNPOWDER
Meet the Locals
"My friends say I have the soul of a grandmother, all I want to do is feed people," says Harneet Baweja co-founder of Gunpowder Tower Bridge, the bigger, more polished progeny of the Spitalfields hit with the same name.
Appearances aside (the 34-year-old cuts a youthful figure as he stands Hopper-esque in the window of his latest restaurant), his friends have a point. Anyone spending more than a minute in his company will find themselves deluged with offers of turmeric chai tea or peanut and chickpea chaat.
However, hospitality is only a part player in the story that made Gunpowder a critics' favourite. It is the delicate small plate dishes that thumb their nose at Brick Lane's all you can eat offerings that paved the way for this second opening.
A star menu item is the spicy venison and vermicelli doughnut, a crispy taste bomb of tender meat encased in delicately fried noodles served with fennel and chilli chutney. Then there is Old Monk Rum pudding, Gunpowder's version of the bread and butter classic.
"We make the custard with rum instead of sugar. It's this dark Indian rum that you grew up drinking because you couldn't afford anything else – brilliant and rubbish at the same time," laughs Baweja.
More surprising than some of the flavour combinations is that this Indian fine dining does not break the bank, with the average dish coming in at around £8.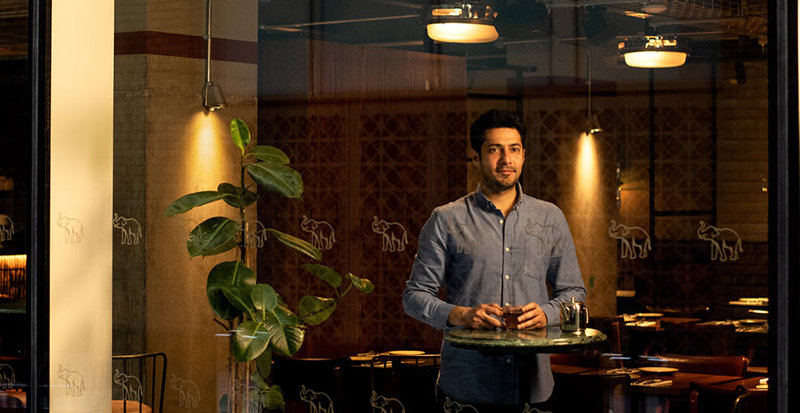 This was deliberate on the part of Baweja and his wife and co-founder Devina, a media executive, who wanted to create an authentic Indian dining experience.
"We are one of the first Indian small plate restaurants in London. When I used to eat out with my friends in Kolkata we'd order four or five things. The food scene in London is fantastic, but you are always stuck with just one main. The greedy little boy inside me says 'I want to try that'."
Baweja and his wife both grew up in Kolkata, home of Mother Theresa, the former capital of British India and West Bengal's principle trading city. This meant the pair were exposed to myriad food influences growing up. It is perhaps for this reason that Harweet is coy about associating Gunpowder's menu to a particular area or even country.
---
"AUTHENTIC IS A BIT OF A DIRTY WORD. BEING HONEST TO YOURSELF AND YOUR FLAVOURS IS ALL YOU CAN REALLY DO. PEOPLE RESPECT THAT AND COME BACK."
---
And come back they do. The gleaming glass lines of the One Tower Bridge development that houses the new restaurant could not be further from the hole in the wall cosiness of Gunpowder's Spitalfields location. However, the 100 cover restaurant still has a local feel, according to Baweja.
"The Shard is a vertical neighbourhood and we looked at this development with the same eyes," he says, "We have neighbours that drop in saying 'I'm popping home, I'm going to be back in 45 minutes.' It's a fantastic feeling."
This community feel is not without design. Tables in the new restaurant are deliberately placed close together to create a communal dining experience.
"A lot of people have ended up being friends in the smaller Gunpowder just because they sat next to each other.  Sometimes, when we're really busy, single diners share a table and end up sharing their food."
---
"COMING TO US AS A SINGLE DINER IS THE BIGGEST COMPLEMENT YOU COULD PAY. WE FEEL VERY HUMBLE AND GRATEFUL AT THE SAME TIME."
---
When Baweja uses the word 'humble' it is easy to tell he is being - another of his favourite words - 'honest'. He is more likely to be found helping out front of house than barking orders in the kitchen. He is also keen to point out that he is not a professionally trained chef - he learnt the ropes as a teenager in the kitchens of Indian hotels where he would be tasked to peel 12kg of ginger in an hour.
"It's more learning by falling down. Our team here is fantastic, there are so many chefs that are so much more talented than me, including our executive chef Nirnal Save. I respect that they allow me into their space."
Not content with a full lunch and dinner service, Gunpowder Tower Bridge is soon to open during the daytime in the form of 'Custard Bakery'.
"We intend to be a place where people can stop by for a coffee and a pastry. A neighbourhood restaurant needs to be a place where people can go the whole time," Baweja says.
A sentiment any self-respecting grandmother would agree with.
EXPLORE THE NEIGHBOURHOOD - BAWEJA'S GUIDE
El Pastor Taqueri, Maltby Street Market, London, SE1 3PA
It is very relaxed, the food's good, and it's non-fussy. If I can sneak it in, I'll grab a couple of tacos there for a late lunch.  
Santo Remedio, 152 Tooley Street, London, SE1 2TU
For a full service restaurant I would go to Santo Remedio, a small plate restaurant serving honest Mexican food.  
The Bridge Theatre, 3 Potters Fields Park, London, SE1 2SG
I'm really glad they're extending the theatre mile. This is a wonderful theatre and the fact that chef Fergus Henderson (from St John's) is in there makes it even better. I recommend grabbing a couple of glasses of wine and a cheese plate before a performance. 
Gunpowder Tower Bridge, 4 Duchess Walk, London, SE1 2SD
www.gunpowderlondon.com/tower-bridge/