MEET ESAT KOLEGE AND OYTUN PAKCAN, CO-FOUNDERS, ADAM GROOMING ATELIER
Meet the Occupiers, News
Architecture, design, Negroni and bespoke beard balm, the sharpest barbers in town has opened in The Retail Arcade within Shard Quarter.
"I'd describe my hair as a classic short back and sides; I'd describe his as a nightmare." Esat Kolege co-founder of ADAM Grooming Atelier teases his business partner and long-time friend, Oytun Pakcan.
In fact, they are both immaculately turned out, as one might expect of the co-founders of a breakthrough chain of high-end men's barbershops.
Both are wearing blue shirts and smart-casual trousers, Oytun a gilet. The former financiers are a perfect reflection of their target customers, young professionals who want more from a haircut than an in'n'out trim on their local high street.
The pair, both originally from Istanbul, met while studying at the London School of Economics. Careers in finance followed, but they maintained a friendship characterised by easy banter.  
"Oytun used to mock me for going to the barbers every two weeks, but it made me feel good, light and refreshed," Esat says.
It was 2016, with the men's grooming market growing faster than a hipster's beard; the pair spotted a gap in the market for an experience led salon.
"There were either trendy bare brick Shoreditch-type salons or small, mom and pop (independent) shops, but nothing to serve professionals," Oytun says.
Moreover, the duo wanted to create a social experience. This explains the salon's well stocked bar which serves a mean Negroni, Old Fashioned or Espresso Martini.
---
"WE'RE FROM TURKEY, WHERE THE BARBERSHOP IS AT THE CENTRE OF CULTURE. IT'S WHERE MEN COME TO SHARE THEIR NEWS AND SOCIALISE. WE COULDN'T FIND ANYWHERE LIKE THAT HERE."
Esat Kolege
Co-Founder, ADAM Grooming Atelier
---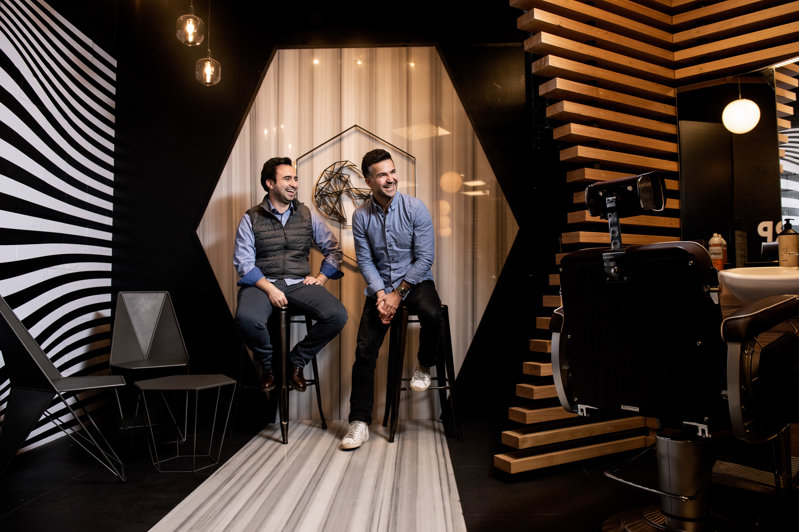 They launched the first branch of ADAM Grooming in Canary Wharf in 2016 - 'Adam' being the Turkish name, and universal symbol for, 'man'. Today they are showing off their seventh location in The Retail Arcade. It certainly does not look like a typical black and chrome gent's barber. The interior is designed by the pair's friend, Inanc Eray, who started his career with the renowned architect Zaha Hadid. 
Sweeping rods of curved chestnut wood cocoon guests in discreet consultation areas, where three-way mirrors place them at the centre of attention. Here, they can relax in retro leather chairs, drink in hand, as their consultation begins.
It starts with a discussion of head shape. To demonstrate this, Esat returns to the theme of Oytun's hair, explaining that the occipital bone at the back of his head is flat, a feature that a good cut should redress.

This approach is intended to set ADAM aside from the uniform 'two on the top, one on the sides' cuts that proliferate the typical men's hairdressing experience, and it takes skill. 
---
"OUR BARBERS ARE LIKE YOGA MASTERS, WE ONLY HIRE THOSE WITH YEARS OF EXPERIENCE."
Oytun Pakcan
Co-Founder, ADAM Grooming Atelier
---
The menu of treatments reads somewhat like a drinks list in a hip cocktail bar – Director's Cut, Face Time and The Skin Fade. Esat calls over the head barber to describe the latest trends. He explains that the beard is going nowhere, but unwieldy styles have been replaced by a neater, more groomed look. The Skin Fade, as championed by (who else?) David Beckham, Justin Timberlake and Ryan Reynolds, leaves hair longer on top, fading to shorter graduations as it reaches the neck.
It is a popular choice among the creatives, accountants and entrepreneurs who work in and around Shard Quarter.
"We were really excited to open up here. The Shard has transformed the area and there's a great community of professional business people that we can serve," Esat says.
This salon in London's most iconic landmark has cemented the brand's presence in the capital. The next stop is an opening off New York City's Wall Street, as the pair continue their quest to make the world's men just a little bit smarter – even those with nightmare hair.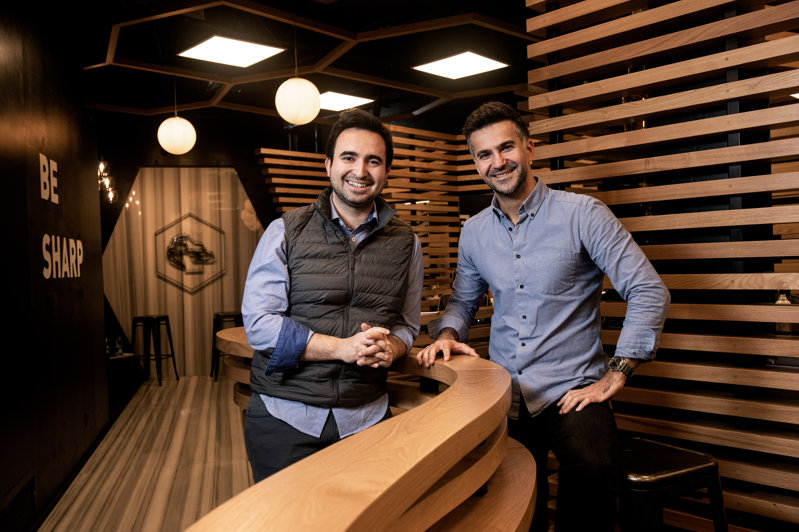 EXPLORE THE NEIGHBOURHOOD – THE ADAM GROOMING GUIDE
Three Wheels Coffee, The Retail Arcade, 32 London Bridge Street, SE1 9SG
An independent tricycle themed coffee place that is just opposite Starbucks. It always has a massive queue and the coffee is consistently good.
Bacallà, 194 Bermondsey Street, SE1 3TQ
This is a new Italian seafood restaurant opened by our friends on Bermondsey Street. It pairs each dish with extra virgin olive oil from selected Italian producers, as some restaurants do with wine. 
Padella, 6 Southwark Street, SE1 1TQ
Another Italian. This one is on the edge of Borough Market. Oytun's favourite dish is pici cacio e pepe, a classic Tuscan dish made with pasta, butter and cheese. It's simple food, cooked to perfection.
 
Visit ADAM Grooming Atelier, Unit 1, The Retail Arcade (Shard Quarter), SE1 9BZ

Book an appointment: 020 3978 9900
Twitter: @adamgrooming_
Facebook: @adamgroomingatelier
Instagram: @adamgroomingatelier