MEET EDSON DIAZ-FUENTES, CO-OWNER OF SANTO REMEDIO
Meet the Locals
Santo Remedio translates as 'holy remedy', the cure to the cheddar laden burritos and fajitas that many restaurants pass off as Mexican food. Owners Edson and Natalie have thrown out pile-em-high nachos in favour of unique sharing plates such as hibiscus flower enchiladas. Tex Mex this is not.
"It is authentic Mexican food that I used to crave and enjoy," says Edson who grew up in Mexico City. He is checking into the restaurant just three days after the couple's second child arrived a month early. Given a few sleepless nights, he is remarkably alert as he accepts felicitaciones from his staff.
Then again, the husband and wife team are used to dealing with the unexpected. In 2017, they opened a hugely successful Shoreditch restaurant, gaining the thumbs up from a royal flush of UK restaurant critics including Jay Rayner, Giles Coren, Grace Dent, Tom Parker Bowles and Richard Vines. Seven months later they had to close down overnight due to problems with the building.
---
"WE WERE A PACKED, 44-COVER RESTAURANT THAT WAS FULL FROM ONE DAY TO ANOTHER. IT WAS A LITTLE BIT SHOCKING."
---
Perhaps influenced by Natalie's career as a financial journalist, they took the unusual step of raising £45k through a crowd funding campaign, offering free meals in return for pledges. The only problem was that they had just three months to get the new site open.
"Normally it takes a year," says Edson, "We had a few teething problems. On one particular evening we had a full house, the fire alarm went off, the electricity went down and we couldn't charge bills. It was eventful!"
A year on, the scene is completely different. On this particular Thursday lunchtime, the downstairs seating area is packed with groups of workers from nearby Shard Quarter and More London. It is no wonder that the suits come here: the cheerful riot of palm printed wallpaper and colourful marketplace curios make it the perfect lunchtime escape.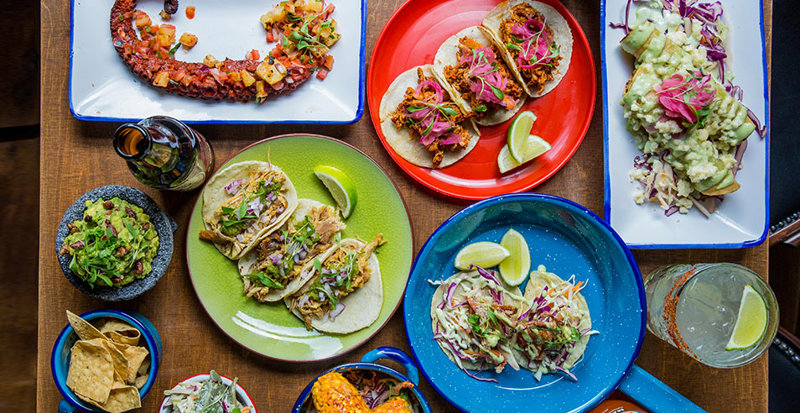 At weekends, a new brunch service already attracts a dedicated following of local residents as well as disciples from the old Shoreditch site. The menu includes grilled pineapple and apple juice and the ominously titled 'Drowned and Divorced Eggs'. Ironically this dish is the result of a loving compromise after Edson and Natalie disagreed on whether to serve huevos ahogados (eggs drowned in tomato salsa) or huevos divorciados (served with conflicting fiery salsa roja and a cooler salsa verde).
Though not formally trained, Edson comes from the very best cut of chef, those that love eating. In his twenties he travelled around Mexico collecting culinary inspiration from each state. This was also where, in 2006, he met recent Oxford graduate Natalie (who is half-Mexican) at a beach party in Tulum.
---
"MY TRAINING IS THAT I EAT EVERYWHERE, I TRY EVERYTHING, I TAKE NOTE OF EVERYTHING AND I DOCUMENT. I HAVE A GOOD PALETTE MEMORY AND THAT HELPS ME CREATE DISHES FROM THE THINGS I TRY AND THAT I LOVE."
---
It was a skill that propelled him from learning the ropes in Mexico's Casa Oaxaca, one of the top 50 restaurants in Latin America, to becoming Head of Menu Innovation at the Wahaca Restaurant Group in the UK ('Wa-ha-ca' is the anglicised spelling of Oaxaca, making the discussion of Edson's CV somewhat confusing). For two years he worked closely with the company's co-founders Thomasina Miers and Mark Selby to help Wahaca grow in to a sizeable national chain.
Santo Remedio started from more humble beginnings as a supper club in a Brooklyn apartment where the couple lived for three years. When they returned to London, it expanded into hired venues serving 30-40 people and a street food business. A move to permanent premises was inevitable.

Following in the footsteps of Santo Remedio Shoreditch, the Tooley Street location has become a much-loved neighbourhood restaurant. For the most recent Día de Muertos (Day of the Dead) festival, staff placed pictures of lost relatives on a traditional altar alongside items that the departed enjoyed in life (this could typically be Tequila or Mezcal, but never fruit, jokes Edson -"No one likes fruit. Put cigarettes, something grandma really used to like!").
What the restaurant did not expect was emails from regular customers asking if they could join in too. "They sent us pictures of their lost loved ones. It was really interesting as we were doing something that was more traditional rather than Halloween-like," Edson says.
The candlelit shrine not only represented a homage to the departed, but the success of a husband and wife's mission to deliver authentic Mexican culture to SE1.
EXPLORE THE NEIGHBOURHOOD - DIAZ-FUENTES'S GUIDE
Southwark Park, Gomm Road, SE16 2TX
It is a good space for cycling and has a football academy, playgrounds and green space for the little ones. 
Watch House Coffee Shop, Tower Bridge, Cardamom Building, 31 Shad Thames, SE1 2YR
They have one shop on Bermondsey Street and have opened here on the site of a former spice factory.
Manze, 87 Tower Bridge Road, SE1 4TW
The Pie Shop. Just pie and mash with the options of gravy or liquor. Really good comfort food.
Santo Remedio: 152 Tooley St, London SE1 2TU
www.santoremedio.co.uk