MEET DEREK ROSSENRODE, GENERAL MANAGER OF SHARD QUARTER
Meet the Occupiers, News
From fast-tracking last minute vegetable deliveries, to full-scale evacuation drills, Derek Rossenrode and his team ensure that London's tallest building runs seamlessly.
View from Kilimanjaro or The View from The Shard?
"The View from The Shard," Derek Rossenrode, General Manager of Shard Quarter – and occasional adventurer – does not miss a beat. Just one year into his role, he is still in awe of Western Europe's highest building.
Tackling some of the highest peaks in the world, including Everest, must seem a doddle compared to the mountainous task of ensuring the smooth running of a site that frequently hosts up to thirteen thousand occupiers, tourists and visitors.
At the heart of Shard Quarter, which encompasses The News Building and new prime residential development Shard Place, is the eponymous skyscraper itself. It is not a typical high rise full of offices, but a 24-hour multi-occupancy vertical city, housing six restaurants and bars, a hotel, a university, a tourist attraction, a television station and several businesses from insurance to fashion.
Rossenrode's biggest challenge can be boiled down to a simple fact: all of these need different things moved up and down at different times. Hotels need linen, restaurants need fresh produce, broadcasters need equipment, and everyone needs people. Maintenance, service and repair issues just add to the giant logistical jigsaw.
The key to ensuring that a shipment of carrots will not delay a delivery of fresh pillowcases (and vice versa), is communication. Rossenrode and his team have regular contact with occupiers to ensure strong relationships and a 'one building' approach.
---
"THE POTENTIAL FOR OCCUPIERS TO IMPACT NEGATIVELY ON EACH OTHER IS EXPONENTIALLY HIGHER IN A VERTICAL STRUCTURE. EVERYONE NEEDS TO SHARE THE AVAILABLE LIFT TRANSPORTATION SYSTEM. IF DELIVERIES ARE NOT EFFECTIVELY MANAGED IT CAN THROW THINGS OUT FOR EVERYONE."
Derek Rossenrode
General Manager, Shard Quarter
---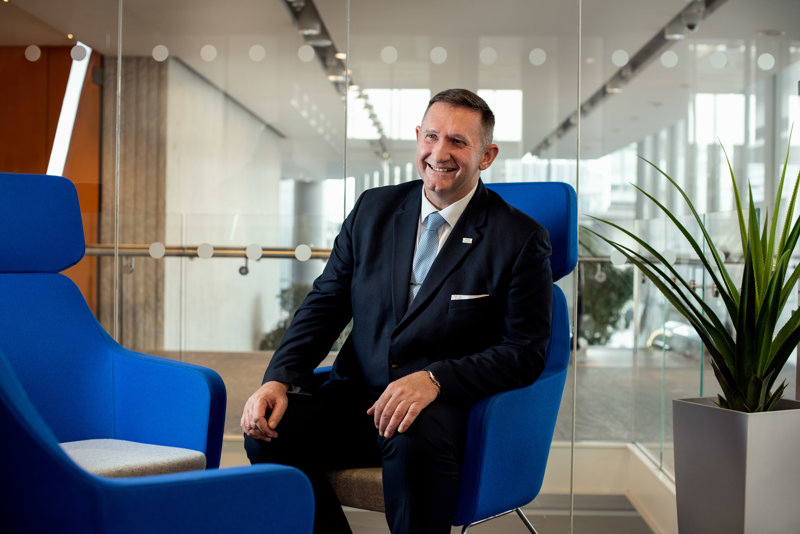 He is (and has to be) a man of process and structure. His day starts with a review of what has happened overnight in the 24-hour building. Then he strategically divides his time among a 200-strong team that looks after cleaning, security, front of house, occupier relations, mechanical and electrical maintenance and, of course, those lifts. However, he equally dedicates time to personally engaging with The Shard's occupiers.
It is community, above all, that creates the soul of a building, he explains. This might come in the form of small touches like a lobby book sale or a Christmas charity event. However, it is also enabled by a consistently high level of service that, if done well, is only noticeable in its absence.
"Take Front of House – reception and security," he says, "People have an hour to get in and out for lunch. We don't want a queue at front desk eating up their time," he says.
A high level of occupier satisfaction is paramount when the building needs to work together in emergencies. One of Rossenrode's most satisfying moments since joining Shard Quarter was experiencing his first fire evacuation drill.
"I found it very reassuring to see the level of planning, competency and execution delivered by both the occupiers and the Shard Quarter team," he says.
In his spare time, Rossenrode enjoys running marathons and trekking. Despite these outdoorsy credentials, his biggest challenge upon joining The Shard was finding his way around the building and its many service areas. Though he now knows every hidden door and lift shaft, one thing that he will never get used to is the emotional impact of The Shard on the London skyline.
---
"EVERY MORNING I GET TO MARYLEBONE, SEE THE SHARD AND THINK WHAT A PRIVILEGE IT IS TO BE THE GENERAL MANAGER OF THIS INSTANTLY RECOGNISABLE BUILDING."
Derek Rossenrode
General Manager, Shard Quarter
---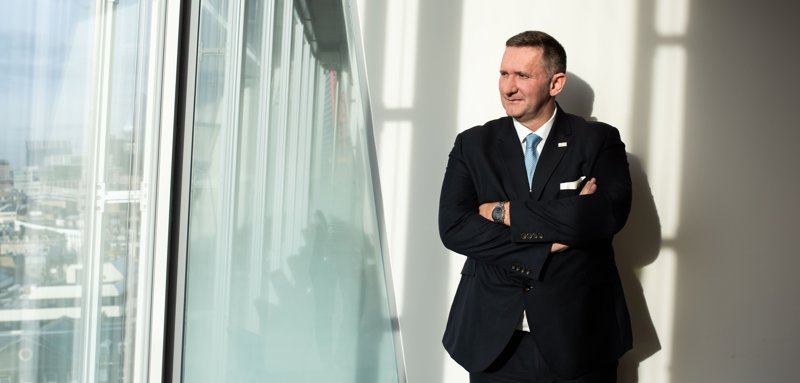 EXPLORE THE NEIGHBOURHOOD, ROSSENRODE'S GUIDE
The View from The Shard
Nearly a thousand feet up and on a clear day you get the most amazing panoramic views of London and beyond. I'm up there roughly once a week for work but should make more time to just go and enjoy it. 

Restaurants at The Shard
I'd recommend any of our amazing restaurants: Aqua Shard for afternoon tea, Oblix for steak and Hutong for a fantastic evening meal. 

Borough Market, 8 Southwark Street, SE1 1TL
The diversity of Borough Market is right on our doorstep. There are hundreds of stalls selling anything from fresh fruit and veg to speciality meats. The atmosphere on Thursdays and Fridays is really vibrant.