MEET BOUCHRA JOHNSON, SENIOR CREATIVE PRODUCER AT AL JAZEERA MEDIA NETWORK
Meet the Occupiers, News
"I was greatly influenced by the colourful Lebanese landscape and the creative chaos in every aspect of life. I grew up in war-torn Beirut, and its bullet-ridden buildings were the backdrop to my childhood."
Growing up in civil war era Lebanon, current affairs were entwined in Bouchra Johnson's life from a young age. Now the senior creative producer of Al Jazeera English, her team plays an instrumental part in how news is delivered.
Their job is to look after all the visual aspects of the channel. These include idents, news openers, weather graphics, title sequences, infographics, set design, music branding, video-wall backdrops and more.
"People generally don't think about the creative aspects of news channels, and that means we are doing our job well. Television is thirsty for creative content and we have to be reactive to the editorial demands. I work closely with news and programmes teams to 'graphicise' content in order to make it easy to digest."
With wild curly hair and earrings featuring graphics of old Arab film posters, Johnson is the antithesis of the suited and booted news presenters that front Al Jazeera's programming.
She attributes her creative streak to her childhood in Beirut, the resilience of which fostered a huge art and cultural scene in the face of war. She continues to view the world through a designer's eye; at the Shard, for example, her favourite view is the railway tracks that snake into London Bridge Station.
"I always take guests to that corner as I love the geometry and fluidity of the tracks, and it never fails to impress. At night, you get the contrast between the black and the white. It's beautiful."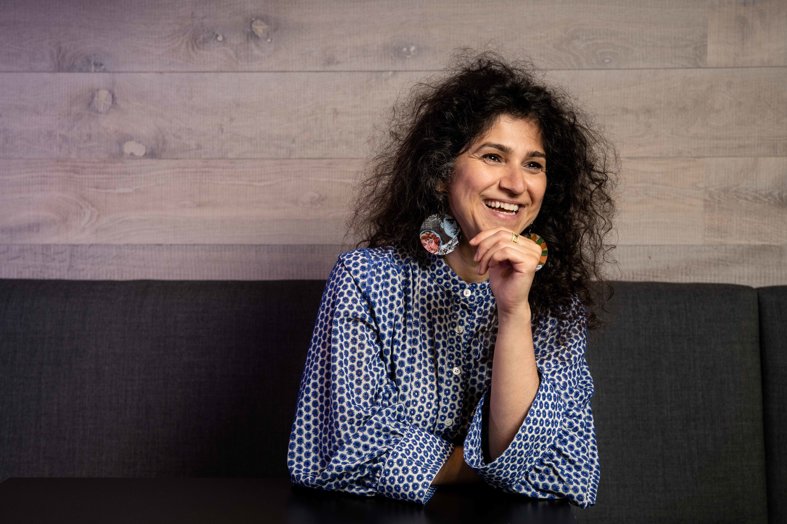 A summer school in the early 2000s bought her to London, where she now lives with her husband and two children. In 2006, she worked on the launch of Al Jazeera English, the first English speaking channel of the Qatari-owned network.
Launched in Doha in 1996, Al Jazeera is known for its nonstop coverage of conflicts, uncensored talk shows and exclusive stories from the Middle East, Afghanistan, Iraq, and African countries. Its on-the-ground access in locations that are off-limits to many journalists gained it a strong reputation in the West. As of March 2020, Al Jazeera's various digital platforms have achieved an unprecedented record of 1.4 billion viewers, where Al Jazeera English reaches 270 million households in 140 countries.
In 2010, Al Jazeera was one of the first networks to cover a mass protest movement across Tunisia, which would later spark the Arab Spring. A few months before, it had broadcast The Secret Iraq Files, after its investigative unit obtained copies of 400,000 classified US files released by Wikileaks – the biggest military leak in history.
In the biggest challenge of her career, Johnson and her team created the whole look of the program, both in English and Arabic. As one of the few designers in the Al Jazeera English creative department to speak fluent Arabic, she automatically took the helm. The team were working in top-secret, unable to talk to their colleagues about the highly sensitive scoop.  
"It was a very intense time working on such sensitive and highly confidential material with a small team of designers and a very short deadline."
With the channel's influence growing, and the London bureau's need to expand, it was time to move from its Knightsbridge basement offices to a brighter open-plan location on level 16 of The Shard.
---
"THE SHARD OFFICE OCCUPIES A WHOLE FLOOR SPACE WITH 360 DEGREE VIEWS OVER LONDON, AND IS INSTALLED WITH STATE OF THE ART BROADCAST FACILITIES. IT IS FLOODED WITH NATURAL LIGHT AND A TRANSPARENT FILTER SYSTEM HAS BEEN INSTALLED ON THE GLASS IN THE NEWSROOM AREA TO REACT WITH THE CAMERA AND ADJUST THE OUTPUT IMAGE WITHOUT COMPROMISING THE VIEW."
Bouchra Johnson
Senior Creative Producer, Al Jazeera Media Network
---
For Johnson, whose first experience in London was working for a design agency on Bermondsey Street, it was a homecoming of sorts.
"I love the diversity, not just of the office, but of the area itself. You have Borough market with its very diverse menu; Bermondsey Street with its little boutique cafes, shops and art galleries; and, of course, the South Bank with its art and culture scene," she says.
Johnson's day starts with a coffee and socializing in the vast corridors of Al Jazeera with the different departments, before an intensive day in a highly pressured live news environment.
Her team meets with the news and programmes editorial departments who discuss the stories of the day, then have hours to produce the graphic content – sometimes minutes in the case of breaking news.
She also works on long-term projects. One of which was the launch of Studio B Unscripted, a new format that invites two notable individuals from different walks of life to share a conversation. The twist? There is no host. Provocative topics range from 'Inequality, race and pseudoscience' to 'Is Big Tech the New Empire?'
"It's filmed in front of a studio audience and recorded at night with views of London from the north-facing studio. The experience of being part of a live audience with high profile guests, lights and cameras can be very exciting."
One thing AJE doesn't have to worry about is providing an exciting backdrop. The view from Level 16 takes care of that.
---
"OUR SKYLINE BACKDROPS ARE REAL RATHER THAN VIRTUAL, YOU ACTUALLY SEE THAT WE ARE BROADCASTING IN LONDON. THE SHARD IS SUCH AN ICONIC BUILDING AND WORKING HERE IS A PRIVILEGE. THE VIEWS NEVER GET TIRING. IT'S A REAL FEEL GOOD SPACE AND WE SEE INCREDIBLE SUNSETS MOST DAYS!"
Bouchra Johnson
Senior Creative Producer, Al Jazeera Media Network
---
EXPLORE THE NEIGHBOURHOOD, JOHNSON'S GUIDE
Fashion and Textile Museum, 83 Bermondsey Street, SE1 3XF
A textile museum founded by fashion designer Zandra Rhodes. I've always loved colours and textiles, as well as the pink and orange building where it is housed.
Sands Films, 82 St Marychurch Street, SE16 4HZ
It's an independent cinema, film studio and costumier run by a family. They screen old films, and have archives from back in the day. They also run costume making workshops and it's full of old posters and memorabilia.
Arabica, Borough Market, SE1 9AF
I love the amazing cheeses, authentic olive and truffle oils and cured meats at Borough Market as well as Arabica Bar & Kitchen stall, which sells Lebanese food, like shawarmas. It started at Borough Market more than 20 years ago selling Middle Eastern meze and Lebanese street food. 
One of my favourite spots in the area is White Cube in the heart of Bermondsey street. They always have great exhibitions on show.