LOVE LUNCH RETURNS TO LONDON BRIDGE
Shard Quarter
London Bridge, not only adored for its juxtaposition of the historic and the new, but is also renowned as one of the capitals most favoured and renowned foodie destinations.
With over 50,000 workers accessing the 450+ businesses located in London Bridge, plus the additional 200,000 travellers drawn to the areas attractions there are more than a few mouths to feed. Luckily London Bridge has it covered, filled with gastronomic delights and bustling food markets offering street food from around the world, all with original concepts to showcase their versatility.
Love Lunch 2016
To bring back the joy of one's lunch hour, time that's yours and should be spent to enhance a healthier lifestyle, Team London Bridge are bringing back Love Lunch for its 6th year.
Team London Bridge have teamed up with partners such as the Fashion & Textile Museum, Fitness First, London Glassblowing, WPF Therapy and the Hot Yoga Society to compile a schedule of free activities that includes everything from chocolate and sushi making, to outdoor fitness sessions, gallery viewings, and well-being workshops.
To book your place today for any of the following activities visit: www.atlondonbridge.com/lovelunch16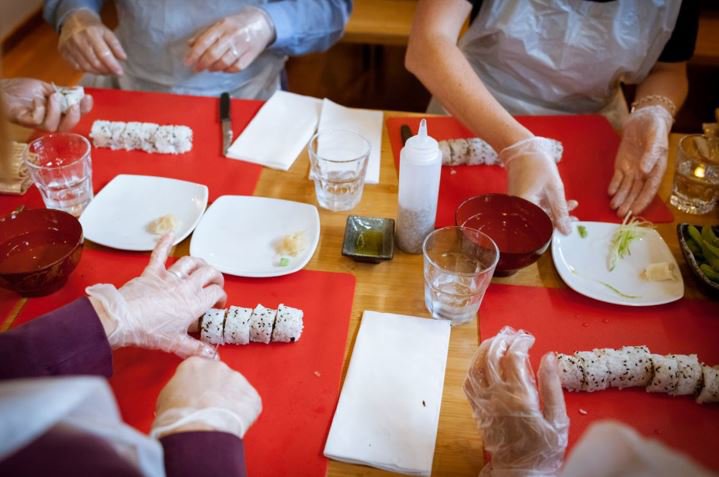 Food Workshops
Chocolate Making with Divine Chocolate – 12th October – 12PM
Sushi Making with Wawa Sushi : October 18th – 1PM / October 18th – 2PM
Exploring
Fashion Heritage at the Fashion and Textile Museum Self-Guided Tour Any lunchtime
Arts and Culture in London Bridge Guided Tour – 7th September – 1PM
Medical Southwark Guided Tour – 27th September – 1PM
London Bridge Self-Guided Walk any lunchtime
Wellbeing
Outdoor Yoga and Boxing with YogaBox – 8th September – 1PM/ 13th September 1PM
Hot Yoga and Meditation with Hot Yoga Society – Every Wednesday throughout October
Spinal Screening with Chiropractor at the London Wellness Centre – Every Wednesday and Thursday throughout October: Please note the session is 1.5 hours
An Introduction to Mindfulness with Joyful Living – 11th October – 12PM and 1PM
Stress Management Workshop with WPF Therapy 15th September – 12PM and 1PM
Fitness First (Cottons) Class Outdoor Session – 20th September – 1PM
Fitness First (London Bridge) Class Indoor Session – 22nd September – 1PM
Fitness First (Cottons) Class Indoor Session – 6th October – 1PM
Arts and Culture
Private Tour of White Cube with one of the gallery's Directors – 13th October – 12.30PM p>
Private Fashion Highlights Tour at the Fashion and Textile Museum – 11th October – 1PM
Lunchtime Concerts at Guy's Hospital every Wednesday 1PM
Old Operating Theatre Museum and Herb Garret Tour with Historical Lunch Bag – 4th October – 12.45PM
Tower Bridge Exhibition – Free Tickets – 22nd September – 1PM
Glass Blowing Demonstration at London Glassblowing – 29th September -1PM
Volunteering
Speed Mentoring (Any Industry) with Teens and Toddlers Charity – 25th October – 1PM
Speed Mentoring (Catering Industry) with Bermondsey Community Kitchen Charity- 31st October – 1PM
Introduction Session with South London Cares Charity
Introduction Session with Breast Cancer Care Charity