HUTONG CELEBRATE FIFTH ANNIVERSARY
Restaurants and Bars
Hutong celebrate five years since opening their doors with a special menu.
To celebrate Hutong's momentous occasion, Head Chef, Fei Wang has created a special Fifth Birthday Menu available for a limited time which showcases your favourite dishes over the years.
The Fifth Birthday Menu begins with a selection of dim sum; including Braised Mushroom Dumpling with Black Truffle, Cuttlefish and Shrimp Dumpling with Squid Ink and Smelt Egg and also Steamed Cod Fillet Dumpling with Tonburi. For your next course move onto Roasted Peking Duck, made in the duck kitchen and served with homemade pancakes, followed by another signature dish, Red Lantern Crispy Soft-shell Crab with Sichuan Dried Chilli. Then enjoy Beef Fillet in a hot and sour broth with Seafood Fried Rice and Choy Sum.
The Fifth Birthday Menu is available for lunch and dinner until 16th September for £88 per guest for a minimum of two people. To book click here or call on +44 (0)20 3011 1257.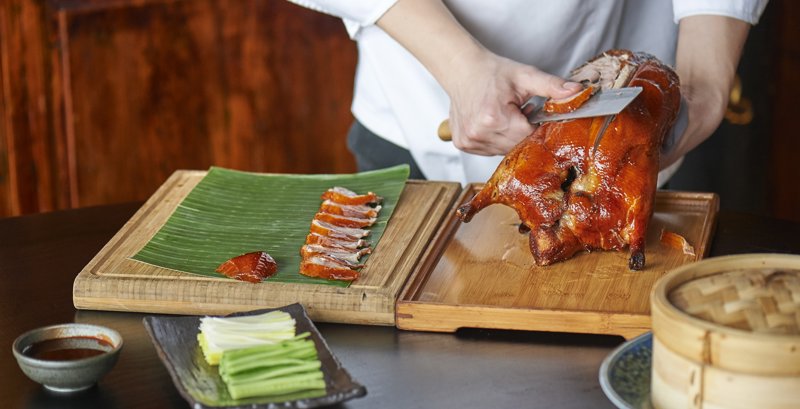 Don't forget to stop by Hutong's Shanghai Bar on your visit to try a selection of cocktails from their past. The bar team have brought back Hutong's best-selling tipples that have been served over the years for you to enjoy once again.
Take a tingling sip of 'Comfortably Numb', created in 2013 and made with with Stolichnaya vanilla vodka, lychee liqueur, fresh chilli and Sichuan pepper balanced with honey and lime. Or you could enjoy 'Make a Wish' from 2015, made with with Tanqueray gin, Kamm & Sons, pomelo, vanilla, lime and garnished with an edible rice paper wishing card. Take a trip down memory lane and stay awhile. See the full fifth birthday menu here.