GONG WELCOMES INTERNATIONAL STAR BARTENDERS FOR 2017
Shangri-La Hotel
Expect lab-style cocktail creations and no holding back, as GŎNG, in the Shangri-La Hotel at The Shard transforms for its Star Bartender nights.
FROM THE CLUMSIES' GENESIS MENU:
Metamorphosis (sweet, sour)
Blanco tequila, citroen vodka, and a refreshing cordial – specially for the season.
Inspiration: 'The magical transmutation of flavours in a recipe that allows the ingredients to change state, or to metamorphosise at regular intervals.'
Trilogy (sour, sweet)
London dry gin, mint, triangle potion
Inspiration: 'An essence which unites three parts and allows the beginning, the middle and the end to become one.'
THE COCKTAILS
Expect complex flavours and subtle contrasts, combined with the zing of fresh herbs and fruit. Their shopping list is full of surprises, including: baby rocket, dill, clarified tomato water, sun dried tomatoes, green olives, coriander, spearmint, through to tangerines.
Infinity (deep, complex)
Bourbon, distilled liquid leaven, hazelnut potion, olive.
#Clumsynegroni (sweet, bitter)
Old Tom gin, house blend vermouth, Campari, beeswax, pepper.
GŎNG Collins (bright, refreshing)
Aged rum, fresh lemon juice, salty honey, apple soda, cucumber bitters.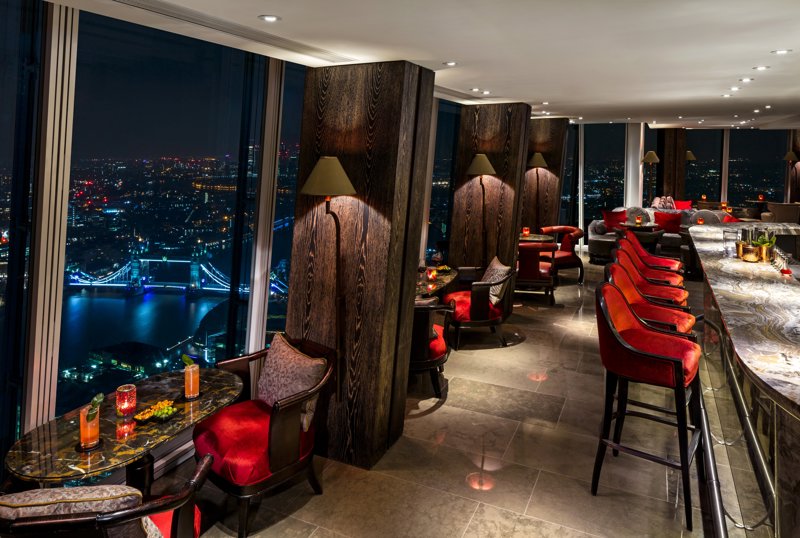 The Clumsies from Athens are the first hedonistic house-guests from 22 to 25 March at GŎNG, the highest bar in Western Europe. With several top residencies planned for 2017, the line-up also includes Steve Schneider from Singapore / New York. Guest bartenders will be serving their signature cocktails on the 52nd floor alongside Christian Maspes, head bartender and the team at GŎNG.
Vasilis Kyritsis and Nikos Bakoulis, aka The Clumsies, are named the 9th top bar in The World's 50 Best Bars. Their bright, all-day to late-night bar has become an essential destination for intrepid drinkers worldwide.
Now, for four nights, fans of adventurous, innovative cocktails, can come and enjoy cocktails from their Genesis menu plus new creations with spectacular views across London.
Call 0207 234 8208 or click here to make a reservation.