GŎNG BAR UNVEILS NEW COCKTAIL MENU
Restaurants and Bars
The Shard's Shangri-La Hotel announce the launch of its new GŌNG Bar cocktail menu, 'Director's Cut'.
Fittingly named the 'Director's Cut', the menu is inspired by the greatest film directors of all time and their passion for storytelling. With a concoction for every taste, guests are invited to embark on a sensory journey and use imagination to create their own story while at the highest hotel bar in Western Europe. 
A total of 16 cocktails and four mocktails span five themed categories - Adventure/Fantasy, Romantic/Sci-Fi, Thriller/Drama, Crime/Action and Animation/Superhero. The Adventure/Fantasy category features light and refreshing cocktails, whereas Romantic/Sci-Fi explores drinks with fruity notes, flora and spices. Opposites attract in the Thriller/Drama section where sweet meets sour, while the creations are punchy and full of character in the Crime/Action category. The list closes with the Animation/Superhero section, which features herbal and earthy non-alcoholic flavours. 
Call 0207 234 8208 or click here to make a reservation.
---
"WE ARE THRILLED TO BE SHARING THESE ADVENTUROUS, UNIQUE DRINKS WITH OUR GUESTS. THE COCKTAILS ARE INSPIRED BY DIFFERENT FILM DIRECTORS WHO ARE GLOBALLY RECOGNISED MASTERS OF THEIR CRAFT. JUST AS A GREAT FILM IS A HARMONY OF CINEMATOGRAPHY, SOUND AND GREAT ACTING, THE SAME CAN BE SAID FOR A TRULY FANTASTIC COCKTAIL THROUGH ITS BLEND OF INGREDIENTS, TECHNICAL SKILL AND THE ATMOSPHERE IT CREATES."
Christian Mapes
GONG's Head Bartender
---
ADVENTURE & FANTASY
Fear The Jungle inspired by Steven Spielberg, director of Jurassic Park is a synthesis with a sting. This tropical, fruity and refreshing pisco mix is reminiscent of exotic locations and epic adventures. Served shaken in a clay highball swirled in ivy, the drink is garnished with an edible scorpion (preserved in alcohol).
History Became Legend, brimming with earthy notes and forest flavours, is a wizard of a drink with a rum base. Inspired by Peter Jackson, director of Lord of the Rings, the drink is served shaken in a mate tea pipe and accompanied by fragrant, torched Mediterranean herbs served in a tiny box.
Wingardium Leviosa is inspired by David Yates, amd as magical as the character Harry Potter. The drink combines gin and tamarind tea with butter finished pale ale and is served shaken in a ceramic mug badged with a griffin and garnished with an edible magic stick (liquorice).
Feel The Force dares you to choose the dark side cocktail or opt for the light side cocktail. Inspired by George Lucas, the creator of the Star Wars films, the two vodka based drinks excite the palate with two distinct flavours. Each concoction is served in a levitating cup that is powered by an electro-magnetic force.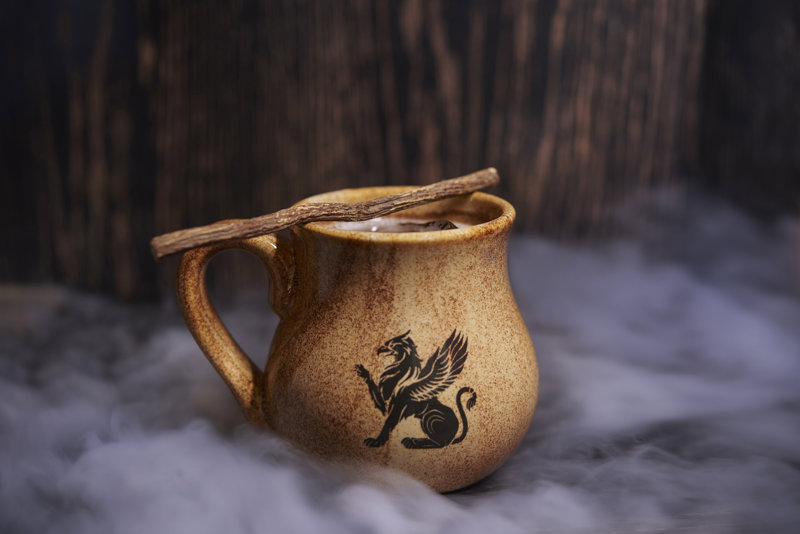 Adventure & Fantasy: Wingardium Leviosa
ROMANCE & SCI-FI
A cat with no name is a delicate floral, fruity gin tea inspired by Blake Edwards who directed the films Breakfast at Tiffany's and The Pink Panther. The drink is served in an afternoon tea cup and garnished with a chocolate coated plum. 
Storm & Marbles inspired by Woody Allen and the films Annie Hall and Manhattan offers three distinct flavours served in three seperate ceramic cups. The mind concoction is a spicy, nutty rum based drink, while chai tea foam and passionfruit create the 'passion' drink. The 'love' cup features a Perfecto Amor aperitif wine.  
Guests are invited to reveal their 'Hidden Self' with this creation inspired by Christopher Nolan, director of the films Inception and Memento. Ingredients representing the conscious and unconscious mind are perfectly paired together in a two-part glass to create a delicate, fruity aperitif that is intended to be sipped as one. 
The White Unicorn is a long and refreshing tropical tequila based cocktail with notes of aromatic spices and coffee. Inspired by Ridley Scott, director of Blade Runner, the drink is served in a crystal highball with a garnish shaped like a white unicorn. Cold brewed coffee is combined with pineapple and coriander and slow cooked with a sous-vide at 50 degrees in a water bath to create this unique drink.
THRILLER & DRAMA
Frhed H.C. Cocktail is an intriguing gin full-bodied drink and features complex spicy notes and sour sensations. Inspired by Sir Alfred Joseph Hitchcock KBE who directed Psycho. The drink is served shaken in a flute glass and comes complete with a written scroll and hidden anagram message. A silhouette of the 'Master of Suspense' is stencilled on the surface of the drink.
Tea with Daisy inspired by Baz Luhrmann, director of The Great Gatsby and Moulin Rouge, is a light vodka based cocktail and delights the palate with a fruity yet bitter finish. It combines blueberry and jasmine shrub with port and is topped up with olive tea soda. The drink is presented in a rocks glass with an ice ball, nestled in a lacquered theatre box. The box itself takes inspiration from the two movies with the red velvet interior and theatre mask reminiscent of Moulin Rouge, and the gold art deco painted design resonant of The Great Gatsby.
Hypnoid State delivers more than anticipated; this vodka based cocktail heightens all of the senses - taste, texture, smell and sound, to ignite the imagination. It is inspired by Stanley Kubrick, director of A Clockwork Orange and The Shining. Served in a highball glass, the drink is accompanied by an MP3 player that plays Beethoven's Ninth symphony.
Vienna to Versailles is a smooth, cognac based cocktail with notes of crème brûlée. It combines Rémy Martin 1738 cognac with oaked verjus which is derived from the first pressing of grapes and aged in a barrel. Inspired by Sofia Coppola who directed Marie Antoinette, the drink is served in a glass coupette swathed in a royal blue satin ribbon symbolic of the French Monarchy.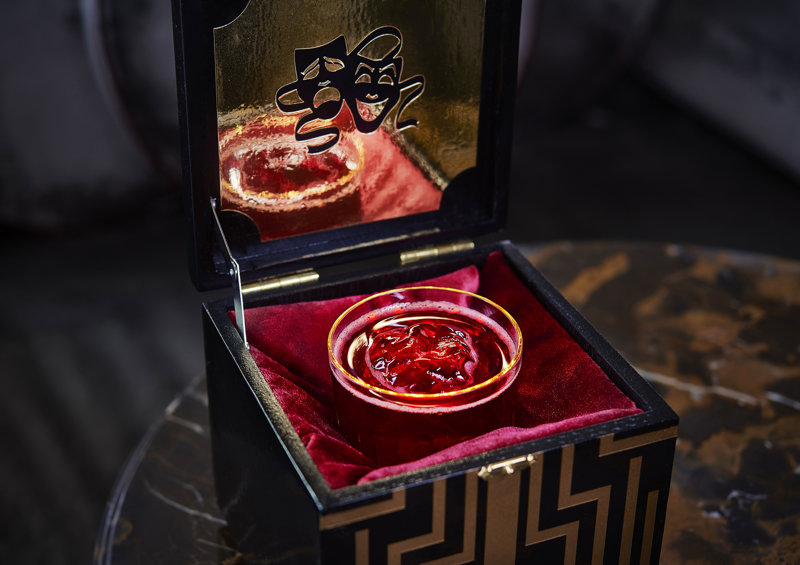 Thriller & Drama: Tea with Daisy
CRIME & ACTION
Bullet Proof is a straight-up whisky based gentleman's drink which oozes scents of leather and smoke for a punchy nightcap. Inspired by Francis Ford Coppola who directed The Godfather. Bullet Proof is served stirred in a tumbler featuring an indented bullet.
Fleming Sweep is a martini style gin cocktail full of character and artfully combines Cocchi Americano with elderflower, champagne and sour hop for a fruity, floral finish. Inspired by Sam Mendes who is best known for directing the James Bond films Spectre and Skyfall, it is served stirred in a classic black and gold coupe.
Atlantis inspired by Michael Bay who directed the Transformers film series, is a bourbon based cocktail with bitter notes. Roots herb spirit, bourbon and Asian pear is combined with Gagliardo – an Italian liqueur which many years ago used real ladybirds as a key ingredient. The drink is served in a conical whisky tasting glass on a stone coaster and comes complete with its own special effect.
Dirty Business is perfect for enthusiasts of Americana-style spirits and bourbon, the cocktail is a complex after-dinner drink with notes of coffee and liquorice. The body of the drink is devilishly dark and combines bourbon, cold pressed coffee liqueur, Fernet and stout reduction. A light foam made of apricot tea, champagne, cream and lemongrass adorns the drink. Served in a coupette glass with a roulette card and chip, it is inspired by Martin Scorsese, director of The Wolf of Wall Street, Casino and Goodfellas.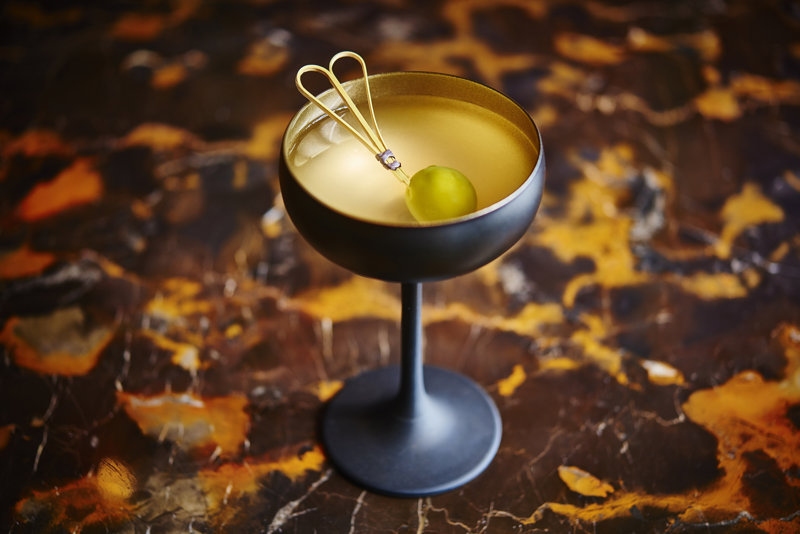 Crime & Action: Fleming Sweep
ANIMATION & SUPERHERO
Oo De Lally, inspired by Wolfgang Reitherman, director if Robin Hood, combines beetroot juice, lime, chocolate and vanilla to form a sweet and spicy mocktail. The drink is served shaken in a wooden cup with a side of golden chocolate coins and beetroot crisps. 
Web-Slinger exudes refreshing herbal and grassy notes. Inspired by Sam Raimi who directed the original Spider-Man triolgy, the concoction is served shaken in a coupe glass and garnished with an edible jelly spider. 
Adamantium is a creamy and energising ong drink inspired by Bryan Singer who directed superhero films X-Men and Superman. Oat milk, matcha tea and banoffee curd are combined in a crystal highball glass with crushed ice. The drink is garnished with dried banana slices and a dusting of matcha powder. 
Tetsuo is a tingling sour yet refreshing drink that combines lemongrass, yuzu and bamboo charcoal tea in a Japanese tea cup. Inspired by Hayao Miyazaki - one of Japan's greatest animation directors of manga (comic) movies, the drink is served shaken and topped with tonic.