GENSLER SURVEY RESULTS - OFFICE FIT OUTS AFFECT WORKPLACE PERFORMANCE
The Shard
Following the release of Gensler's UK workplace Survey 2016 results, The Shard has re-visited some of the exemplary fit outs within the building. The Shard's offices host many innovative workspaces including Sage Group, Campari, The Office Group and Jellyfish.
Gensler's results were collated after surveying a panel-based sample over 1,200 UK office workers in 11 industries nationwide. The research reports that employees who rate their organisations highly on innovation measures also report having greater choice, and use a wider range of workspaces to get their work done. 
The Shard's office occupiers are leading the way with a variety of features. They are offering interesting and functional spaces for employees to work, collaborate and meet clients. The Office Group at The Shard were recently awarded the National Association of Shop Fitters 'Non Retail Award' for their office fit out in the building.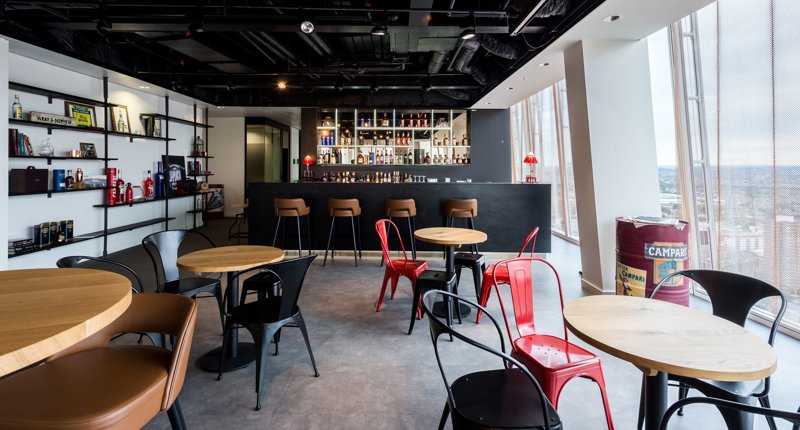 Campari's collaboration space-come-bar and Sage Group's breakout space complete with living wall.
Campari's mission is to build lifestyle brands and people with passion, which is reflected in the creative decoration of their offices. These include transparent meeting rooms, desks with views of St. Paul's and a Negroni bar for collaboration and meeting clients in the centre of the office. 
The functionality of JellyFish's fit out was three fold; providing bright, comfortable spaces for the digital agency's training courses to take place, accommodating permanent staff and creating an area for collaboration and meeting clients. 
Gensler advise that their research shows businesses should take a more considered approach to the open plan, expand workplace variety and choice, and match office space to role, not status.
For more office fit out inspiration, see The Shard's series of inspiring interior design concepts by Jump Studios and Perkins+Will - Boutique, Urban, Club and Fractal. If your business is interested in moving to The Shard, you can view the current office availability here.