DALE GIBSON: BERMONDSEY BEES
Meet the Locals
Stockbroker and urban Bee Keeper Dale Gibson on his love of the village life on the ever-stylish Bermondsey Street.
Why London Bridge? What first drew you to this area and particular Bermondsey Street?
My wife Sarah was enchanted by the village atmosphere around Bermondsey Street – so we made the move from North of the River to live in SE1. It was also the perfect spot for a shop for the haute couture dog-collar business she had co-founded, Holly and Lil. The best of both worlds.
How long have you been in Bermondsey Street for?
If you're asking me, Dale Gibson, almost 10 years. But if you're asking the bees, it's been over 900 years. That's when Bermondsey Abbey was completed. Monks were always keen beekeepers.
How long have you been keeping bees on your roof?
It's been eight years now. And for every year I have been here, my Bermondsey Street neighbours have been gifted a jar of honey from the bees – a long tradition in beekeeping.
Do you feel there is a benefit to keeping bees in an urban location?
Certainly. Up on my roof, the bees are out of harm's way, treated against the varroa parasite, far from pesticides and enjoy year-round forage from trees, flowers, parks, allotments, railway sidings, private gardens and window-boxes. Sadly, wild bees are under enormous pressure from diseases exacerbated by the varroa mite and, untreated, are suffering abnormally high winter losses. They also suffer from the feast and famine effect of intensive farming and from pesticides.
The other benefit is that all I have to do to be amongst my wonderful bees is to go upstairs!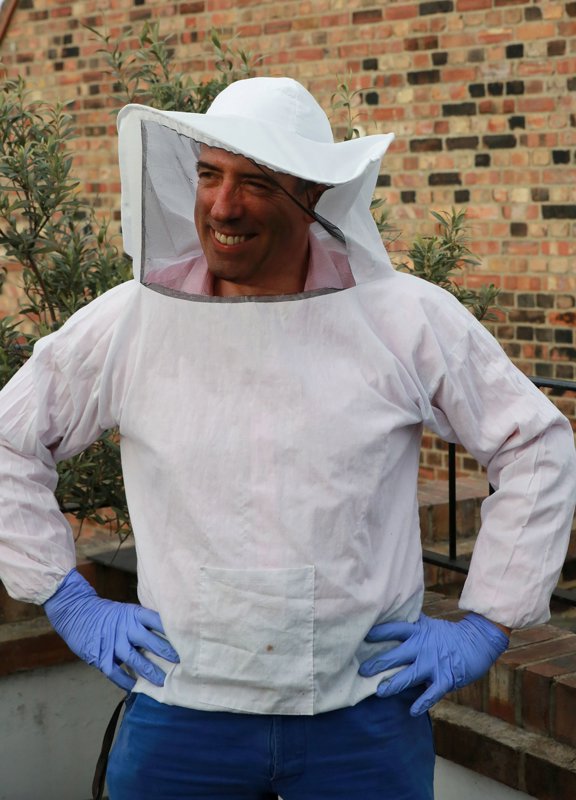 Could you describe your typical working day?
I wake up at 5:20am, stretch, make tea, then run over London Bridge to Shoreditch to be at my desk before 7am. Stockbroking. Run home over Tower Bridge at 5pm. Beekeeping. Cooking. Writing. Sleeping.
What is the general reaction from people when you tell them about your profession?
I always get the question, "Do you ever get stung?". I think that they are talking about the beekeeping, rather than the stockbroking.
Bee keeping seems to be rather trendy at the moment; do you feel like you helped create a trend?
When I started, beekeeping was a bit of a counter-culture. Now it's mainstream. It may even be fashionable. The important thing is that new beekeepers are properly trained, not properly trendy.
What advice would you give someone who is thinking about keeping bees?
Do your homework. Successful beekeeping is a high-knowledge, low-intervention activity. I recommend four key steps: go to your local Beekeeepers' Association; find out whether you like handling bees; study under an experienced beekeeper for a full year cycle before keeping your own bees; ensure that your bees have enough to eat around your beehives.
One final caution: do not rely on books alone. As eminent London beekeeper John Chapple once drily observed: "The bees don't read the same books that we do."
Can you share your hidden gems in London Bridge?
Don't miss the bustle of Maltby Street Market. French Flint has an Aladdin's Cave of glass jars and The Leather Market is a revelation. Austin Emery's "Shared" community sculpture in Tyers Gate Estate, in the shadow of The Shard, is a real testament to the spirit of the area. But the big'un is the Bermondsey Street Festival, held every September, run by the . A must-go.
Do you think being in London Bridge is benefitting your business, and how?
We have a vibrant local business community which is benefiting from new developments like The Shard, More London and White Cube increasing footfall in the area. Yet we still have a solid base of people who live and work here. Everyone appreciates local honey - a raw, natural product which comes from our own area.
Also, the remarkable number of parks and open spaces, diligently and skillfully maintained by Southwark Council's Parks Department is a benefit to all wildlife, including bees. Organisations like  and the Bermondsey Street Area Partnership (BSAP) do a great job of pulling the local community and businesses together.
If you were not located in London Bridge, what other area would you choose? And why?
Narnia. It's the only other place which would do!