CHINESE NEW YEAR AT THE SHARD
Restaurants and Bars
Saturday 28th January 2017 marks the beginning of the Chinese New Year. Welcome in the Year of the Rooster with new menus at Hutong and Shangri-La's TĪNG restaurant.
DOUBLE HAPPINESS AT HUTONG
Located on the 33rd floor of The Shard, Hutong is bringing in the new year with a 'Double Happiness' menu. Starting with a Lo Hei mixed seafood salad, dishes include Shanghai wontons in chicken broth, Jasmine tea roasted chciken, Halibut in a spicy chilli broth, Signature Crispy de-boned lamb ribs and Mango pudding.
According to tradition, the meal starts with the host of the table adding the condiments of the Lo Hei salad in order, before everyone at the table takes their chopsticks and tosses the salad, calling out "Lo Hei!" which means "to mix it up" but also sounds like "to prosper more and more". The higher you toss the more prosperous you will be!
Dinner will be accompanied with a traditional lion dance, a calligrapher to write well wishes for your New Year, Chinese musicians, noise makers for your table to ward off evil spirits and a red pocket gift for every guest.
To book call +44 (0)20 3011 1257 or email [email protected].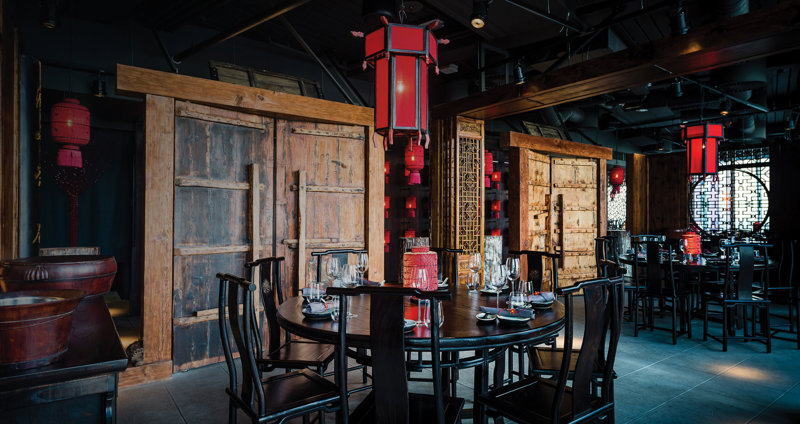 TV CHEF CHING HE HUANG AT TĪNG
TĪNG which is derived from the Chinese word for "living room" is a restaurant in the Shangri-La Hotel which presents a modern European menu with an Asian twist. 
For Chinese New Year, TĪNG restaurant have teamed up with TV Chef Ching He Huang to create a special symbolic Chinese New Year menu. The menu launched Tuesday 24th January and will end on Friday 3rd February. 
Ching He Huang developed the menu in co-operation with the Shangri-La Hotel's Resident Executive Chef Gareth Bowen, which offers a selection of 'Bamboo Baskets and Bowls' based on traditional symbolic, Chinese New Year dishes with a modern twist. The menu includes Salt & Pepper Crispy Wild Duck with Mandarin & Kumquat Dip, Crispy Vegetable Smoked Tofu Bean Curd Skin Spring Rolls, Grated Ginger in Black Rice Vinegar, and Moneybag Dumplings of Pork & Prawn with Scallop and all represent luck and fortune.
To book call +44 (0)20 7234 8108 or email [email protected].