BAR 31 LAUNCHES SUMMER TERRACE WITH TANQUERAY GIN
Restaurants and Bars, News
Bar 31 and Tanqueray Gin welcome Londoners and travellers to celebrate summer with an alfresco garden terrace in the heart of bustling London Bridge. The Tanqueray residency invites visitors to experience a new citrus inspired gin cocktail menu at The Shard's number one neighbourhood bar, which has been transformed into a floral garden complete with paper lanterns, wild flowers, warm glowing lights, and plenty of fresh herbs and plants.
Celebrating the fresh notes of Tanqueray No. TEN, Tanqueray Rangpur, Tanqueray Lovage and Tanqueray Flor De Sevilla, the lush, colourful garden is the perfect sanctuary to enjoy an afternoon drink with friends. Highlights on the menu include the Royal Blush cocktail made with Tanqueray No. TEN, rhubarb, lemonade and fresh raspberries and the Lovage cocktail which mixes Tanqueray Lovage with Fever-Tree Tonic, coriander and Juniper berries. Guests can choose from a range of bold botanicals and garnishes to bring out the fresh aromas of the gin.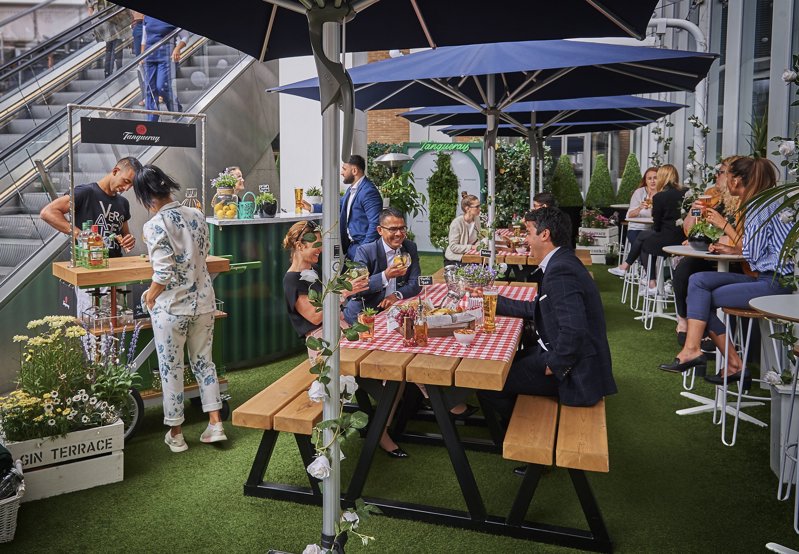 Picnic benches and comfortable outdoor seating fill the open-air terrace creating a casual and relaxed vibe to enjoy a summer drink. To complement the new Tanqueray cocktail menu, the team at Bar 31 has also launched their very own picnic box. Featuring half a roast chicken, Cornish Yarg Cheese from Neal's Yard Dairy, freshly made sourdough bread from Bread Ahead, piccalilli, salad and a homemade hummus, the box meant for two is perfect for sharing. 
Bar 31 will be hosting a Tanqueray cocktail masterclass with award-winning bartender and Tanqueray Brand Ambassador Jack Sotti on the 14th August on the summer terrace. Guests will have the chance to explore and indulge their senses whilst being guided through the process of creating the perfect gin cocktail to suit their palettes. 
The Tanqueray garden terrace is now open and will be available until the end of September 2019. Opening hours are Tuesdays and Wednesdays from 11:00am to 10:00pm and Thursday through to Saturday from 11:00am to 11:00pm. Reservations are not required, and tables are available to guests on a first-come, first-served basis.
Tanqueray Cocktail Masterclass
Tickets for the cocktail masterclass are priced at £25 per guest. Please contact the reservations team at Shangri-La Hotel, At The Shard, London to secure a ticket via phone: +44 (0)20 7234 8000 or email: [email protected]. Full pre-payment is required to secure a place.
Picnic Box
The picnic box is priced at £20 and is intended for two people. It can also be paired with two Royal Blush Tanqueray Gin No. TEN cocktails for £38.
Further details can be found on the Bar 31 website.