AQUA SHARD REVEALS ANNUAL CHRISTMAS TREE DESIGN
Restaurants and Bars, News
Aqua Shard collaborates with renowned Scottish fashion designer, Holly Fulton for annual Christmas tree display.
Taking influence from the decade of 1920s glamour, as well as traditional Christmas motifs, Holly has worked with aqua shard to create DecoDance, carefully juxtaposing the designer's whimsical designs in contrast with the modern architecture of aqua shard.
Holly Fulton is an award-winning designer from Scotland, having previously won ELLE New Designer, Scottish Young Designer two years running, ELLE Talent Launch Pad and Emerging Talent Accessories at the British Fashion Awards. Holly's distinctive style pairs unique designs with unusual fabrics and embellishment, taking inspiration from the golden era of glamour and decadence, whilst staying firmly in the modern day.
Proudly standing 6 metres above ground in the restaurant's three-storey atrium, Holly's grand yet delicate design incorporates her own designs and a traditional festive bow. The rest of the design draws inspiration from the playful aesthetic of legendary Busby Berkeley's musical production numbers from the Roaring Twenties. Fulton's iconic sketching style is brought to life in the form of glamorous 'ladies' positioned on beautifully wrapped Christmas presents along the bottom of the tree, while toasting the season with delicate Veuve Clicquot Champagne glasses in hand.
Speaking about the collaboration, Holly Fulton said, "I am delighted to have collaborated with aqua shard on their festive installation and to have the opportunity to merge my style with such an iconic and unique space. I wanted to create a playful and glamorous feeling to the design, using a monumental bow to anchor the bevy of partying beauties revelling at its base. The title DecoDance encapsulates the decadent party spirit and also gives a nod to the Art Deco inspiration behind my design."
BESPOKE CHRISTMAS DRINK AND DESSERT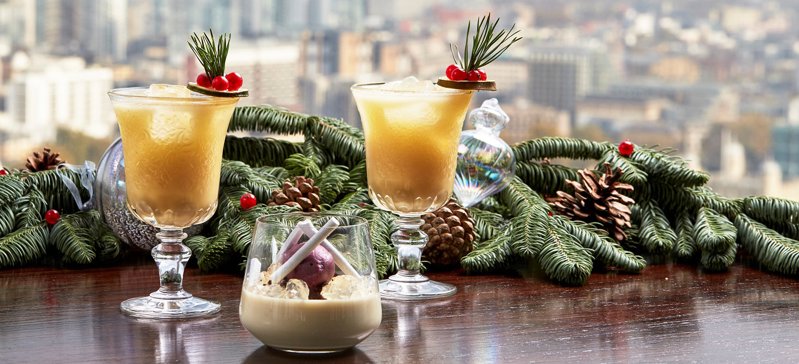 To celebrate this special partnership, aqua shard has created a bespoke Christmas drink and dessert that will be served throughout the festive season from 14th November to 1st January. The dessert includes white chocolate mousse with Veuve Clicquot Champagne jelly and spice wine sorbet.
This year, aqua shard and Holly Fulton have partnered with the charity Teenage Cancer Trust, a cancer care and support charity in the UK that exists to improve the cancer experience of young people aged 13-24. Aqua shard will add an optional £1 to every bill, and 50% of sales from the special Christmas drink and dessert will be donated to Teenage Cancer Trust.
Liz Tait, Director of Fundraising at Teenage Cancer Trust, said: "The Teenage Cancer Trust team won't let cancer cancel Christmas this year. Our specialist nurses and youth support teams work so hard to keep Christmas special for young people. They make sure that those well enough can spend Christmas Day at home with loved ones, and spread festive cheer for the many others who will be staying at Teenage Cancer Trust's specialist units this year. But none of this could happen without the incredible support of businesses like aqua shard, and we can't thank them enough."
aqua shard
The Shard, 31 St Thomas Street, London SE1 9RY
+44 (0)20 3011 1256
www.aquashard.co.uk