AQUA SHARD LAUNCH THEIR CHRISTMAS TREE IN SUPPORT OF THE THEATRE SUPPORT FUND
Restaurants and Bars, News
The show-stopping tree at Aqua Shard, made up by 800 hundred paintbrushes lit and delicately hung, is to return in 2021 for Act II: Christmas re-imagined.
Initially created in 2020 to support the theatre industry which was brought to its knees by COVID, award-winning British set designer Soutra Gilmour created a tree to celebrate the movers and shakers that bring productions alive. Act I was an ode to backstage life featuring hundreds of golden brushes dipped in the glitter of Christmas, which burned brightly for a few short weeks before they were carefully packed away as theatres were once again shut down and the country was plunged into another lockdown.
A tumultuous year later but thinking sustainably, the decision was made to re-imagine the tree and bring it back for Act II: a chance to burn brightly for a full festive season. Redesigned to give the tree a life beyond the throwaway, it has been lovingly restored, reused and relit, whilst greening itself with a new look, to celebrate the moment that theatre lights all over the country are turned back on for Christmas.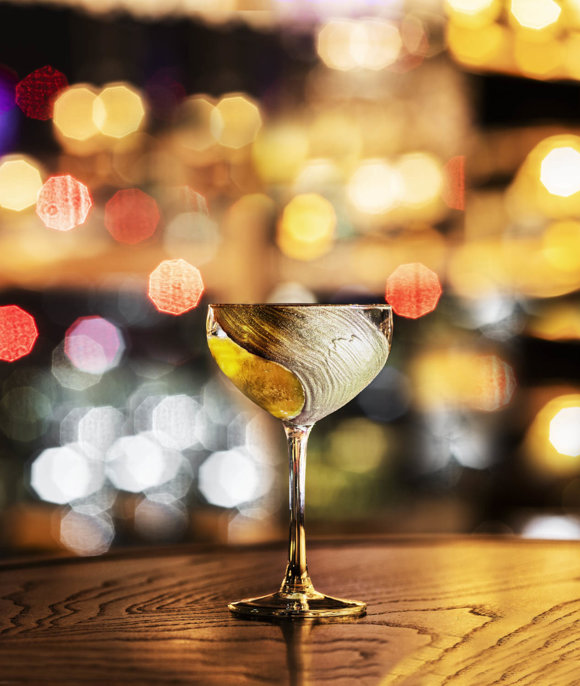 Act II: Christmas re-imagined, stands proudly within the aqua shard three-storey atrium.  Hundreds of intricately dipped paintbrushes are finely suspended and interspersed with delicate pendant lights by acclaimed lighting designer Jon Clark.  Sitting atop the tree is a silhouette of Tinker Bell in honour of aqua Shard's highly acclaimed Peter Pan Afternoon Tea. The brushes have been painted and finished by Chris Marcus and Jonathan Hall of MarcusHall Props, Soutra's long-time collaborators, whose work can be seen in many West End Musicals. Alongside this talented team, a cast and crew of celebrated theatre creatives involved in the design and production of the tree include Simon York of Miraculous Engineering, one of the UK's longest established scenery builders, and Flints Theatrical Chandeliers, in recognition of Bermondsey's rich local heritage of master craftspeople and the scenic industry.
As per tradition, the talented team at Aqua Shard has created an accompanying dessert and cocktail for guests to enjoy as they admire the tree. Centre stage is a warming concoctio of mulled gin, caramel, and fermented apples, finished with chocolate bitters and topped up with Veuve Clicquot Yellow label. The edge of the glasd will be brushed gold - with a nod towards the brushes of the tree - which will be flavoured with salted caramel and chocolate. The dessert will be a beautiful Christmas bauble served with preserved fruit parfait and hazelnut custard, accompanied by an edible chocolate paint brush.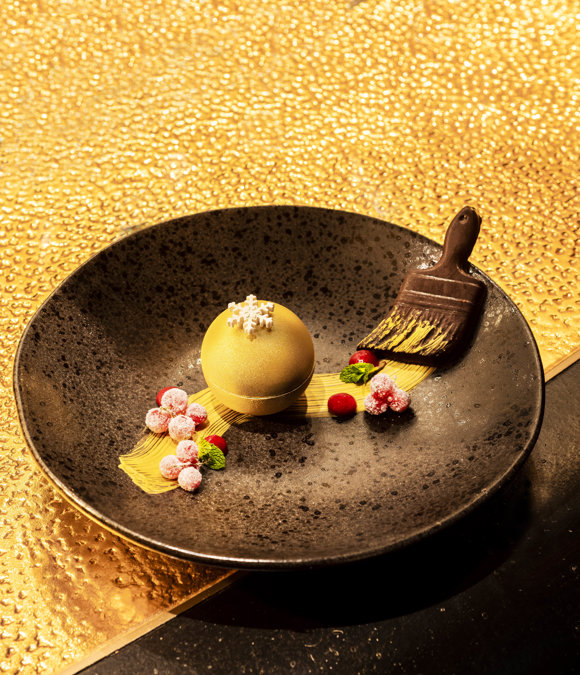 50% of the net sales of the Centre Stage cocktail and Christmas dessert will be donated to the Theatre Support Fund (a charity born out of lockdown to support the theatre industry). Guests will also have the opportunity to donate a £1 voluntary donation with every bill. Giving the tree a purpose beyond decoration and making use of the precious resources used to make it, stars of the stage such as Dame Judi Dench, Phoebe Waller-Bridge and Joanna Lumley have pledged to sign a paintbrush which will be given away through an Instagram competition to raise awareness for @theatresupportfund.
Act II: Christmas re-imagined at Aqua Shard launches on December 10th 2021 and guests can book a table by visiting Aqua Shard Reservations or emailing Aqua Shard Reservations <[email protected]>