A RECORD-BREAKING YEAR FOR THE SHARD
The Shard
The dawn of a new year is a golden opportunity to not only look forward to the wealth of opportunities that lie ahead, but to look back and take stock of all that's been achieved.
Here we toast to the successes and key milestones that helped define 2015.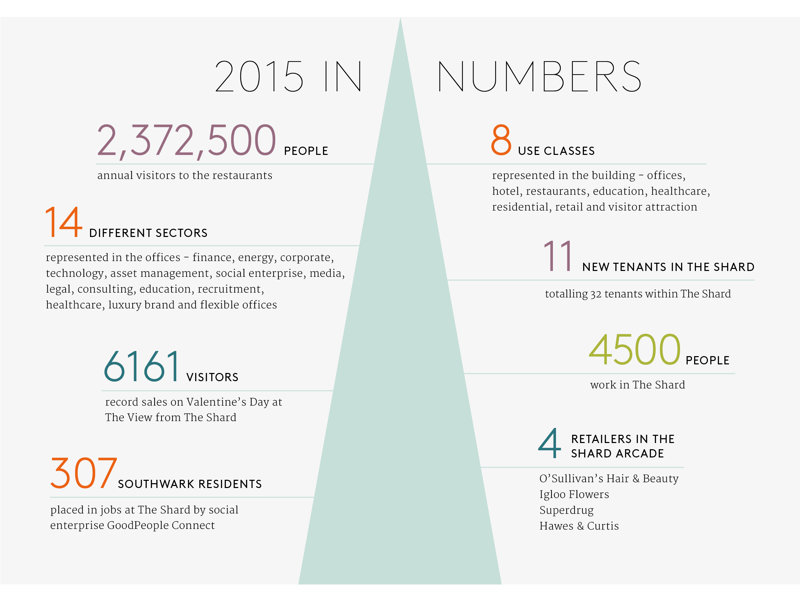 2,372,500 annual visitors to the restaurants
Known as the pinnacle of fine dining, guests and visitors of The Shard are spoilt for choice with the six internationally renowned restaurants and bars over Levels 31 – 33, all offering stunning views over London and the very best in both contemporary and oriental cuisine.
On Level 32 earlier this year, the man behind global favourites Zuma and Roka, Chef Rainer Becker introduced a brand new lunch time menu at Oblix; a generous set-menu or three courses for just £30pp. On level 31, Dame Vivienne Westwood and aqua shard collaborated in a charitable capacity during the festive season in order to help raise funds for Cool Earth by opening a spectacular 18-foot Christmas tree in the atrium.
6161 visitors in one day - record sales on Valentine's Day at The View from The Shard
Valentine's Day 2015 at The Shard's viewing platform, The View from The Shard (TVFTS) saw a record day of sales with 6161 visitors, pouring 2,414 glasses of champagne and a marriage proposal on average every 30 minutes. Fortnum & Mason launched two 'sky-high tea experiences' in London's highest garden space which sold out an impressive three times over. In April TVFTS was also awarded 'Most Romantic View in the UK 2015' by romance novel publisher Mills & Boon.
32 occupiers across 14 sectors
2015 saw 10 new tenants welcomed into the vertical city, now totalling 32 occupiers ranging across 14 sectors within The Shard.
New leasing's in 2015 included The Office Group (TOG), who are widely regarded as London's most progressive design-led flexible offices provider, and leased 33,600 sq ft of office space on Levels 24 and 25.
---
"OUR DISTINCTIVELY DESIGNED SPACE WILL COMPLEMENT THE SHARD'S ICONIC STATUS AND WORLD-CLASS OFFICE SPACE."
Charlie Green & Olly Olsen
Joint CEO's (TOG)
---
The Shard also welcomed global recruiter Robert Half and business consultancy Protiviti who leased 20,200 sq ft of office space on Level 10, with io oil & gas consulting leasing 15,312 sq ft on Level 9. Leonteq Securities (Leonteq), an independent technology and service provider signed a new 10-year lease for the entirety of Level 26.
Office space was also let this year to software giant Sage, International law firm Greenberg Traurig Maher (GTM), Khazanah Europe Investments Ltd (KEIL), Medical Protection Society and Sapphire Systems. The broad range of business sectors that now occupy The Shard further reinforces the building's vision of creating a vibrant community in Europe's first vertical city.  
307 Southwark residents
A huge applause for Shard Careers as a total of 307 Southwark residents were placed in jobs at The Shard by throughout the year. This year's figure is a wonderful achievement for the initiative between The Shard and social enterprise GoodPeople Connect, and a symbolic reference to the community's commitment to helping local residents achieve their full career potential.
4 retailers in The Shard Arcade
The Shard Arcade adjoins the station with The Shard, and is now home to four new retailers including O'Sullivans Concept Hair and Beauty Salon, Igloo Flowers, Superdrug and retail outlet Hawes & Curtis.