A MOUNTAIN OF GIFTS DONATED BY OCCUPIERS IN THE SHARD
The Shard, Meet the Occupiers
As part of the Team London Bridge Community Christmas initiative, occupiers bought, donated and wrapped 517 presents for local charities this December.
Team London Bridge, the local Business Improvement District which continues to develop the area as a business and culture hub, delivered the presents to local charities that support the homeless, elderly and disadvantaged members of the Southwark community during the festive season.
Employees from companies based at The Shard wrapped the 517 presents over two days ready to be distributed to: 

The collection which started in November, is an annual local tradition with local employees donating gifts, then volunteering to wrap and deliver. Over the past ten years Team London Bridge have collected thousands of gift donations from London Bridge employees.
---
"THE VIBRANT NEIGHBOURHOOD IN LONDON BRIDGE MAKES IT AN EXCITING PLACE TO VISIT AND WORK. BY SUPPORTING THIS INITIATIVE, SHARD QUARTER TEAM HOPE TO GIVE BACK TO THE LOCAL COMMUNITY. WE ARE GRATEFUL TO ALL THE EMPLOYEES FROM BUSINESSES AT THE SHARD, WHO HAVE WORKED TOGETHER TO DONATE AND WRAP OVER 500 HUNDRED OF GIFTS THIS YEAR."
Catherine Loeber
Assistant Operations Manager, Shard Quarter
---
This year, 2162 gifts have gone to Southwark residents who otherwise may not have had anything to unwrap this Christmas. And new for 2018, the gift deliveries created zero emissions thanks to the PedalMe cargo bike service. 16 cargo bike trips transported the donated gifts to London Bridge Hive and then onwards to their final port of call, making sure even Christmas is compliant with their London Bridge Cycle Strategy.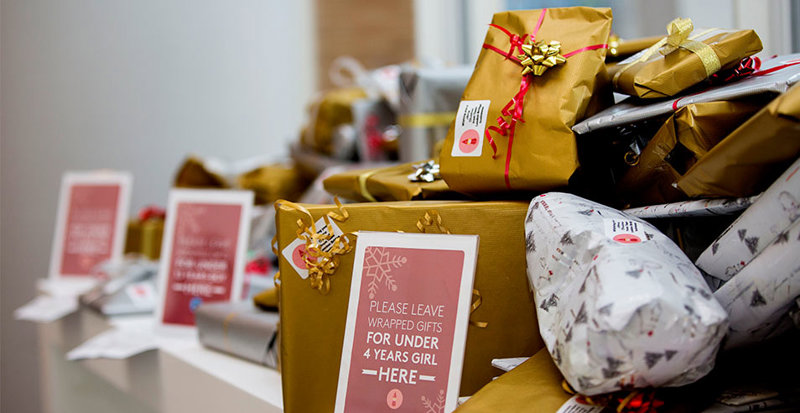 ---
"YEAR AFTER YEAR WE ARE ASTOUNDED BY THE GENEROSITY OF OUR BUSINESSES. THIS AMAZING AMOUNT OF GIFTS WILL BRING FESTIVE JOY TO MANY FOR WHOM CHRISTMAS CAN BE A LONELY, CHALLENGING TIME. TEAM LONDON BRIDGE WOULD LIKE TO OFFER HEARTFELT THANKS EVERYONE INVOLVED AND WISH ALL OF OUR PARTICIPANTS, FRIENDS AND MEMBERS A MERRY CHRISTMAS AND A VERY HAPPY 2019."
Nadia Broccardo
Executive Director, Team London Bridge
---