A New Colourful Mosaic Under Construction at The Shard
23 June 2023
Shard Quarter
The London School of Mosaic (LSoM) has taken Shard Quarter by storm with its latest mural artwork, titled "A Thousand Streams". Located on Station Approach and beneath The Shard, Western Europe's tallest building, this colourful installation is a collaborative effort between British artist Adam Nathaniel Furman and LSoM. 
Spanning an impressive 57 metres, the mosaic is the largest commission to date for both Furman and the LSoM. The remarkable piece is being brought to life by a dedicated team of volunteers, who are constructing it in sections.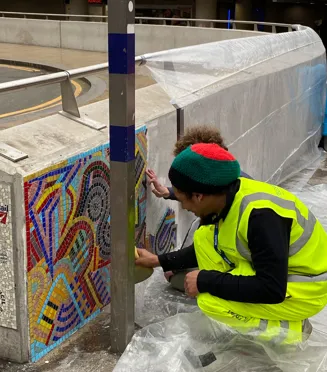 By seamlessly blending ancient mosaic techniques with a contemporary flair, this captivating artwork showcases LSoM's expertise in the form of andamento, (the flow or movement of the pieces in a mosaic) helping to preserve and reinvent traditional craftsmanship, revitalising public spaces with engaging and inspiring art.
LSoM is the only organisation in the UK to offer a diploma in Mosaic Studies, and dedicated to promoting wellbeing and social cohesion through mosaic art and other artistic activities. They work with diverse groups, including individuals with special educational needs, young offenders, and older generation artists. 
The unique diploma programme, which includes traditional techniques, practical fabrication, as well as the study of mosaic design, also covers the history of mosaic providing context and analysis to their work.
"We are excited for the opportunity that a contemporary mosaic, the largest our school has produced to date, will be decorating one of London's busiest stations for many years to come. We are thrilled to be able to work with Adam whose designs fit beautifully with our ethos and practice, as well as bringing a team of 40 artisans and volunteers together to make the piece happen."
Silvie Jacobi (Director, London School of Mosaic)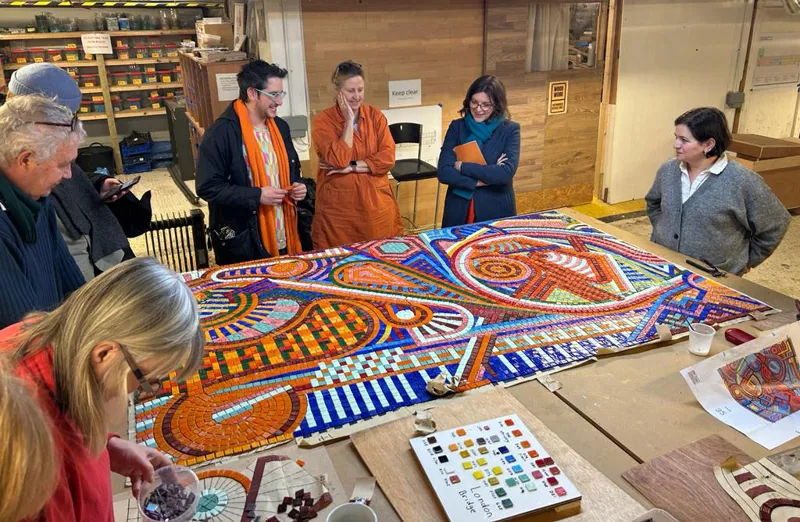 Artist Furman, draws inspiration from the flowing river Thames, skillfully incorporating a palette of 28 distinct colours, intertwining shapes and motifs borrowed from local architecture, including The Shard. The artwork seeks to symbolise the fluid movement and convergence of individuals arriving into the Capital via the bustling London Bridge Station.
"This commission is an absolute dream project for me, I know the area very well, and love mosaics deeply as they have marked my passion and love for London since I was a child. Working with LSoM at this amazing location is still something so incredible I can barely believe it's all happening!"
Adam Nathaniel Furman (Artist and Designer)
Furman's art has been showcased in prestigious exhibitions across the globe, including Paris, New York, Milan, and Melbourne. Adam's work is housed in collections at renowned institutions such as the Design Museum, the Sir John Soane's Museum, the National Gallery of Victoria, and the Abet Museum in Italy.
"A Thousand Streams" is expected to be completed by April 2024. It is anticipated that 21 million people will have the opportunity to admire this artwork within a single year.
All imagery on this page credited to Suzanne Garben.