£160 MILLION CANCER CENTRE NOW OPEN AT GUY'S HOSPITAL
Meet the Locals
Guy's Cancer, one of the UK's leading providers of care and treatment for people battling cancer, have now opened their new state-of-the-art Cancer Centre at Guy's Hospital.
If you would like to raise funds for the Guy's Cancer Centre Appeal, find out how you can get involved here or donate here.
---
"HAVING CANCER IS SOMETHING ONE IN TWO OF US WILL FACE AT SOME POINT IN OUR LIFETIME. OUR SUPPORT, AND OTHER GENEROUS DONATIONS, HAVE ENABLED THE CANCER CENTRE TO BE EQUIPPED WITH THE VERY LATEST IN TECHNOLOGY, FUNDED A VARIED AND INSPIRING ARTS PROGRAMME, AND BROUGHT MOST CANCER SERVICES UNDER ONE ROOF."
Kieron Boyle
Chief Executive of Guy's and St Thomas' Charity
---
The project has been largely funded by Guy's and St Thomas' NHS Foundation Trust. The Cancer Centre has been made possible by a grant of £25 million from Guy's and St Thomas' Charity and a £15 million grant awarded to King's College London from the UK Research Partnership Investment Fund (managed by the Higher Education Funding Council) for the Innovation Hub. Philanthropists has collectively donated £6 million, including £2 million from Dimbleby Cancer Centre. Over 3,000 cancer patients have raised £1.1 million as a whole through fundraising.
---
"ARCHITECTURE HAS THE ABILITY AND RESPONSIBILITY TO IMPROVE PEOPLE'S LIVES AND NOWHERE IS THIS MORE IMPORTANT THAN IN A BUILDING DEDICATED TO MAKING PEOPLE WELL. OUR AIM HAS BEEN TO CREATE A PLACE EQUALLY FOCUSED ON PATIENT CARE AND TREATMENT, A WELCOMING BUILDING OF HUMAN SCALE THAT DOES NOT FEEL LIKE A HOSPITAL BUT DELIVERS STATE-OF-THE-ART TREATMENT IN AN UPLIFTING ENVIRONMENT."
Ivan Harbour
Partner in charge of the project
---
The 14-storey building was designed by Rogers Stirk Harbour + Partners and specialist healthcare architect Stantec. It consists of four simple villages to create as little animosity as possible. Connected by lifts with imaginative lighting and furniture designs, the Cancer Centre also hosts an arts programme funded by the Guy's and St Thomas' Charity which sees installations by five internationally renowned artists - Daniel Silva, Mariele Neudecker, Gitta Gschwendtner, Angela Bulloch and Karel Martens.
---
"EVERYTHING WE DO AND ALL THE DECISIONS WE'VE MADE ABOUT THE WAY THE CANCER CENTRE RUNS HAS BEEN MADE WITH THE PATIENTS IN MIND, TO MAKE THIS AS STRESS FREE JOURNEY AS POSSIBLE."
Dawn Harper
Head of Nursing
---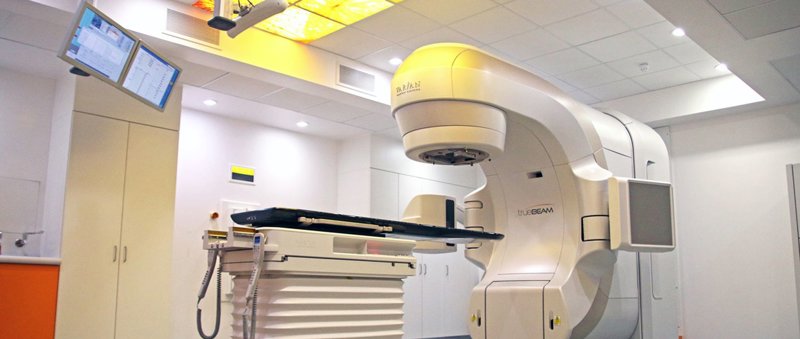 ---
"PATIENTS HAVE BEEN CONSULTED AT EVERY STAGE AND NO DECISION HAS BEEN MADE WITHOUT US. OUR VIEWS HAVE BEEN WELCOMED, LISTENED TO AND ACTED ON. LOCATING RADIOTHERAPY TREATMENT ABOVE GROUND IN RESPONSE TO PATIENT FEEDBACK IS JUST ONE OF MANY EXAMPLES."
Diana Crawshaw
Chair of the Patient Reference Group
---
The new Cancer Centre at London Bridge, just a stone's throw from The Shard, brings together most treatments offered by the trust under one roof. Previously they were delivered in thirteen locations across eight different buildings on the St Thomas' and Guy's sites.
Many of the 6,500 patients that Guy's Cancer currently treat every year were consulted on the design of the building to help create an uplifting atmosphere. It is the first cancer centre in Europe to provide radiotherapy treatment above ground level after patients said this would make a huge difference to them.