Shangri-La turns pink for Breast Cancer Awareness Month
4th October - 6th November 2022
TĪNG, BAR 31 and GŌNG bar
This October, Shangri-La The Shard, London will turn pink in support of Breast Cancer Awareness Month and Guy's Cancer Charity.
A special Pink Afternoon Tea will feature pastries designed by three breast cancer patients who are cared for by teams at Guy's Cancer, located across the road from The Shard. Available from 4th October – 6th November, a percentage of proceeds from each Pink Afternoon Tea will be donated to Guy's Cancer Charity to support the pioneering work of Guy's Cancer, which offers life-saving treatment to more than 900 patients with breast cancer every year.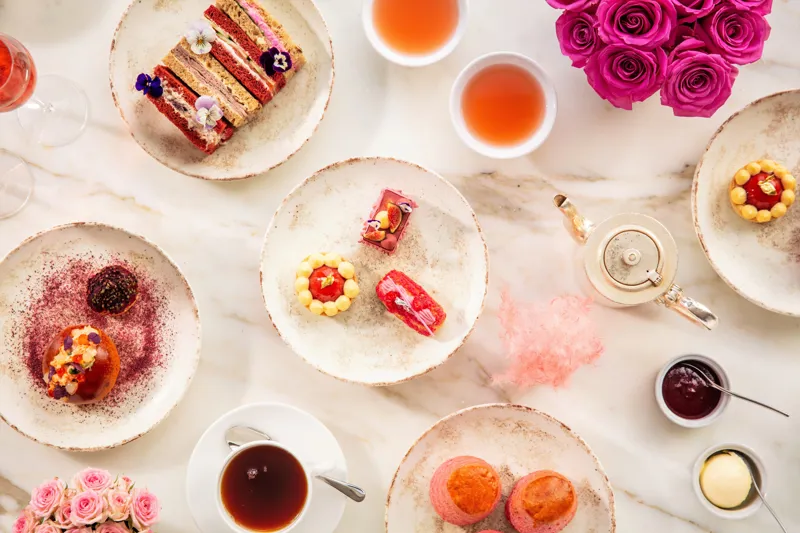 Guests are invited to sip on a flavourful peach-hued Very Berry welcome tea, before indulging in an assortment of delicious finger sandwiches on pink beetroot, white and granary bread, and bite-sized savouries. The pastries include a Raspberry, Lychee and Rose Éclair and a Rhubarb and Frangipane tart. Accompanying the sweets will be freshly baked pink scones with traditional strawberry jam and clotted cream. The showstopping tea will be completed with a pink Spiced Pear and Vanilla miniature Shard pastry.
To accompany the high tea, a wide selection of Shangri-La signature loose-leaf teas are available. For an extra touch of luxury, guests can add a glass of Veuve Clicquot Yellow Label or Laurent-Perrier Cuvée Rosé Champagne. They can also choose between a Pink Warrior rum-based cocktail including Bayou Pink Rum, Rosé Wine Syrup, Cranberry Juice, Lemon Juice, Orange Bitters and Laurent-Perrier Champagne, or an uplifting Hibiscus Spritz mocktail including Hibiscus Flowers, Hibiscus Syrup, Lemon and Soda Water.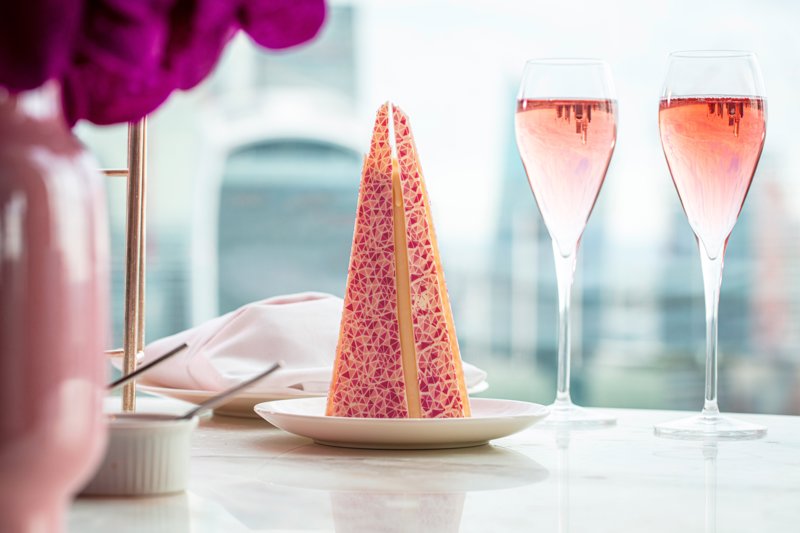 On the ground floor, Bar 31 will serve up a shimmering fruity Cinderella cocktail with a percentage of proceeds donated to Guy's Cancer. The sparkling creation includes Ketel One Vodka, Rose, Lychee, Lime, Prosecco and Pomegranate. Alternatively, guests can travel up to GŎNG Bar on level 52 of the Shard for the Asian-inspired Chausuyama Garden cocktail. This cocktail was invented by mixologist Michela using Monkey 47 Gin, Hanatare Shochu, Blackcurrant, Violet and Lavender. The aromatic floral concoction is inspired by Mount Chausu in Japan's Aichi Prefecture, where over 400,000 bright pink phlox plants cover the mountain almost to the summit.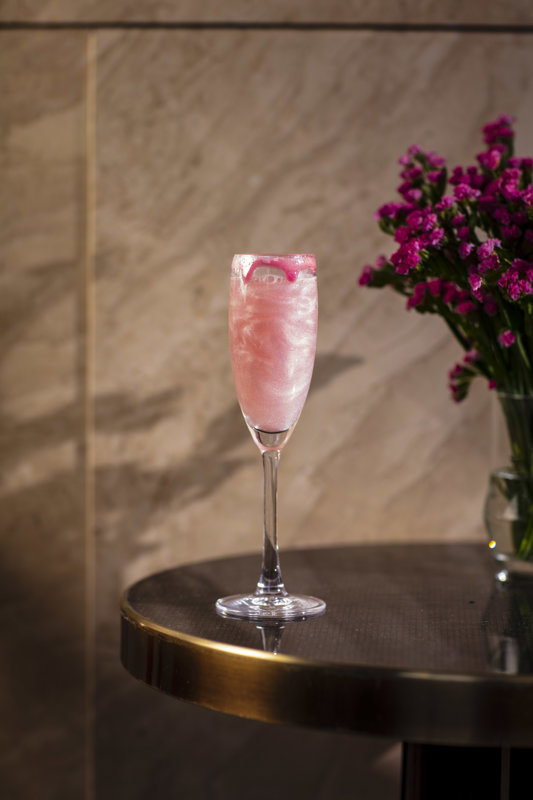 To inspire the new pink pastries as part of the Pink Afternoon Tea, the hotel's pastry team invited three inspiring women cared for by Guy's Cancer for a morning of pastry decoration, highlighting the brilliant work of the breast cancer team that the hotel's Pink October theme will support.
One of these women was Priyanka, who has had an exceptionally difficult journey being diagnosed with stage 2 triple negative breast cancer earlier this year. After six months of chemotherapy followed by surgery, she developed multiple complications leading to several hospital stays. Priyanka said, "Triple negative breast cancer is the most aggressive type of breast cancer. It grows and spreads faster than all other types of breast cancer, has limited treatment options and lowest survival rate. It is the type I have. Under the care of Guy's, I felt well looked after. Everyone was very caring, humble, polite, and knowledgeable in their field of expertise. I cannot thank Guy's Cancer enough for looking after me, continuing my life-saving treatment and encouraging me to fight this terrifying disease."

Another patient, Rosie, mentioned, "It is difficult to find the words to express my profound gratitude and admiration for all the staff I have met. I have benefitted from the hospital's commitment to striving for clinical excellence and enterprise. For example, I was able to access a genetic test which analysed my tumours and gave a predictive recurrence score of the cancer returning within the next ten years. This technology and the low scores meant I was able to bypass chemotherapy. The nurse specialists were always accessible to answer my questions, allay anxieties and coordinate my care and the physiotherapist is now gently guiding my rehabilitation post-surgery. It was truly a humbling experience from such a dedicated multi-disciplinary team."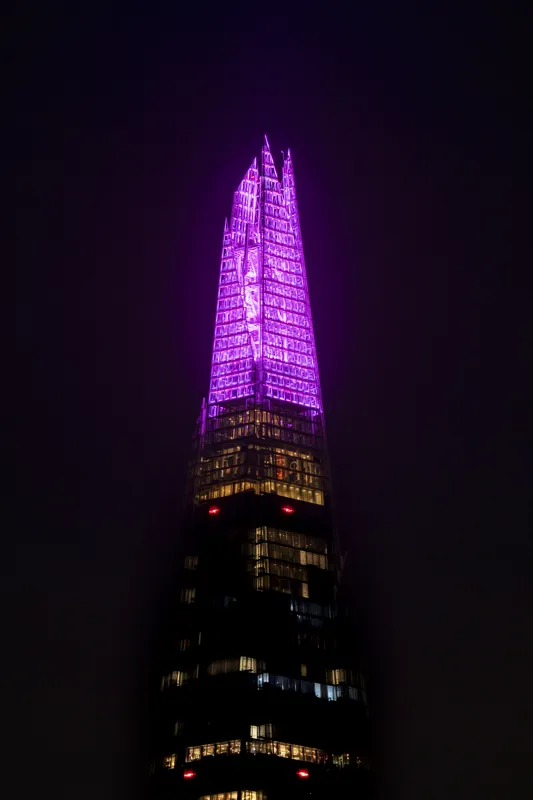 Eyes across London will also turn to The Shard on the evening of 1st October as we light pink to mark the start of Breast Cancer Awareness Month.
The Pink Afternoon Tea will be priced at £69 per person, or £79 with a glass of Veuve Clicquot Yellow Label Champagne or Pink Warrior Cocktail. Available 12:30 –15:30 Monday – Thursday and 12:30 – 16:00 Friday – Sunday at TĪNG Restaurant & Lounge.
For reservations, visit TĪNG Restaurant & Lounge
TĪNG
PINK AFTERNOON TEA
From 4th October - 6th November, TING will once again turn pink in support of Breast Cancer Awareness Month, with splendid pink décor and a special Pink Afternoon Tea featuring pastries designed by three breast cancer patients from Guy's Cancer. A percentage of proceeds from each Pink Afternoon Tea will be donated to Guy's and St Thomas' NHS Foundation Trust to support Guy's Cancer ward.