MEET ADRIAN AMOS, FOUNDER OF LASSCO & MALTBY STREET MARKET
Meet the Locals, News
"All these people taking selfies, it's a bit meaningless," says Adrian Amos, owner of The London Architectural Salvage and Supply Company (LASSCO). This is unfortunate as his showroom, set in a rumbling Southwark railway arch, is possibly one of the most Instagrammable spots in the capital.
He shifts a box of clay tiles that are blocking a 3ft mock up of a tin of sardines next to a gleaming brass cabinet salvaged from the Alexander McQueen Bond Street showroom. Hundreds of light pendants hang from the ceiling, while colourful rugs and African masks jostle for space on the walls.

If Amos does not find meaning in the social media habits of youngsters, he finds it in history. Indeed, in a flat cap, green trousers, brogues and gingham pocket 'chief, the seventy-one-year-old is dressed as though he belongs to a smarter more gentrified era (ironically it is a look also adopted by the hipsters that pose for snaps in front of the 'Aloha' fairground lights at the front of his store).

Amos is no nonsense, delightfully cynical, and very, very knowledgeable. His conversation segues between modern interior design trends (brown furniture is making a comeback) to obscure Anglo-Norman trading laws. In the 45 years since he revived LASSCO, an old family business, the history of London has passed through his shops in the form of antique timber, retired shop fittings and the innards of grand old hotels and restaurants that once were.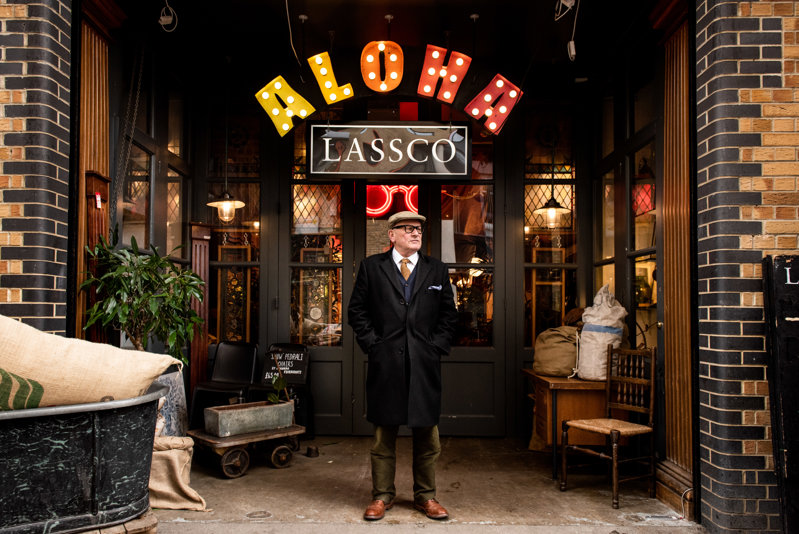 "It's treasure hunting, by no means profitable, but someone's got to do it," he says. 

While top interior designers, architects and fashion photographers might fight over LASSCO's more elaborate curiosities, Amos is thoughtful about what constitutes a find. One of his favourite recent hauls is some Royal Doulton tiles that belonged to Birkbeck Bank, a grand old establishment on London's Holborn.

"We were so pleased to find these. The building was a crucial part of the area's history, lost in the Sixties along with so many others," he says. 

Amos comes from a long line of cabinet makers and saw doctors. On leaving grammar school in Colchester, he became a general trader selling everything from antiques to motorcycles to fairground rides.  His 'bent for the antiquarian', as he puts it, prompted him to revive the family business. It enjoyed a nomadic existence with premises in Wapping, Hampstead, Islington and Shoreditch. "Very neglected and desolate. Now reputedly the hottest place in the known world," he says of the latter.
---
"IT'S TREASURE HUNTING, BY NO MEANS PROFITABLE, BUT SOMEONE'S GOT TO DO IT."
---
Twenty years ago, LASSCO landed in Bermondsey under a viaduct that aptly happens to be the oldest elevated railway in the world. It also owns Oxfordshire outpost LASSCO, Three Pigeons, and South London's Brunswick House, a dilapidated Georgian mansion that is now a restaurant, bar and wedding venue.

The move into hospitality happened by accident, following numerous requests from event organisers and film crews to use LASSCO's showrooms. 

"Given the appeal of the historic buildings we occupied, it dawned on us that we should do hospitality ourselves," he says. 

This expansion also led to the opening of Bermondsey's Maltby Street Market, a 15 minute walk from The Shard and a weekend challenger to the more famous Borough Market. Every Saturday and Sunday the former ropewalk comes alive with crowds on the hunt for sizzling street food, craft coffee and gourmet treats.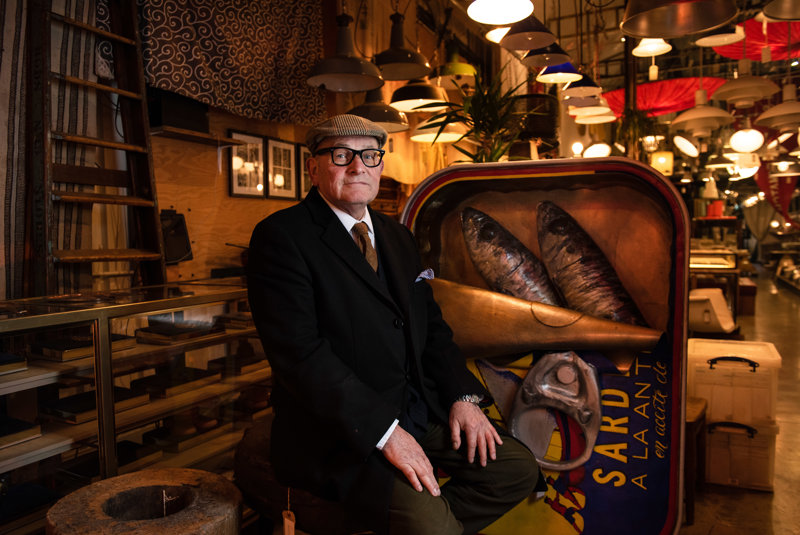 Amos has plans to expand the market beyond street food to include antiques stalls, a natural move given Bermondsey's history as an antiques hotspot. A literal 'hotspot' in some cases, Amos explains: the area's famous New Caledonian antiques market was once known as 'the thieves market' due to a medieval law known as 'marché ouvert'. This guaranteed a buyer of any item title of ownership regardless of whether it was stolen, as long as it was bought between sunrise and sunset. Thankfully, the law was abolished in 1994 meaning the Maltby Street Market will be a more salubrious affair. 

As well as an encyclopaedic knowledge of London's history, Amos is also an expert on modern interior design trends and often courted by the media for his opinion.

"It goes through phases. Recently we've seen a trend for mid-century and industrial (though that's on its way out now). At the moment, people are nervous and want things with demonstrable value, so are asking for brown furniture again," he says.

It is nuggets like these that make conversation with Amos intriguing, fascinating and educational at the same time. With one foot in the past the other in the future, he is a true expert, happy to answer any question on London's history with old school alacrity. Just don't ask him for a selfie.
EXPLORE THE NEIGHBOURHOOD - AMOS'S GUIDE

The Mayflower pub, 117 Rotherhithe Street, SE16 4NF
Southwark has always been very wet and the influence of the London river prevails everywhere. The riverside is a must. The 400th anniversary in 2020 of the voyage of the Mayflower will bring attention to the eponymous pub in Rotherhithe.
Bar Tozino, LASSCO Ropewalk, Maltby Street, SE1 3PA
This is a permanent bar in one of our arches. Everyone goes on about how Spanish it is, even though it's in a railway arch in Bermondsey. I go there for the Jamón that hangs from the ceiling and then gets carved from the bone in front of you.
Bermondsey Abbey Gate, Grange Walk, SE1 3GJ
Bermondsey is a very rewarding neighbourhood for the pedestrian visitor. There are layers of history beneath one's feet, and with a bit of reading and guidance, the layers can be peeled back. Clues to the area's history are abundant, such as the remaining hinges to the gate of the great Bermondsey Abbey on Grange Walk. The Abbey's origins stretch as far back as AD 708. 

www.lassco.co.uk