MATCHESFASHION.COM EXPANDS GLOBAL HQ IN THE SHARD
Companies at The Shard
MATCHESFASHION.COM, the global online retailer, has expanded its headquarter's presence in The Shard by 40%, just six months after moving in.
As a result MATCHESFASHION.COM will now occupy a total of 48,036 sq ft in The Shard, becoming the fourth occupier to expand its space in the building. The global luxury retailer has taken an additional 13,153 sq ft on a 10 year lease and will take occupation during Q1 2017.
MATCHESFASHION.COM's expansion, following a move to the building, joins Duff & Phelps and Foresight who have similarly taken additional space in The Shard. The role the building has played in drawing new business targets and clients to the company's office space led Foresight's founder Bernard Fairman to coin the term "The Shard Effect".
This latest letting is an important milestone as now virtually all of The Shard's 600,000 sq ft of office space has now been let.
The news follows last month's announcement that The Kraft Heinz Company ("Kraft Heinz") has taken 38,000 sq ft of space on Levels 20 and 21 on a 12-year lease to relocate its European and UK headquarters from Hayes, Middlesex, to The Shard in Q2 2017.
The Shard is home to 29 companies operating across a diverse range of business sectors including energy, retail, finance, technology, healthcare and professional services. London Bridge Quarter is now 97% let.
---
"SINCE MOVING OUR GLOBAL HQ TO THE SHARD IN JUNE 2016, WE HAVE SEEN CONTINUED GROWTH ACCELERATION OF THE BUSINESS."
Tom Chapman
Co-Executive Chairman of MATCHESFASHION.COM
---
Irvine Sellar, The Shard's developer, co-owner and vice-chairman of REM, said: "MATCHESFASHION.COM is a highly-respected and progressive fashion company that continues to enjoy significant business growth. The Shard is a pull factor for business visitors while transport connectivity and local amenities are high on the list of priorities to satisfy employees. This has had a positive impact on our occupiers, but is also indicative of the quality of the businesses from different industries that The Shard attracts. We have a responsibility to support our 29 diverse occupiers, so we are considering holding back some of the limited remaining space for existing businesses that are already committed to this rich and inspiring location."
Tom Chapman, Co-Executive Chairman MATCHESFASHION.COM, said: "Since moving our Global HQ to The Shard in June 2016, we have seen continued growth acceleration of the business. As a result, we require additional space to support MATCHESFASHION.COM to offer an inspiring working environment to the many diverse and talented people that are driving the success of the business."
MATCHESFASHION.COM is the modern luxury shopping destination for the confident global fashion customer. Operating online and via a network of stores, the company serves customers in 176 countries. The company offers a unique edit of over 400 established and emerging designers from Balenciaga, Gucci and Saint Laurent to Valentino, Dolce & Gabbana and Vetements. Using technology to inspire and innovate, MATCHESFASHION.COM aim to make shopping seamless – whether online, instore or at their international events.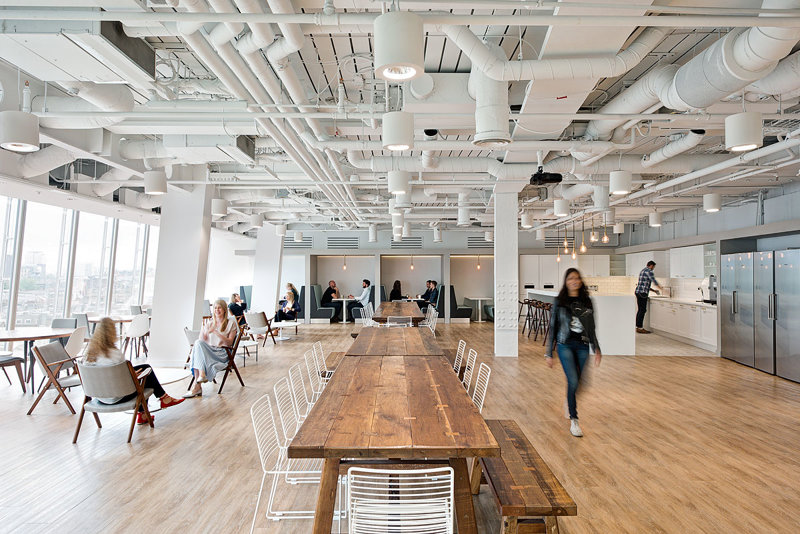 The Shard has played an instrumental role in the transformation of London Bridge, which has undergone a significant change over the last 15 years. London Bridge station has received significant investment including the remodelling of the concourse to accommodate increased footfall. These improvements have undoubtedly increased the attractiveness of the area for businesses.
In addition to its high-quality space and exceptional transport connectivity, The Shard's outstanding broadband and telecoms infrastructure was awarded a platinum rating by WiredScore as an endorsement of the building's resilience.