Meet Chris Greenwood, founder of Low Line Louie
Meet the Locals, News
Reopening this month after a winter break, Low Line Louie is the local gem you've been looking for in the heart of London Bridge.
"We've bought some old dinghy sails to shade the courtyard. We've got some young local artists decorating them. Customers can buy the ones they like and the artists can keep the profit – a sail sale!"
He is listing his plans for Low Line Louie, his outdoor Hi-Fi, coffee and cocktail spot on Holyrood Street.
Then there's Happy Hour which is marked by the time it takes to play a carefully chosen album end to end. That might be the soundtrack from the film Oh brother where art thou, Remain in Light by Talking Heads, or something from Greenwood's latest urban electronica find.
The ideals reveal the whirring brain of the music marketing legend behind some of the biggest brands in the UK: The Big Chill Festival, Bar Rumba, and Cargo, to name a handful.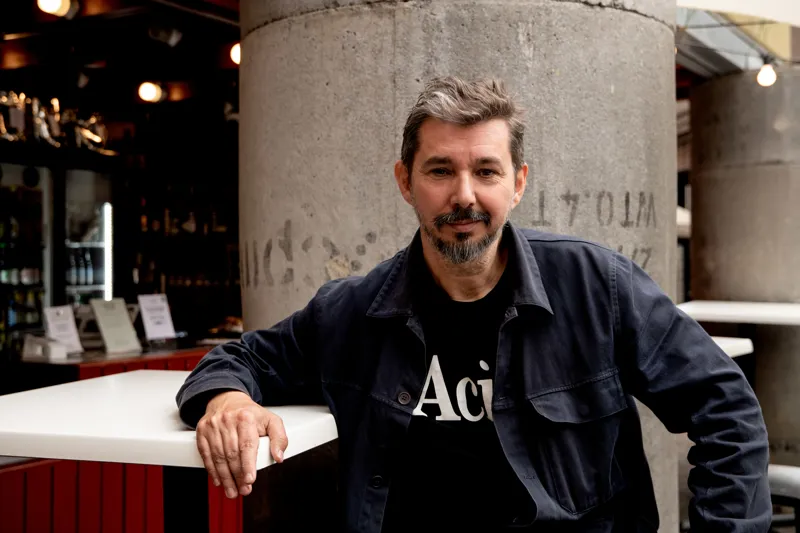 Today, his focus is on a lower-octane form of hospitality: Low Line Louie is the fourth in a group of South London eateries and coffee stops. The first, Louie Louie in Walworth, is named after the 1963 Kingsmen Song. The second, Little Louie (it's actually very big), shares a space with a bicycle workshop and craft store in Elephant and Castle, and the third is South London Louie at the South London Gallery. 
All are guaranteed to play decent tunes. Greenwood's career began at 20 when a friend invited him to DJ in New York. It was 1984, "the end of disco and the beginning of MTV", and the downtown NYC scene was packed with names like the Beastie Boys, Grace Jones and Madonna. It introduced him to hip hop and Latin music but his US clientele just wanted him to play grumpy English music – The Cure it was.
His career touched most of London's music tribes, from acid house to salsa, techno and electro. However, since "people started streaming music and stopped going to clubs" he explored other ways to build communities, opening Louie Louie in 2017. 
Hospitality's ability to do that was put to the test when the pandemic arrived. Louie Louie, cooked over 15,000 meals for NHS workers, as well as delivered hot meals to 'neighbours in need' scheme. They also set up a couple of pop-up cafes which they have since passed to local charities.
The group of Louie restaurants focus heavily on sustainability, which explains Greenwood's arrival on a cargo bike – the group's choice of fleet. The latest addition is named after London's Low Line – a 3.5km green corridor and walking route that shadows the Victorian rail viaducts spanning Bermondsey. The project combines art, music and, of course, food and drink. The bar serves up natural wines, killer cocktails and sourdough toasties.
Created on the site of a former Bin Shed, Low Line Louie represents the combined vision of many community groups rejuvenating the area: Team London Bridge, Southwark Council, and the Mayor for London's Good Growth Fund.
The bright red timber of the coconut-shy style bar is offset by the raw concrete of giant planters. Depending on the time of year the courtyard suntrap receives an extra bubble of warmth from The Shard's reflection. The site's crowning glory is an eight-metre high living wall, which gives an unexpected pop of green to this neglected industrial backstreet.
To reduce waste, the Louie group works with, Too Good to Go, an app that enables restaurants to sell heavily discounted surplus food at the end of the day.
"People want to belong, they're very tribal. In a big city, it's nice that communities are overlapping. It's one of the things we should hang onto post-Covid," he says.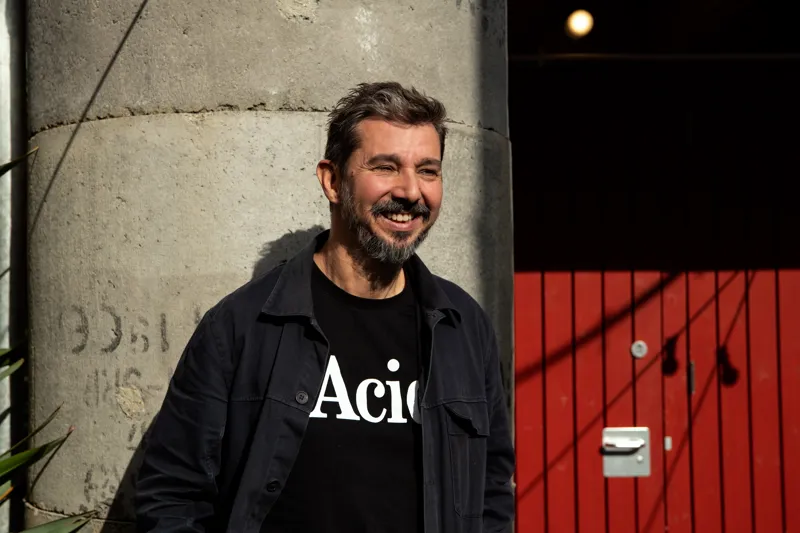 Explore the neighbourhood – Greenwood's guide
José Tapas Bar, 104 Bermondsey Street, SE1 3UB
The best Spanish food in London by a very lovely and genuine guy. It serves a mixture of tapas and main dishes.
HMS Belfast, The Queen's Walk, SE1 2JH
I went to a party there recently and watched a beautiful pink sunset over London Bridge. By day, it's a historic warship museum.
The Shard spire, 32 London Bridge St, SE1 9SG
Another view, but I love the way Renzo Piano finished the spire of The Shard. He could have gone for a neat point but went for a jagged structure.
Low Line Louie reopens 22nd March 2023 and is located at 7 Holyrood Street, SE1 2EL.